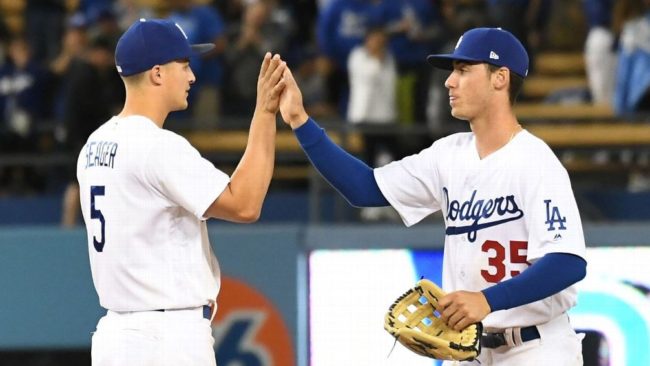 Major League Baseball selected Orioles slugger Trey Mancini and Dodgers shortstop Corey Seager as the American and National League Players of the Week presented by W.B. Mason.
Mancini, 27, pounded the Tigers, Blue Jays and Mariners pitchers for a slash line of .462/.484/.846. He homered twice and doubled four times in 26 at-bats. The fourth-year outfielder/first baseman is batting .354 in September, with six doubles, five homers and 19 RBIs in 20 games.
Seager, 25, is riding an eight-game hit streak — with multiple hits in each of the past six — and he batted .500 with two homers, two doubles and a triple in five games over the past week. The Los Angeles star drove in seven runs over those five contests, giving him an NL-most, 21 RBIs in September.
It's been a long way back for Corey Seager, recovering from his past injuries.  Seager not only had to recover from his major surgeries, but he also changed his diet as the Dodgers were afraid he'd blow up with all the inactivity. Seager had tommy john and hip surgery early in the 2018 season and only managed to play in 26 games, so going into 2019 the last time he had played was April 29th, 2018.
This is how good his comeback has been. This is his 2019 slash line, .273/.478/.814 with 18 home runs, 82 RBI, 41 doubles. This is the first career Player of the Week Award for both Seager and Mancini. Seager was the 2016 NL Rookie of the Year Award winner, and he also took home the league's Rookie of the Month honors in June of that season.