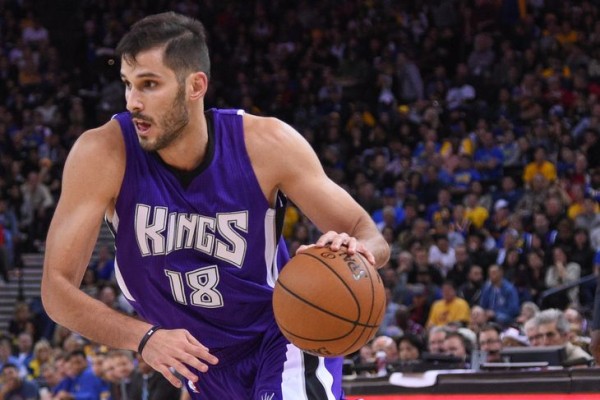 Sacramento Kings forward Omri Casspi has requested to be traded from the team, according to Sport5.
Sportando translated the article, also revealing three teams who have already expressed interest in acquiring Casspi:
Omri Casspi asked to be moved immediately because he is not happy with his situation in Sacramento, as reported by Sport5.

The Raptors, Celtics, and Knicks have expressed interest in the Israeli forward.
Casspi, who's in his third season as a member of the Kings, has seen 15.3 minutes of action through six games so far this season. The 28-year-old averaged a career-high 11.8 points per contest last season, shooting an outstanding 41% from deep and 48% from the field in 69 games.
He was selected by the Kings with the No. 23 overall selection in 2009, but was dealt to the Cavaliers only two years later. The Kings would end up signing him to another deal just before the 2014-'15 season, late re-signing him to a friendly two-year, $6 million deal the following summer.
Since joining the Kings two years ago, Casspi has mostly been satisfied with the team's status and his playing time. Nonetheless, it appears times have changed.
Should this report be proven true, expect the Kings to honor his request in the near future, parting ways with the Isreali-born player for the second time in his career.
UPDATE (11/12/16):
CSN California's James Ham reports that Omri Casspi has personally shut down any trade rumors, despite his agent meeting with team officials earlier this week.
The rumor mill is never kind to the Sacramento Kings. On Friday it was Willie Cauley-Stein's name who came up in potential moves. And on Saturday, multiple reports have veteran forward Omri Casspi requesting a trade from the city he has called home for the last three seasons.

But once again, this might be another case of much ado about nothing.

"Zero truth to that. Zero," Casspi told CSN California via text.

According to multiple sources, Casspi's agent met with the Kings this week to discuss his role with the team. But he did not request a trade at that time.
If Casspi does want to stick around with the Kings, hopefully his playing time will also increase for a team who could use a different look.