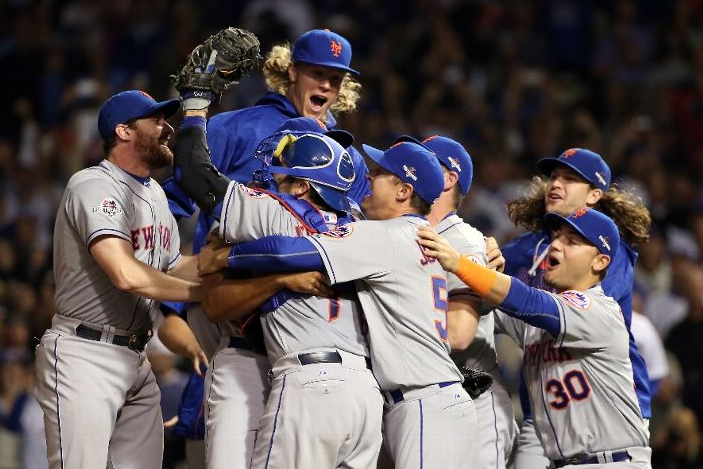 New York Mets are fresh off completing a NLCS sweep of the Chicago Cubs. They were powered behind they young, stellar pitching all series with a trio of aces in Jacob deGrom, Matt Harvey and Noah Syndergaard.
The 'DeGrominator', the 'Dark Knight' and 'Thor' are all fan favorites with the Mets fans and rightfully so.
In three appearances, including two starts, Syndergaard has a 1-1 record with a 2.77 ERA, only four runs allowed 20 strikeouts. Harvey has appeared in two games, with a 2-0 record, posting a 2.84 ERA, allowing five runs and striking out 16 batters. Finally, deGrom has proved to be the best of the trio. Jacob has appeared in three games, with a 3-0 record, posting a 1.80 ERA, only allowing four runs and striking out 27 batters.
Coupled with the dynamic pitching, they also have the hottest hitter in the MLB right now in Daniel Murphy who has hit a homerun in six consecutive games and he hit .529 in the NLCS with four homeruns for the Mets.
So, of course, the Mets are oozing with confidence and Syndergaard appears to be the most confident of the bunch.
Following from Kevin Kernan of the New York Post.
As for how confident Syndergaard is that the Mets will win their third World Series title in franchise history — against the Royals or the Blue Jays, the club that drafted him — Syndergaard left no doubt.

"I'm 100 percent confident,'' Syndergaard told The Post as teammates poured champagne on one another in the wildest of celebrations after the Mets' 8-3 win Wednesday night at Wrigley wiped away the Cubs in a four-game sweep in the NLCS.

To make his point crystal clear, Syndergaard repeated his claim.

"One hundred percent," he said.

"We have the pitching, the hitting and the defense. We have it all,'' Syndergaard said
Syndergaard has laid down the gauntlet and he is letting it be known. The Mets will be the World Series winners. The only issue is, we have no clue who the Mets will be playing in game one of the World Series on Tuesday.
The Toronto Blue Jays and Kansas City Royals ALCS series is going to a game six in Kansas City with the Royals holding a 3-2 lead.