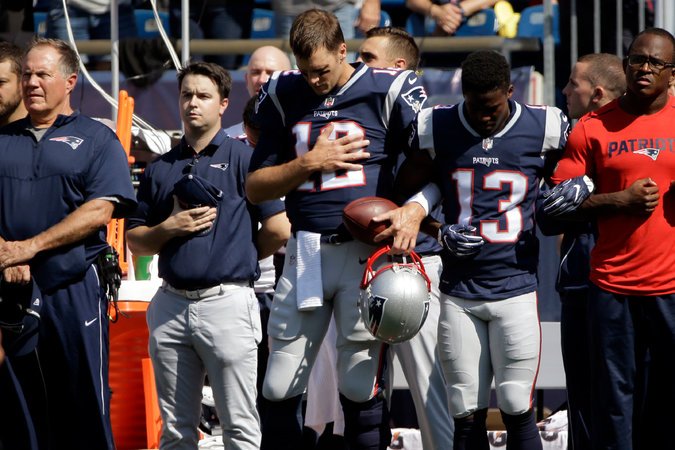 Whenever the NFL's national anthem topic seems to dwindle out of the public consciousness, it finds a way to bubble up again. This time, in multiple areas of culture. With the draft still fresh in fans' memories and training camps right around the corner, the NFL owners made news by drawing up new guidelines for players concerning behavior during the "Star Spangled Banner."
The policy in question gives players the option to stay in the locker room during the singing/playing of the anthem but stipulates that players who kneel on-field will put their franchise in a position to be fined by the league. There was some speculation that the new policy would include penalties during the game for kneeling, but that was not part of the commissioner Roger Goodell's statement. The new policy allows for individual teams to make their own rules, but the statement from Goodell doesn't appear to allow for much wiggle room.
Here is Roger Goodell's official statement, via the NFL's Twitter feed:
Statement from NFL Commissioner Roger Goodell pic.twitter.com/1Vn7orTo1R

— NFL (@NFL) May 23, 2018
As in the past, the NFL's position on the issue has sparked a fierce reaction, both positive and negative.
"You have to stand proudly for the National Anthem. You shouldn't be playing, you shouldn't be there. Maybe they shouldn't be in the country…the NFL owners did the right thing" -President @realDonaldTrump pic.twitter.com/bt36t4EX5u

— FOX & friends (@foxandfriends) May 24, 2018
Steve Kerr criticized the NFL for its national anthem policy pic.twitter.com/eaCXC5WhCj

— Mark Medina (@MarkG_Medina) May 24, 2018
Further, several players have had a sharp criticism of the new policy. Namely, the players say that the owners drew up the new rule without collectively bargaining it with the NFL Players' Association, which they argue should have been protocol.
Of course, all of this is happening while the chief instigator, Colin Kaepernick, is going through hearings regarding whether or not collusion took place among the 32 NFL teams in order to keep him out of the league.