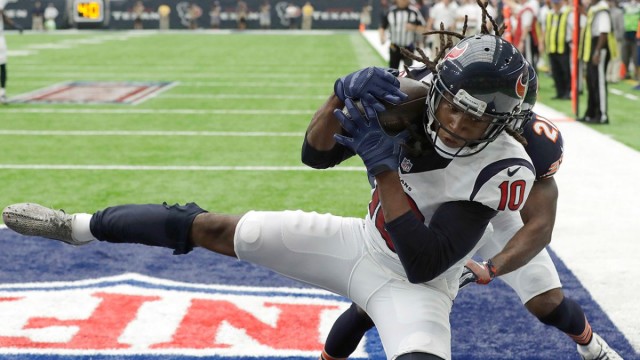 The Adidas Yeezy 350 cleats are selling for a cool $200. Not too costly for the average NFL player but for Houston Texans star wide receiver DeAndre Hopkins, it's going to cost him $6,000.
The wideout rocked the cleats recently during the Texans victory over the Chicago Bears this past Sunday and according to the Associated Press, Hopkins received a nice FedEx from the NFL in the form of a fine. The popular cleats went sale on Thursday and by about lunch time, they were all sold out.
YEEZY 350 CLEAT by Kanye West.
September 15, 2016. pic.twitter.com/6ft7PHTRRd

— adidas (@adidas) September 14, 2016
Hopkins also said that he won't be wearing the cleats unless their creative designer Kanye West pays for his fine.
Hopkins, who has a multi-year contract with Adidas, said he received a fine of $6,000 for wearing the shoes in the popular turtle dove color. He received a fine for the shoes because NFL rules say that shoes must have one dominant base color, which the Yeezy's do not.

Asked if he would wear the shoes again Hopkins said with a laugh: "Only if Kanye wants to pay the fine."
Hopkins wasn't alone in wearing the 350 cleats on the NFL's opening Sunday. Minnesota Vikings running back Adrian Peterson and Buffalo Bills wide receiver Sammy Watkins also wore the cleats. Denver Broncos Super Bowl MVP linebacker Von Miller also wore the Yeezy 750 cleats but only during warm-ups, thus avoiding a fine. Peterson and Watkins might also be receiving a fine from the NFL very soon.
Now that the cleats have been banned by the NFL for violating a rule of not having one solid color, it appears that the shoe company is planning to make an effort to pay for these fines against their athletes.
Following from Nick DePaula of The Vertical on Yahoo! Sports.
The NFL has banned Kanye's Yeezy 350 cleat, mandating cleats have a "solid base color" or face $6K fine per game. pic.twitter.com/4veXeTf5LU

— Nick DePaula (@NickDePaula) September 15, 2016
I'm hearing from multiple people that adidas is putting a plan in place to cover NFL's fines and have players continue to wear Yeezy cleats.

— Nick DePaula (@NickDePaula) September 15, 2016
The Yeezy cleats went through adidas' full pro weartesting program to make sure they met all performance standards. https://t.co/FRjZWT1gEh

— Nick DePaula (@NickDePaula) September 15, 2016
I checked, and Nike had no involvement in NFL's decision to ban adidas Yeezy 350 cleats and fine players.

— Nick DePaula (@NickDePaula) September 16, 2016
Kanye West, for one of the few times in his life, might be smiling about this move from Adidas. The Yeezy 350 cleats are very beautiful and if the players want to wear it, let them wear it.