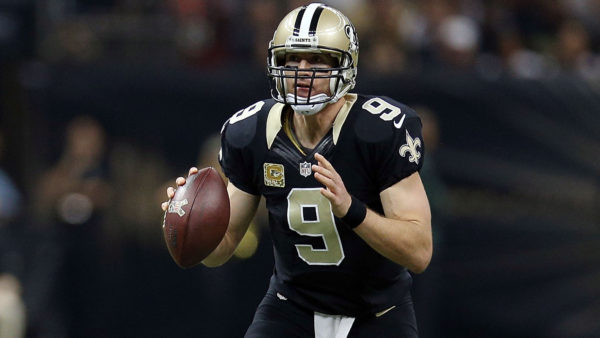 The New Orleans Saints have a three-year playoff drought and with Drew Brees turning 38, they don't have much time left with him at the quarterback position. The roster is dry of talent; mostly on the defense. The Saints yielded over 6,000 total yards on defense (27th in the NFL) and gave up the second most points per game (28.4).
Up to this point in the offseason, it appears as if they have not focused on their defensive needs…again.
Key 2017 Losses:
Brandin Cooks (WR) – trade with New England Patriots
Jarius Byrd (FS) – Free Agent
Tim Lelito (OG) – Tennessee Titans
The roster from top to bottom is better than it was at the end of last season. The Saints have added depth at linebacker and added two young starters in the secondary.
Key 2017 Additions:
Tedd Ginn Jr. (WR) – from the Carolina Panthers
Adrian Peterson (RB) – from the Minnesota Vikings
Larry Warford (OG) – from the Detroit Lions
Marshon Lattimore (CB) – 2017 NFL Draft (Ohio State)
Ryan Ramczyk  (OT) – 2017 NFL Draft (Wisconsin)
Here's what you should keep up with during the Saints training camp. The New Orleans Saints placed four players on their PUP list.
3 Position Battles to Watch
1. Running Back
Instead of adding serious depth on their defense, the New Orleans Saints signed Adrian Peterson and drafted Alvin Kamara in the second round. Heading into training camp, the Saints listed starting running back is Mark Ingram. Drafting Kamara makes sense – he will fill the role Darren Sproles use to play and is a nice change-of-pace back from Ingram and Peterson. Regardless, it will be interesting to see who wins this battle coming out of training camp.
2. Left Tackle
Once Terron Armstead suffered a shoulder injury that will keep him sidelined for 4-6 months, the left tackle position became vacant. Two players battling for the starting position are rookie Ryan Ramczyk and Khalif Barnes. While the Saints would like to see Ramczyk win the battle, Barnes brings veteran experience and savvy. Left tackle is the second most important offensive position outside of quarterback. How healthy Drew Brees remains this season is likely correlated with who wins this position.
3. Linebacker
New offseason signees such as A.J. Klein and Manti T'eo look to challenge Craig Robertson and Stephone Anthony at the linebacker positions. The Saints would be wise to move Anthony back to his middle linebacker position where he led the team in tackles as a rookie. If they do, this opens the strong side linebacker position. But only one name out of A.J. Klein, Manti T'eo, and Craig Robertson will start September 11 against the Minnesota Vikings. Once training camp is over, we will likely have the answer.
Ready To Break Out: Stephone Anthony
Stephone Anthony is only in his third season and he has already experienced the highest of highs and lowest of lows when it comes to his career statistics. In his rookie campaign, he led the New Orleans Saints in tackles with 112 while playing the middle linebacker position. Last season, Dennis Allen (Saints defensive coordinator) moved Anthony to the SAM (strongside linebacker) position and it was apparent Anthony was out of place. He recorded only 16 total tackles with no sacks, no interceptions, and no forced fumbles. This season, Allen has made it clear that Anthony will return to his natural, middle linebacker position. Expect his production to sky rocket once again.
Fantasy Sleeper: Alvin Kamara
It is pretty safe to say the Alvin Kamara will assume the role that was once played by Saints favorite, Darren Sproles. With the signing of Adrain Peterson, Kamara is not likely to run the football very much. However, he will be utilized as a passing threat out of the back field. The Saints are going to give this electric young man ample opportunity to take the rock to the house. Drew Brees is a wizard and will find ways to get Kamara the football in space to do what he does best: run.
Rookie To Watch: Alex Anzalone
With Dannell Ellerbe on the PUP list and likely to get cut once healthy, it opens doors for rookie outside linebacker Alex Anzalone. Once Ellerbe is cut, Anzalone remains as the only weakside linebacker on their roster. Will he endure a rookie learning curve? Absolutely. But the Pennsylvania native will get a shot. And when he does, look for him to take advantage of his opportunity.
Although it is getting better, the Saints have the least talented roster in the NFC South. Drew Brees is likely to break more passing records, but the remains defense is atrocious. It is amazing that the Saints only have four nationally televised games. Almost every game is going to be a shoot out: scoring fast, scoring often, and little resistance (defense). That's what we like to see, right?