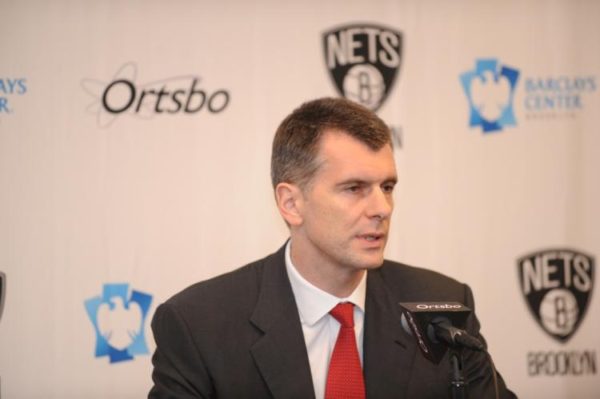 The Brooklyn Nets are slowly dying and it seems that owner Mikhail Prokhorov is not one for owning sub-par teams. And ever since the Clippers were sold last year. It seems that selling teams are the new trend in the NBA. Only difference is that Prokhorov hasn't said anything remotely racist. Oh no. He's just done watching the Nets. The news dropped via ESPN.com's Ohm Youngmisuk, Darren Rovell and Mike Mazzeo.
Prokhorov has reportedly retained Evercore Partners to sell the franchise he acquired majority ownership of in May 2010 for $223 million.

"As we have said for many months, ownership is always open to listening to offers — that's just good business," a spokesperson for Prokhorov said in a statement. "There is nothing imminent in terms of a sale of any stake in the team."

Prokhorov's tenure as owner has been defined by his incredible willingness to spend a fortune to win, but sources have told ESPN.com the Russian hasn't been thrilled with the team's financial losses or its performance on the court.

The Nets lost $144 million in basketball-related business in 2013-14 — $131 million more than the next highest team — as reported by Grantland.com.

Prokhorov's current stake includes 80 percent of the team and 45 percent of Barclays Center. At the time he purchased the Nets, he agreed to service 80 percent of the team's $220 million debt.
It's that simple. He lost millions and now he wants to stop the bleeding. I wouldn't mind having that kind of money to hemorrhage on a basketball team.
Hey Prokhorov. Lash me that money and I might buy the Hawks. Atlanta is a nice city to live.
Speaking of Atlanta. I suspect Prokhorov to be waiting for a deal for a long time. Bit while the Hawks are on the market. Atlanta are having a franchise defining year and everybody who wants a team is preparing to buy the Hawks. Brooklyn will have to wait their turn.