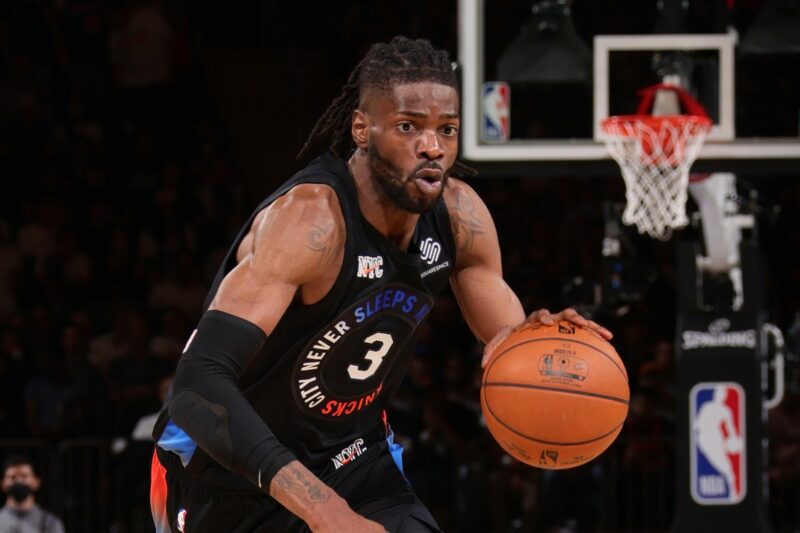 The New York Knicks have traded big man Nerlens Noel, guard Alec Burks, two second-round picks, and cash to the Detroit Pistons. New York made this move to clear up more cap space in order to attempt to sign Dallas Mavericks point guard Jalen Brunson. This is the second cap dump trade the Knicks have completed with the Detroit Pistons this offseason. Unlike with Kemba Walker, the Pistons seem eager to keep and play Noel and Burks. The Pistons now have a good mix of talented youth and experienced depth.
The Knicks are trading center Nerlens Noel and guard Alec Burks to the Pistons, sources tell ESPN. The Knicks will unload $19M more in salary, clearing the way for cap space to try and sign free agent guard Jalen Brunson.

— Adrian Wojnarowski (@wojespn) June 29, 2022
The two second-round draft picks of the Knicks sent to Detroit are their own 2023 selection and a 2024 pick via the Miami Heat. Now Detroit has gained a talented young center in Jalen Duren, two established veterans for depth, and some more draft capital. Nerlens Noel and Alec Burks can help the team win games and provide mentorship to the young players on the roster. The Knicks get the cap room they need to sign the free agent they want on their roster.
Pistons players drafted in the lottery:

Cade Cunningham (1)
Marvin Bagley (2)
Jaden Ivey (5)
Nerlens Noel (6)
Killian Hayes (7)
Alec Burks (12)
Kelly Olynyk (13)
Jalen Duren (13) pic.twitter.com/pkWxVvgXlA

— StatMuse (@statmuse) June 29, 2022
The top goal for the Pistons is to build around Cade Cunningham and make the NBA Playoffs as quickly as possible. New York also hopes to return to the NBA Playoffs with Jalen Brunson as their point guard. This trade helps both sides get closer to their goals.