We remember the top NCAA Championship teams of the 2010s.
March Madness is a special event for every college athlete. For some of these players, it's the first step in illustrious and glorious NBA careers. Some of them will try to impress NBA scouts but will gladly take any opportunity overseas. And for most of them – just like in real life – it's the last dance, the last basketball journey. NCAA championship squads are no exception. Today, we will remember those who made it to the NBA or any professional level in this decade. Recently crowned 2017-18 Villanova Wildcats are on the clock.
2016-17 North Carolina Tar Heels
NBA: Justin Jackson (Sacramento Kings), Isaiah Hicks (New York Knicks)
G-League: Kennedy Meeks (Raptors 905), Tony Bradley (Salt Lake City Stars)
Overseas: N/A
Justin Jackson is the leading man of arguably the least shiny and flashy Tar Heels championship roster in terms of star power. But even Justin can't be really happy with the current state of events. He is the part of young Sacramento Kings core but definitely not the important one as De'Aaron Fox and Bogdan Bogdanovic took the center stage.
Isaiah Hicks has been on a two-way contract with the New York Knick but suited up only for 14 games in the NBA. Tony Bradley was even less lucky with only 9 of them in Utah Jazz uniform. Finally, the rebounding leader of the championship squad, Kennedy Meeks is fighting for his NBA career in the G-League. The big man was averaging solid 12.8 points and 9.5 rebounds per game with Toronto Raptors affiliate.
2015-16 Villanova Wildcats
NBA: Josh Hart (Los Angeles Lakers), Ryan Arcidiacono (Chicago Bulls)
G-League: Daniel Ochefu (Reno Bighorns)
Overseas: Darryl Reynolds (Lublin, Poland)
Other: Kris Jenkins (Yakima SunKings, NAPB)
It's probably the most mediocre group on our list. However, Josh Hart is not the only NBA representative here. Ryan Arcidiacono could've ended up in Italy this year. He's already signed a contract with a local team that was later denied to entry Serie A, top Italian division. Arcidiacono made his NBA debut for the Chicago Bulls on a two-way contract but really wasn't able to earn significant minutes in a lottery team.
Daniel Ochefu has already seen some NBA playoff action with the Washington Wizards last season. This year, however, was a letdown as he wasn't really impressive in the G-League. Kris Jenkins has fallen even further. Somehow he ended up on a minor league team from the North American Premier Basketball. It will be interesting to see if newly-crowned champions will be more impressive in pros.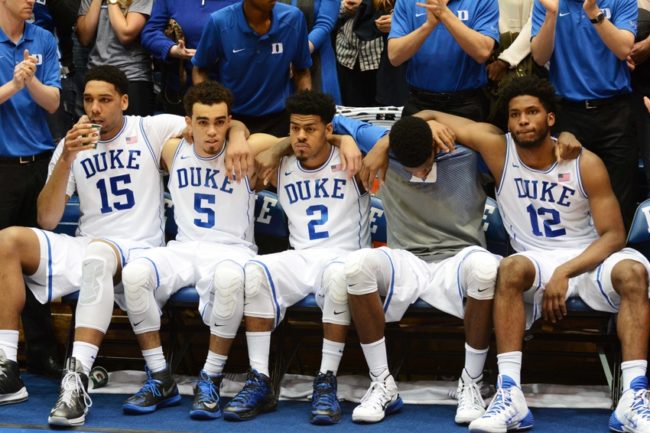 2014-15 Duke Blue Devils
NBA: Quinn Cook (Golden State Warriors), Tyus Jones (Minnesota Timberwolves), Justise Winslow (Miami), Jahlil Okafor (Brooklyn Nets), Amile Jefferson (Minnesota Timberwolves), Marshall Plumlee (Milwaukee Bucks)
G-League: Matt Jones (Reno Bighorns)
Overseas: N/A
This squad needs no introduction really. We've seen some serious plot twists with these guys though. One's a top 3 pick, ROY candidate and high-skilled center with a star potential now is a shade of himself on the Brooklyn's bench. Jahlil Okafor is not the best player from this group anymore. On the other side, Quinn Cook and Tyus Jones are having breakthrough seasons. Cook might even be the story of the year in eyes of some NBA fans. Go figure.
Justise Winslow is getting there with an all-around improvement, especially in the three-point shooting. He is not done by any means. Marshall Plumlee has expectedly become an NBA journeyman with AmeriCup gold with Team USA being his brightest moment to the date. Amile Jefferson is a two-way contract player for the Minnesota Timberwolves. However, the 6-foot-9 forward hasn't appeared in a single NBA game.
2013-14 Connecticut Huskies
NBA: Shabazz Napier (Portland Trail Blazers)
G-League: DeAndre Daniels (Agua Caliente Clippers), Amida Brimah (Austin Spurs)
Overseas: Ryan Boatright (Besiktas, Turkey), Niels Giffey (Alba, Germany), Phillip Nolan (Naestved, Denmark), Lasan Kromah (Cluj-Napoca, Romania), Kentan Facey (Free agent)
Shabazz Napier has finally become the part of major NBA story being an important piece of incredible Portland Trail Blazers run this season. Unfortunately, Napier is pretty much it for this championship squad when it comes to success at the NBA level.
DeAndre Daniels, arguably the 2nd best player that year, was forced to hit the road a lot. He made his pro debut in Australian NBL, tested waters in the second-tier Italian league and then had various G League stints. He still has zero NBA games under his belt. The same applies to Ryan Boatright. But there is still a gap between the two. Boatright has already won Croatian championship with Cedevita and played a couple of months for Turkish powerhouse Besiktas, the former club of Allen Iverson and Deron Williams. Niels Giffey, the only other one two-time champion besides Napier, also has an interesting path. He has been representing German side Alba since 2014. Considering the wild amount of transfers in Europe it is a remarkable accomplishment indeed.
2012-13 Louisville Cardinals
NBA: Montrezl Harrell (Los Angeles Clippers), Gorgui Dieng (Minnesota Timberwolves), Mangok Mathiang (Charlotte Hornets)
G-League: N/A
Overseas: Peyton Siva (Alba, Germany), Russ Smith (Free agent), Kevin Ware (Faros, Greece), Wayne Blackshear (Free agent), Chane Behanan (Free agent)
They might have lost the title in the off-court battle but five years later they are still a championship quality squad. Montrezl Harrell and Gorgui Dieng are two obvious standouts here with solid NBA careers so far. Harrell has been trending this season with the scrappy and gutsy Los Angeles Clippers team still fighting for the playoffs spot. Mangok Mathiang is your typical two-way contract player with not a lot of room to operate at the NBA level.
Overseas Cardinals clique might be even more impressive. Russ Smith has been a nuclear weapon all year long in China with 33.6 points per game average in the Chinese Basketball Association. Peyton Siva is now one of the leaders of German powerhouse Alba Berlin that is constantly gunning for Bundesliga title. Chane Behanan's debut with Italian side Trento was solid but he is still trying to fight his way back into NBA through the G-League. Kevin Ware who is most known for his gruesome injury in 2013 is doing well in Greece still hoping for a playoff spot. The only Cardinal who's gone really quiet is Wayne Blackshear. His last game was in Lebanese league almost three months ago.
2011-12 Kentucky Wildcats
NBA: Anthony Davis (New Orleans Hornets), Michael Kidd-Gilchrist (Charlotte Hornets), Darius Miller (New Orleans Hornets), Marquis Teague (Memphis Grizzlies)
G-League: Terrence Jones (Santa Cruz Warriors)
Overseas: Kyle Wiltjer (Olympiacos, Greece), Doron Lamb (Lavrio, Greece), Eloy Vargas (Boulazac, France)
The group that on paper should be represented in the NBA by numerous athletes at this point really is lucky to have four guys. Anthony Davis is a full-time superstar now with monstrous numbers all over the board. Michael Kidd-Gilchrist is mostly fighting with his body at the NBA level while showing no real progress in recent years. Darius Miller earned his second shot in Big Easy thanks to his two productive years with German side in Euroleague Brose Bamberg. Marquis Teague wasn't that lucky in Europe with small contracts in Israel and Russia but was rewarded for his patience in the G-League by the Memphis Grizzlies.
Where the hell is Terrence Jones you may ask? Well, he is really having a nightmarish season. Jones signed a huge contract in China prior to the start of the season just to be suspended and cut later with only nine games under his belt. He was averaging almost 20 points and 8 rebounds per game with Golden State Warriors affiliate, but hasn't been called-up once. Doron Lamb is currently playing in Greece and will be one of the most recognizable names in the playoffs. With Kyle Wiltjer of course, who seems to find his niche with European powerhouse Olympiacos.
2010-11 Connecticut Huskies
NBA: Kemba Walker (Charlotte Hornets), Jeremy Lamb (Charlotte Hornets), Shabazz Napier (Portland Trail Blazers)
G-League: N/A
Overseas: Niels Giffey (Alba, Germany), Alex Oriakhi (Fuerza Regia, Mexico)
This team was all about Kemba Walker and to no surprise, he can already be labeled as Hornets legend with most points scored in franchise history. Jeremy Lamb hadn't got that kind of upside but also has been able to stay in the league. You already know the stories of Shabazz Napier and Niels Giffey. As for Alex Oriakhi, he has been traveling a lot lately. Oriakhi, who graduated as Missouri Tiger, has experience playing in Central America and Europe. He is currently representing Mexican club.