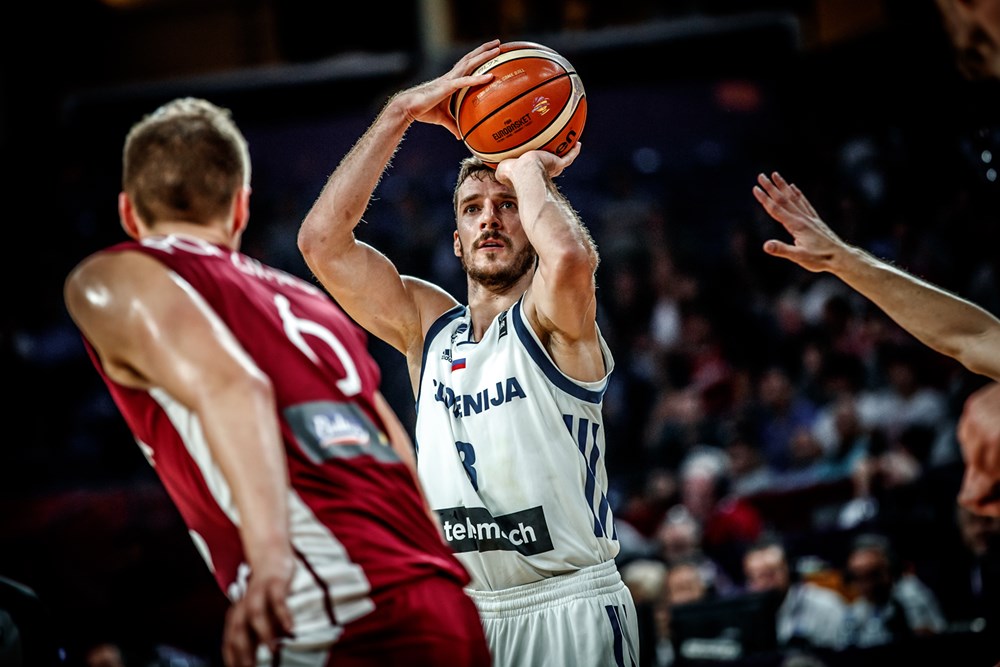 The NBA is finally nearing its return and we can't wait for the season to start. Fortunately, while waiting, fans had the chance to enjoy a great basketball show: EuroBasket 2017. In the first half of September, 24 countries played each other and competed to be crowned Champions of Europe. Before the opening day, there was some disappointment growing because many important players – including Milwaukee Bucks star Giannis Antetokounmpo, Danilo Gallinari and Milos Teodosic – were injured and would miss the tournament. Despite that, EuroBasket 2017 ended up being a fascinating tournament with high-level competition and clutch performances. In the end, Slovenia was the last to survive and were rewarded for their huge and undefeated journey at EuroBasket 2017 with the gold medal after beating Serbia 93-85 in the final game.
Among 288 total players who participated in EuroBasket 2017, 30 are currently signed by NBA teams. Let's check out who of them stood out and made the Def Pen's All-NBA-At-EuroBasket Team (with no rules on positions).
Goran Dragic (Slovenia – Miami Heat)
Just remarkable. "The Dragon" had by far the best FIBA competition of his career as he led Slovenia to the first gold medal in the history of the national team. He started very strongly, making it look easy by shooting threes and absorbing big men's contact and finishing at the rim. He had a 30-point performance in the opening game against Poland, and finished the group phase scoring at least 20 points in every game. His one and only bad night was in the Round of 16, but Slovenia eliminated Ukraine thanks to a great group of players determined to reach the ultimate goal.
Then, Dragic would lead Slovenia to the final game after a heartbreaking quarter-final against Latvia and a great semi-final victory against a Spanish national team that was full of current and former NBA players. In the gold-medal game, Dragic turned his EuroBasket from "remarkable" to "amazing;" he caught fire, scored 35 points (26 in the first half) and led Slovenia to the European throne. In August, Dragic said he would retire after EuroBasket 2017. With that being said: Amazing ending, if it's really an ending…
Dennis Schröder (Germany – Atlanta Hawks)
EuroBasket 2017 was Germany's first FIBA competition of the post-Nowitzki era. The Dallas Mavericks star had been a member of the German national team for 18 years. Therefore, there was some curiosity regarding what Germany would be able to do without Nowitzki. Atlanta Hawks point guard Dennis Schröder did a great job in leading the team to the quarter-finals. Unreal quickness, mental toughness and the ability to attack the rim were his most lethal weapons, which led him to placing in the top-three in scoring (23.7 points in 30.9 minutes per game). He scored 32 points in his debut against Ukraine and helped Germany upset France in the Round of 16 with 21 points, 8 assists and 4 rebounds. Against Spain, his 27-point performance wasn't enough for Germany, as the team was eliminated in the quarter-finals after a very solid journey.
Bogdan Bogdanovic (Serbia – Sacramento Kings)
Serbia didn't make it to the gold medal, but hats off to Bogdan Bogdanovic, who had a great EuroBasket and gave Sacramento Kings fans a taste of what he can bring to the NBA. With no Milos Teodosic (injured) on the roster, coach Sasha Djordjevic decided to give Bogdanovic the keys of the team. Besides his well-known scoring and shooting abilities, he also showed he can lead a team, control the tempo and create for his teammates (he averaged 5 assists per game), which is great for a 6-foot-6 guard. Just like Dragic, Bogdanovic started his EuroBasket with a 30-point performance against Latvia and finished his experience with 20.4 points per game, shooting a very solid 47 percent from the field.
Lauri Markkanen (Finland – Chicago Bulls)
Definitely one of the most fascinating players to watch in EuroBasket 2017. The former Arizona Wildcat stole the show during the group phase as he put on a clinic in front of his home crowd (Finland hosted the Group A games in Helsinki). He averaged 19.5 points and 5.7 rebounds per game, but what is amazing about him is that he is a 7-footer who can do it all on the offensive end. He is so long, can post up, finish with a baby-hook, shoot fading away from the midrange, but he has a lot of game on the perimeter as well. He is able to beat his defender one-on-one and attack the basket as well as shoot the three (47.8 percent from beyond the arc in the tournament).
The negatives for Markkanen: He is not strong enough yet to defend against heavier big men in the post, and he had a bad night in the Round of 16 as Italy eliminated Finland. But the (huge) potential is there and makes us think that the NBA will welcome another "unicorn" like the one I'm going to talk about next.
Kristaps Porzingis (Latvia – New York Knicks)
Here's the NBA's very first "unicorn." Kristaps Porzingis was maybe the most lethal offensive weapon in the entire tournament as far as scoring skills in relation to physical structure and position. Whether he was using his long body against smaller defenders in the post or shooting a three-pointer off of pick-and-pops, Porzingis could always find a way to go for 20-plus points. After losing in the debut against Bogdan Bogdanovic's Serbian team, the New York Knicks starting forward led a very intriguing Latvian national team to five consecutive wins in the group phase and the Round of 16. In the quarter-finals, Latvia and Slovenia fought each other in a very exciting game. Porzingis was unstoppable and scored 34 points on 12-21 from the field, but that wasn't enough for his team, which lost to the team that would go on to be crowned champions, 103-97.