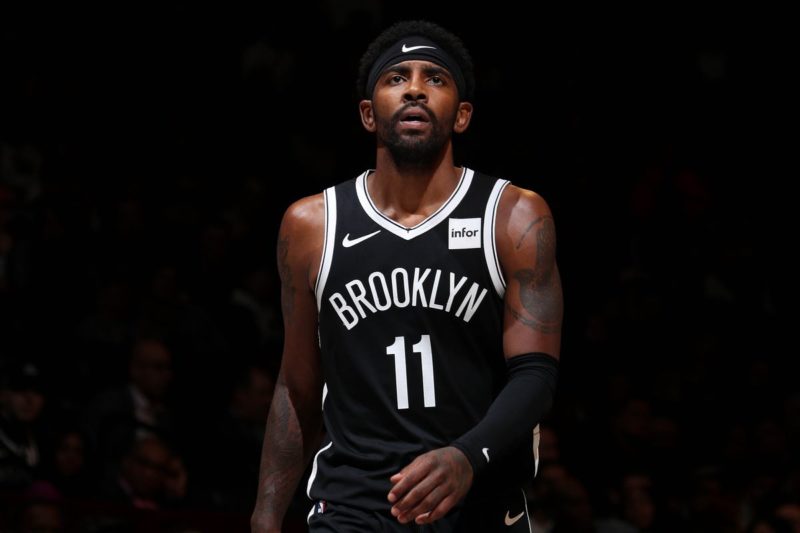 According to Vincent Goodwill from Yahoo Sports, the NBA is opening an investigation about the latest video of Kyrie Irving at a birthday party while not wearing a mask.
The NBA is officially reviewing the video circulating with Kyrie Irving, league sources tell Yahoo Sports

— Vincent Goodwill (@VinceGoodwill) January 12, 2021
In the video, Kyrie is alongside her sister, Asia Irving, while she blows the candles of her cake and in another one, he is dancing with her. In the two videos, Irving isn't wearing a mask. Both his dad and sister had their birthday's this week.
Videos have surfaced of Kyrie Irving at a large birthday gathering alongside his sister, Asia.

Kyrie's sister & dad have birthdays this week.

Given the size of the gathering & now public nature of it, Kyrie might now have to undergo a quarantine period before returning. https://t.co/McrYtFH9XK pic.twitter.com/U4T1KAvMTl

— Billy Reinhardt (@BillyReinhardt) January 12, 2021
Well, this is unfortunate. Here's another video of Kyrie Irving at a birthday party with his sister, Asia Irving. pic.twitter.com/zTPbf5ZIxU

— Alec Sturm (@Alec_Sturm) January 12, 2021
The General Manager from the Brooklyn Nets Sean Marks released a statement regarding the investigation and Irving's absence from the team.
"We are aware of a video on social media featuring Kyrie Irving at a family gathering. We are reviewing the circumstances with both Kyrie and the NBA in order to determine compliance with health and safety protocols. Kyrie remains away from the team due to personal reasons…Kyrie will have the opportunity to address his absence when he is ready to do so."
Irving has been out for the Nets' last three games for "personal reasons" and won't be back for Tuesday's game against the Denver Nuggets. He is also expected to miss Wednesday and Saturday's game as well.
The news comes while the NBA has been battling COVID-19 throughout the league and players test positive and other go into the safety and health protocols which has caused several games to be postponed.