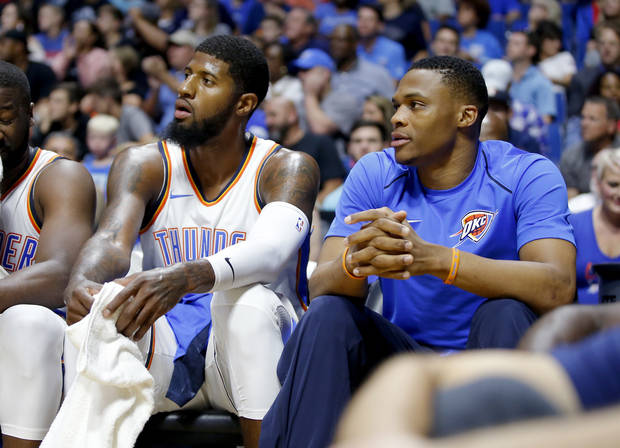 The NBA fined three members of the Oklahoma City Thunder on Wednesday. Russell Westbrook, Paul George, and head coach Billy Donovan were fined $15,000 for comments made towards the officiating crew following a game against the Trailblazers.
OKC Thunder HC Billy Donovan, forward Paul George and guard Russell Westbrook have each been fined $15,000 for public criticism of the officiating on Sunday. pic.twitter.com/ESXpsFZvF1

— Rob Lopez (@r0bato) November 8, 2017
Carmelo Anthony was ejected from the Tuesday night game after receiving a flagrant two foul. Jusef Nurkic collided with Anthony's elbow while defending a layup attempt. Initially, Anthony was awarded an And-1 for the contact. The officials then deemed the contact met the requirements for review.
"Every night, we haven't been getting the benefit of the doubt," George said. "I don't know what it is, especially for Russ. He attacks the basket, and so many of his plays at the rim are questionable, and he's not getting the benefit of the doubt."
However, Donovan was more interested in the seemingly growing free throw disparity between the Thunder and opposing teams.
Following from Royce young of ESPN,
"What's more concerning to me is our opponents have gotten to the free throw line 50 more times than we have," Donovan said Sunday. "And we've got a player in Russell who clearly, historically in this league, has gotten to the free throw line as much or if not more than anybody else in this league."
The NBA has not budged on the ref's assertion of the flagrant two foul on Anthony, according to Young:
"The flagrant 2 called on Carmelo Anthony on Sunday stands as called," a league spokesman said. "We reviewed it, the same as we review all plays of this nature, and agree with the on-court officials that the foul met the criteria of hard contact above the shoulders with high potential for injury. While attempting to draw a foul, Anthony extended his elbow into his opponent's face, which is dangerous and reckless in nature."
Westbrook felt that there had been some inconsistencies in the referee's decisions that night.  "I got hit in the face; They didn't review it as they should," Westbrook said. "I just think that when it's us, our team, myself, they don't do the same thing they do…I actually got hit in the face today. Nobody looks at it. Melo goes, hits [Jusuf] Nurkic. They go review. It's a bunch of bulls—."