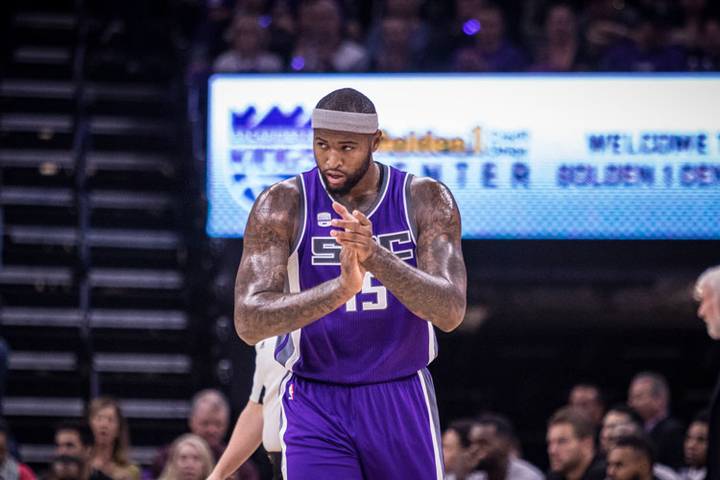 DeMarcus Cousins is the star the Sacramento Kings need to lead their future. Boogie has all the talent in the world, the size, and skill to dominate in the league but one thing that drops his value immensely are his antics. Whether it's an odd issue off the court, getting into it with coaches or even running into the stands because he fouled out, the big man doesn't go too long without getting into some issues.
Towards the end of the Kings victory against the Minnesota Timberwolves over the weekend, Cousins went to take a charge and he got called for a foul. He fouled out and proceeded to freak out, going into the stands and throwing his mouthpiece.
For his actions, Cousins was handed a $25,000 fine on Monday.
#NBA has fined #Kings DeMarcus Cousins $25,000 & given him a technical foul for throwing his mouthpiece & entering the stands on Saturday. pic.twitter.com/6iPUQ75OcL

— Rob Lopez (@R0BaTO) October 31, 2016
It's just another thing to add to the Cousins' list of transgressions. The big man is in his sixth NBA season and he's yet to sniff the playoffs but he's acquired a litany of fines in his time. The drama around Cousins continues. Hopefully, a change of scenery would help out Boogie in the future.
Cousins is a good guy. He's done some great stuff in the past for the community and he's been an upstanding citizen outside of the basketball world. He just has some issues when it comes to the sport he's really good at.
At least he has a better reaction to getting a technical foul.
Guess DeMarcus Cousins didn't mind getting his first technical foul of the season ? ? pic.twitter.com/pwOL59TsKs

— Def Pen Hoops (@DefPenHoops) October 30, 2016