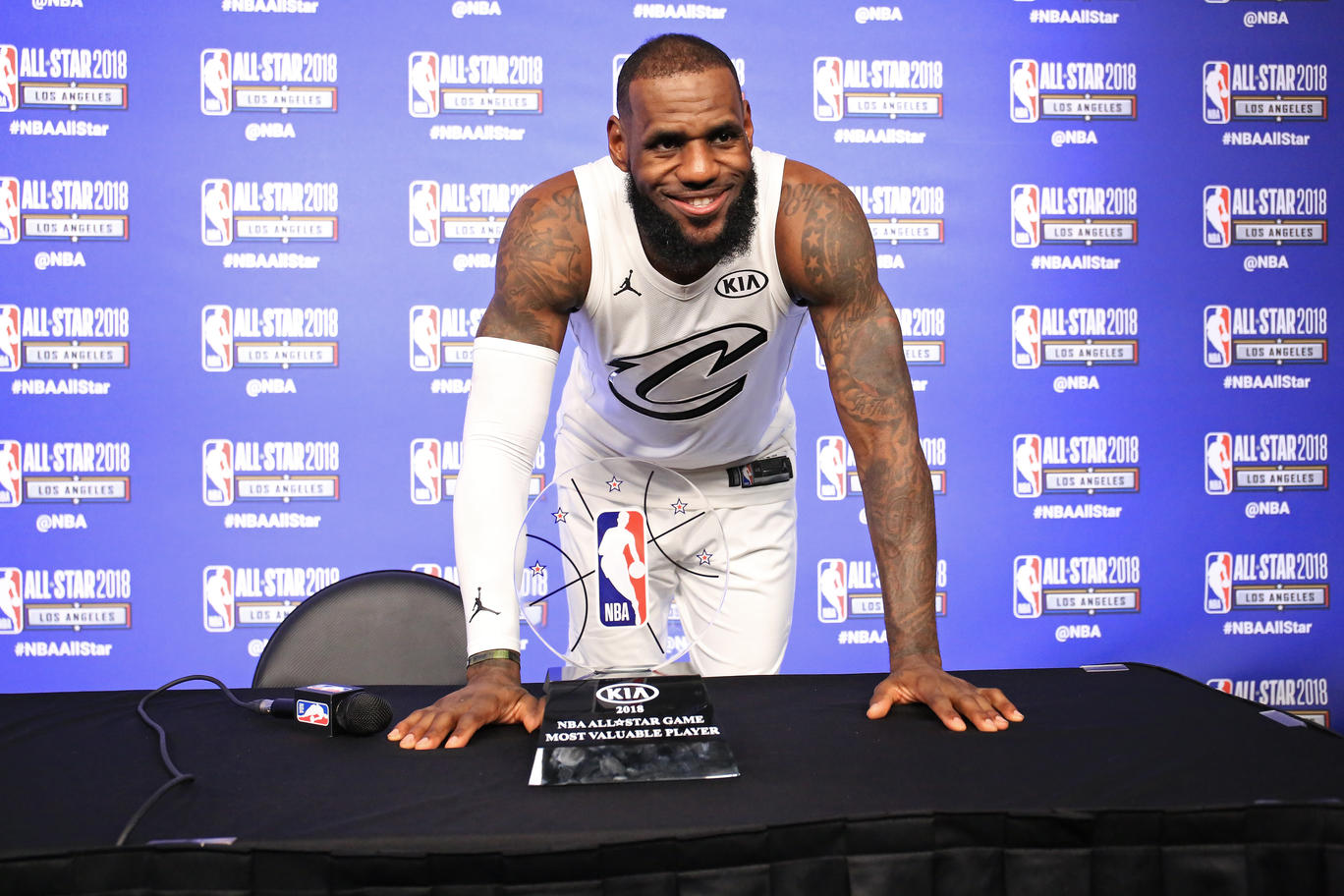 How often do you think NBA fans will see LeBron James and Kevin Durant guard Stephen Curry in the closing seconds of a tight, high-scoring game? The two best players in the world guarding the third-best player in a three-point game with only a few ticks left on the clock seems unlikely because it is. Then, add in the fact that Curry had to pass the ball to another All-Star and legit MVP candidate, DeMar DeRozan, in order to escape the defensive chokehold brought upon him by James and Durant, and it becomes a situation only imaginable in fictitious literature or NBA 2K. DeRozan may have missed the shot (due to smothering defense while being backed into a corner), but the situation, which occurred as the result league's revamped format of the NBA All-Star Game, was surreal.
Even in the era of "superteams" and "Big 3s", this scenario seems impossible. In the regular season — or even the NBA Finals — fans would never see anything like what transpired on Sunday night of All-Star weekend. There isn't an All-Star game of recent memory that compares to the energy and excitement that was on display in Staples Center.
The combined point total for the 2017 All-Star game was 374 points, the most ever. 2016's game saw 369 total points, 2015 with 321 and 2014 with 318. The two teams may have scored a combined 293 points this year — still a considerable drop from years' past — but the difference in this year's game was obvious. There was a considerable amount of defense being played (specifically in relation to last year's All-Star game), but the seriousness was a game-changer.
The All-Stars tried. Which sounds weird to say out loud, but the NBA's best players and top talents all came together for one game and tried. They tried to win. They tried to play defense. They tried to play this game like an actual game, and the result was poetic, exciting basketball. Most importantly, they still had fun.
It was fun last season to watch Steph Curry lay in the middle of the paint while Giannis Antetokounmpo executed a beautiful windmill dunk. It was fun to see LeBron James make a 3 from the literal half-court line. It was fun to see what felt like hundreds of off-the-backboard alley-oops and dunks. I won't lie, it was fun. Funny might be the more accurate word, but fun works too. Funny because of how laughable the effort was at times. We don't expect them to try on every possession because this is the All-Star BREAK. With little effort, dunk after dunk after dunk will fill the highlight reel, and deservedly so. With noticeable effort, the dunks are slightly harder to come by, but they're also that much more impressive in context.
Last year saw absolutely no defense whatsoever. Neither did the year before that. Or the year before that. You'd have to watch the 2013 All-Star game just to see a score below 150 points from one team. Sure, it was fun to watch Anthony Davis score the easiest 52 points of his entire career in last year's game. But it was much more fun and much more exhilarating to watch two teams legitimately putting forth their best effort to win what in actuality is a meaningless game.
There was more attention to defense in the final two minutes of this year's game than the last three entire All-Star games combined. We can thank the new All-Star format for this somewhat foreign defensive concept. Ditching the East vs. West matchup was a smart decision in terms of revitalizing the game. The old format was becoming increasingly stale and uninteresting. The All-Star game isn't exactly meant for balls-to-the-wall, lockdown, championship-level performances, but it also isn't for overt laziness, which is what it was turning into. Last year might as well have been an encore to the dunk contest (which is exactly what some fans wanted it to be).
The new format of picking teams with each team captain being the highest vote getter from each conference has provided an invigorating revamp that the All-Star game desperately needed. But will it be enough to keep interest high going forward?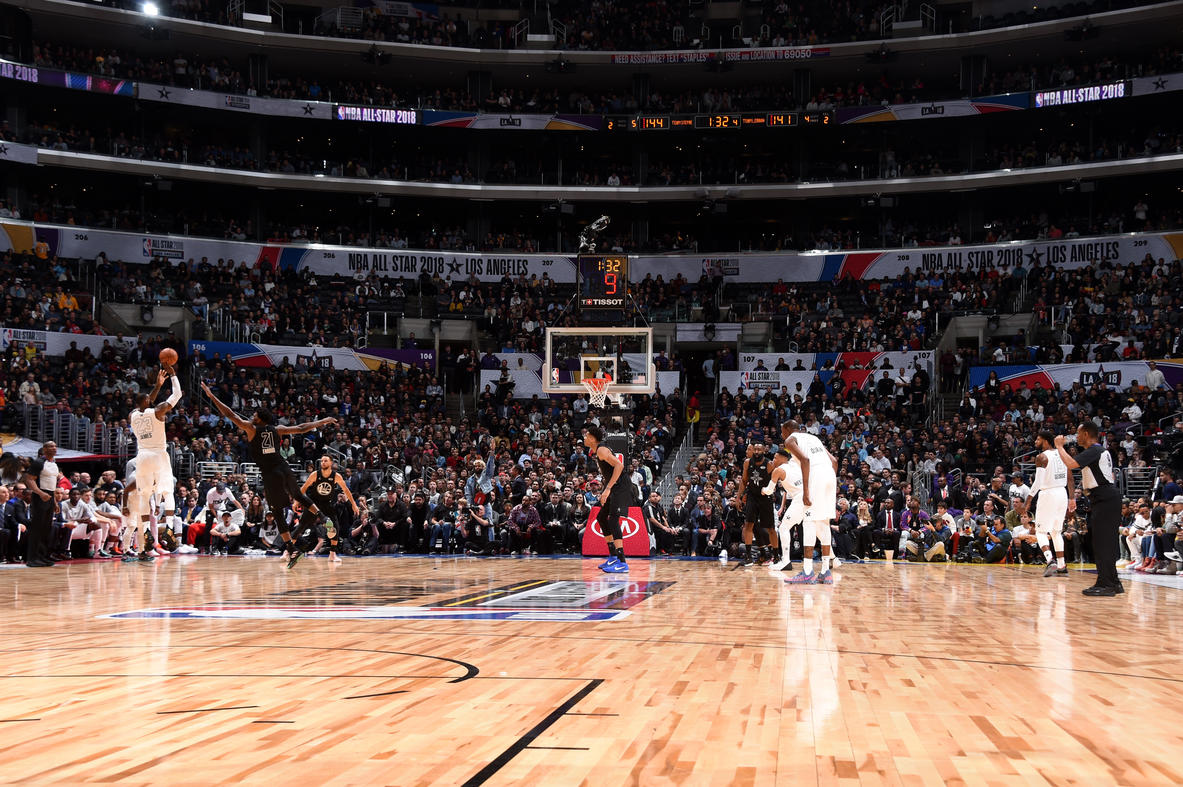 Unless the NBA plans on making severe changes every five or so years, the All-Star games of past will eventually poke their heads out as interest ultimately dissipates yet again. Televising the draft is the first thing the NBA should do (and it appears they will) to keep things fresh and lively. Refusing to do so in the first place was an "overly conservative" move in hindsight, according to NBA Commissioner Adam Silver, a statement that the majority of fans would agree with him on. NBA All-Stars aren't your average 10-year Catholic school boys who might kick the ball across the street if Little Johnny were to be picked last. These are grown ass adults. If they can't handle the "embarrassment" of being picked last for a game that only accepts the 24 best basketball players alive, then I hope they never log onto social media. But they can handle it because they're professional basketball players who make millions upon millions of dollars to be the best at what they do.
But simply televising the draft won't maintain player interest for years to come. Sure, it's exciting now. With the new format, we have the possibility of watching LeBron James play with Kevin Durant or Steph Curry play with Joel Embiid. It's different and most importantly, it's interestingly new. With the old format, LeBron James and Kyrie Irving would have played together regardless, but this year, LeBron had to pick Kyrie to be on his team. For him to do so after what happened over the summer is newsworthy enough. Does it actually mean anything to them on a personal level? Honestly, we'll probably never know, but it makes for fire tweets and that's really what we're all here for anyway.
There is no doubt that televising the draft will be a smash hit for the NBA when next season rolls around. But it will get stale. Eventually, it will run its course and become just another forgotten component to the events surrounding All-Star weekend that are only there to fill time, such as the Skills Challenge or Kevin Hart. Which is fine, but something will need to be built off of it. The great thing about All-Star weekend is that the players, fans and media can all have nontraditional fun they don't have the privilege of partaking in during the grind of the regular season. Which means the rules can (should) be altered. Would a 4-point line be something so far-fetched as a possible add-in? As previously mentioned, LeBron literally shot a pull-up jumper from half-court last year. This year, Damian Lillard basically did the same thing.
The NBA now revolves around outside shooting. Fans want to see Curry or Lillard shoot from 30-plus feet out because everyone in the building knows they can make it. If players are going to shoot that far from the basket, they might as well be rewarded for it. Adding that extra element of one more point can create an "on-the-edge-of-your-seat-type" atmosphere. Imagine Team Steph is down five with only two minutes left and Curry fires up a near-halfcourt "4-pointer" in Durant's face. The entire arena would be on their feet before the ball even left his fingertips. If he drills the shot AND somehow gets fouled, the literal roof would blow off the arena.
The extra cash incentive this year likely enticed players to give more effort but it was likely due to the new format. The league can't keep upping the prize every year; eventually, they would reach a limit in that aspect. Televising the draft will help with popularity. Potentially toying around with the rules could help, too. Removing Kevin Hart completely would absolutely help (Fergie's rendition of the National Anthem may have been… something… but the buzz — and memes — it created is never a bad thing for the league).
One thing we know for sure is this: the NBA is dedicated to making the All-Star game a must-watch, as it should be. This collective level of talent can only be seen during the Olympics, and even then the biggest names don't always join and they don't play against one another. The All-Star game is the only hope fans have to watch the best basketball players in the world play on one court against each other and they deserve to watch the best brand of it that is possible.