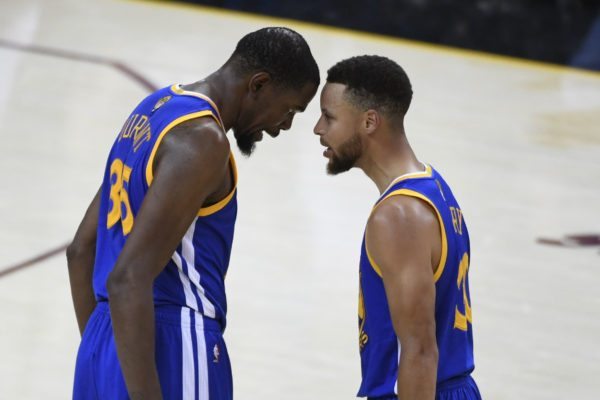 The 2016-17 NBA regular season redefined the way the Most Valuable Player award is perceived and voted upon.
The spectacular seasons of James Harden and especially Russell Westbrook, both high usage facilitators, caused a shift in what everyone values most in a player.
Should a player who averages over 30 points per game and a triple-double over an entire season win the award? At surface value, absolutely. But when his own team can't climb into the top his conference or crack 50 wins, is he still worthy of winning the MVP? Is he still worthy when he leads the NBA in turnovers and has a very inefficient field goal percentage?
History says, no.
Before Westbrook, the last time a team with an MVP award winner won less than 50 games and/or was less than the third seed in their respective conference was Moses Malone with the 1981-82 Houston Rockets.
Plus, only two players in the last 5 decades won an MVP with a field goal percentage under 45 percent – Allen Iverson in 2001 and Derrick Rose in 2011. In both those years, both the Philadelphia 76ers and Chicago Bulls were fighting for a first seed. The Oklahoma City Thunder were not.
When I wrote an article on projecting the MVP in early March of this year, I used these two statistical nuggets to defend why Westbrook was not deserving the MVP. Antecedent to last year's regular season, the "advanced analytics" movement (which I'm admittedly a part of) used the argument that Westbrook could not sustain a usage percentage over 40 percent for an entire season.
Why? Because it hasn't happened before.
Russell Westbrook told conventionalities to stick it where the sun don't shine. He won 88 percent of the vote, compared to Harden's 75 percent, finishing with well over of 70 percent of the first place votes.
*insert petty comment about Westbrook losing in five to Houston in the first round*
Whether or not Westbrook's historic season was an anomalous MVP run, it doesn't matter. Now, within the hearts of voters everywhere, the boundaries of what defines an MVP award is in their hands. This upcoming season is a clean slate for the members of the media. Screw statistics. Screw history. Screw narrative.
Or don't. With that said, here are the predictions for the 2017-18 NBA MVP award.
5.) Giannis Antetokounmpo
Giannis Antetokounmpo, a.k.a. the "Greek Freak," seems to be the consensus sleeper pick for this year's MVP award. Hell, Kevin Durant even said last weekend that Antetokounmpo "could end up being the best player ever to play."
Antetokounmpo averaged 22.9 points per game, 8.8 rebounds and 5.4 assists on a 59.9 true shooting percentage in his fourth year in the association. Coach Jason Kidd gave Antetokounmpo the keys to the Milwaukee Bucks' offense two years ago, and he's shined in that role since. He did play the majority of his minutes at the small forward this past year, as the reigning rookie of the year Malcolm Brogdon came in and performed very well as a first-year point guard.
Antetokounmpo is a one-man wrecking crew on the fastbreak. He cannot be stopped as he strides past everyone for an easy dunk at the basket or an acrobatic finish. His floor vision, for being 6'11", is that of a seasoned point guard. His size and dexterity allow him to guard 2-5 at a high level. His versatility on both sides of the court makes him an extremely impactful player.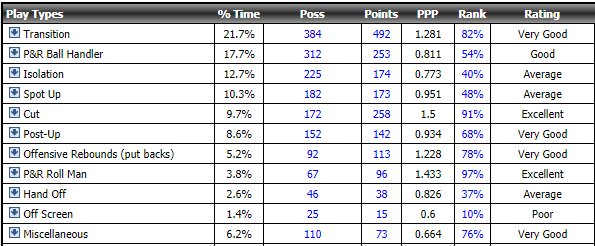 Above is Antetokounmpo's Synergy chart, breaking down how effective of a scorer he is in certain play types. Like said, his game in the transition is excellent, scoring 1.281 points per possession ranking in the 82nd percentile. Everywhere except in isolations, spot ups, handoffs, and off screens is Antetokounmpo average or below, which is only a quarter of his play types used.
What's even more exciting, is that Antetokounmpo seems to have worked on his jump shot in the offseason. If he can start hitting threes at a 30 percent and above clip, his ability to spot up and come off of screens becomes a viable option on offense. Even more so, if Jason Kidd lets Antetokounmpo run free in the pick'n'roll, with an improved jump shot, he becomes an unstoppable offensive force in the half court and in transition. (Brady Klopfer wrote an excellent piece on Antetokounmpo's potential growth here.)
Every year since being in the NBA, Antetokounmpo has had a higher usage percentage and improved his shot, as well as improving on his scoring averages. Much like how Kawhi Leonard was expected and did take a huge jump on offense coming into last season, Antetokounmpo has the opportunity to take on the Eastern Conference by storm as a darkhorse MVP candidate.
4.) James Harden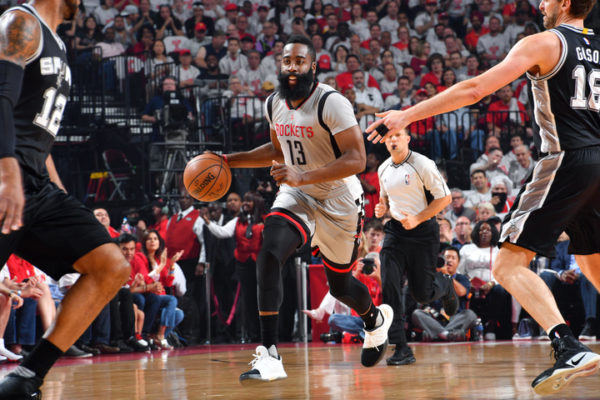 Last year, James Harden and the Houston Rockets surprised everyone (except for Oliver Maroney) by winning 55 games under first-year coach Mike D'Antoni. Harden put up 29.1 points per game, 8.1 rebounds and led the league with 11.2 assists leading Houston to the second round of the playoffs.
James Harden proved last year that he can run the point with the best of them. His ability to stealthily drive to the basket and draw fouls as one of the best pick'n'roll ball-handlers in the league has made Harden one of the league's premier offensive players.
During the offseason, Houston general manager Daryl Morey threw the NBA world upside down by acquiring superstar Chris Paul from the Los Angeles Clippers. This addition by Morey was both highly praised and controversial. Some personalities don't clash well with head coach Mike D'Antoni (see: Kobe Bryant, Carmelo Anthony) and Chris Paul's demanding nature had led the Clippers to deal him prematurely.
But for all the negativity and shade thrown at Houston on social media, the Rockets have the opportunity to set themselves apart as the clear second best team in the association. Kevin O'Connor of the Ringer wrote last week about how the backcourt duo in Houston mixed with a plethora of 3 and D guys could be lightning in a bottle.
It'll take winning 60 plus games, being the second seed in the Western Conference, and meshing with Chris Paul for James Harden to be a surefire MVP candidate this upcoming season.
Likely, Harden will grow as an off-ball and off-screen scorer playing next to Paul in crunch time, raising his points per game total and scoring efficiency. His ability to be a sneaky good cutter like his days with the Oklahoma City Thunder could also be a factor, especially if he starts running the pick'n'pop with Paul. The downside statistically will be losing assists and possessions to Chris Paul, which big picture, will help Harden and Paul both stay healthy and fresh come playoff time.
James Harden has the opportunity to again chase an MVP award, and if Houston excels under year two of D'Antoni, we will be hearing his name come springtime with those in contention for the MVP.
3.) LeBron James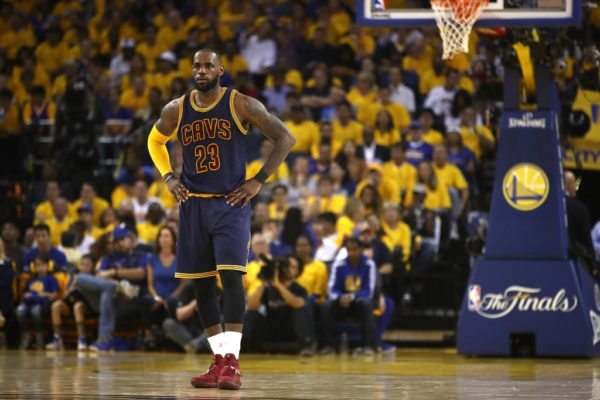 LeBron James is still the best player in the NBA. He's always in contention for the MVP award, year in, year out.
After losing Kyrie Irving to the Boston Celtics and gaining Isaiah Thomas and Jae Crowder from the Boston Celtics in the blockbuster deal of the summer, James seems to again be unfazed and ready to go after what could be his last season in Cleveland.
LeBron can do everything on the basketball court. Play 2-5, run the point, defend the rim, score at will. The only thing missing from his game is shooting threes at above 40 percent and hitting over 80 percent from the line. And who are we kidding. That's nitpicking.
Last year, LeBron James had quietly one of his best seasons of his career. Averaging 26.4 points per game, 8.6 rebounds, and 8.7 assists, on the third highest true shooting percentage of his career (61.9 percent), James continues to defy father time even as he played 37.8 minutes per game.
Kyrie Irving was able to take on a larger offensive role and losing his offensive contribution could potentially hurt Cleveland, especially since all-star guard Isaiah Thomas could be on injured reserve til after the all-star break, nursing his hip. Derrick Rose will have to fill in some fairly large shoes, as well as Kevin Love taking on the scoring production as the second best scorer on this team.
With this being the case, James has the option again to go after another MVP award to add to his resume. Or, he could slow it down in the regular season to go after another postseason run fresh.
With the impending doom of being (likely) swept by Golden State, James has every reason to try to boost his all-time resume by going after the first seed in the Eastern Conference and winning another MVP award.
2.) Kawhi Leonard
Last year, Kawhi Leonard was the darkhorse MVP candidate. Those who saw it in him knew Leonard would take another step into a larger offensive role while leading the San Antonio Spurs through the playoffs.
Even though his defense seemed to slightly suffer as he took on that primary scoring role, as he did lose to Draymond Green in the Defensive Player of the Year voting, Leonard has one more thing he can add to his game (of course, Popovich allowing so.)
Running the Spurs' offense.
Last year, as a sixth-year player, Kawhi Leonard averaged 25.5 points per game, 5.8 rebounds and 3.5 assists on a 61.0 percent true shooting. His offensive production has grown every year since coming in the league, both in efficiency and stature.
Kawhi can score very effectively in the post, as well as spotting up and coming off of screens, hitting difficult shots in the lane and from the midrange. His ability to find cutters in the Spurs' system is uncanny. He's just a well-balanced offensive machine (ahem, robot.)
The Spurs won 61 games, claiming the second spot in the Western Conference under the helm of Leonard. His ability to both stabilize the defense and be the primary scorer for their offense makes him a deadly "two-way…" ok I'll stop there with the cliches.
Leonard has the ability to be the Spurs' playmaker with Tony Parker being out until the All-Star break. Proving his ability as not only a scorer, defender, and a facilitator gives him precedence as one of the association's best and most impactful players.
IF Kawhi Leonard can stay healthy, and the San Antonio Spurs grab a top three seed in the Western Conference, there's no reason why Leonard won't be in the running for the MVP award.
1.) Kevin Durant
Kevin Durant shook the NBA forever when he choose to leave Oklahoma City for the Golden State Warriors last summer. The competitive balance, the parity within the league, may be no more. These next couple of years are Golden State's to lose.
It was expected that Durant would come out and have the most efficient season of his career in Golden State. Durant might've been an MVP award candidate had it not been for an injury that shut him down after the All-Star break going into the playoffs.
Even so, over 62 regular season games Durant averaged 25.1 points, 8.3 rebounds and 4.8 assists on a career-high 65.1 true shooting percentage, eventually leading the Golden State Warriors to beat the Cleveland Cavaliers in five games in the NBA Finals.
Kevin Durant may be the most efficient high volume scorer of all-time, rivaled by only Michael Jordan and LeBron James. His size and length allow him to easily get to the basket, and his Dirk-like touch with the basketball gives him one of the association's cleanest and best shots from anywhere on the court.
Many people don't take into account the fact that last year was only Kevin Durant's first year within Golden State's offense. Already defined by Stephen Curry's offensive genius, Kevin Durant was the unstoppable side-piece in an offense where he scored the majority of his point spotting up and in isolations.
Another year acclimated into Golden State's offense only means good things for Kevin Durant. The more he plays, the more he'll get opportunities for easy cuts and dishes to the basket, opening up the floor even more so his teamates.
Kevin Durant could be the leading scorer on a team that nearly wins 75 regular season games and will probably be top five in the league in total points per game while being the most efficient among those in his scoring tier.
If Stephen Curry doesn't "steal" his votes or the members of the media can get over the "Durant took the easy way out" narrative, there's no reason why Durant shouldn't be the leading vote-getter for next year's MVP award balloting.