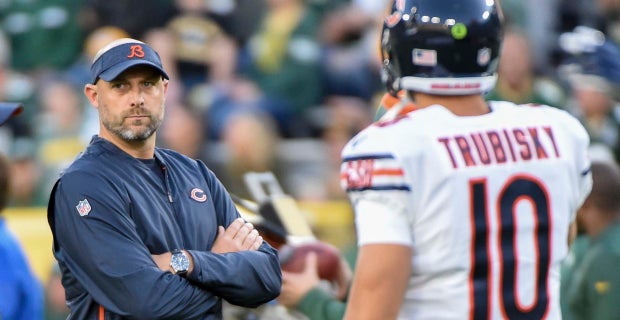 The Chicago Bears were able to secure a pivotal early-season divisional win against the Minnesota Vikings on Sunday but they did so without starting quarterback Mitch Trubisky who was injured on the game's first series. Trubisky banged up his shoulder while awkwardly diving for a loose ball. The third-year pro would return to the sidelines with his arm in a sling later on in the game.
While early indications seemed to convey Trubisky may have suffered a serious injury, head coach Matt Nagy is looking at the more optimistic side of things. Nagy told the Chicago Sun-Times following their 16-6 victory that he doesn't believe Trubisky's injury is serious enough to keep him sidelined for the season.
"That part is frustrating because [Trubisky] had a really good week of practice, and every week he's so excited to get back at it and really get this thing going," Nagy said. "And so it's — it happens early on, and now here he is, he's out … He's out of the game and now he knows that we've got to just see where it's at."

"I just — I want the kid to do really well," Nagy said. "How many plays was it, six? I'm sure that part is frustrating."

Nagy wouldn't specify the severity of the injury — despite being asked whether the shoulder was dislocated or broken — but said he didn't believe the injury was season-ending.
In Trubisky's absence, veteran backup Chase Daniel came into the game and did what he had to do to ensure the Bears left Soldier Field with a victory. Daniel completed 22 of 30 passes for 195 yards and a touchdown with zero interceptions.
While it wasn't a world-beating performance by any means, Chicago's offense only has to be so good with one of the best units in the league on the other side of the ball. Chicago's defense held Kirk Cousins and the Vikings offense under wraps, recording six sacks and two forced fumbles.
With Daniel at the helm for at least this next week, we may not see much of a dip out of the Bears. Trubisky had struggled out of the gates and Daniel is a seasoned vet who has plenty of experience in Nagy's complex system. Next, the 3-1 Bears travel to Oakland for a meeting with the Raiders in Week 5.