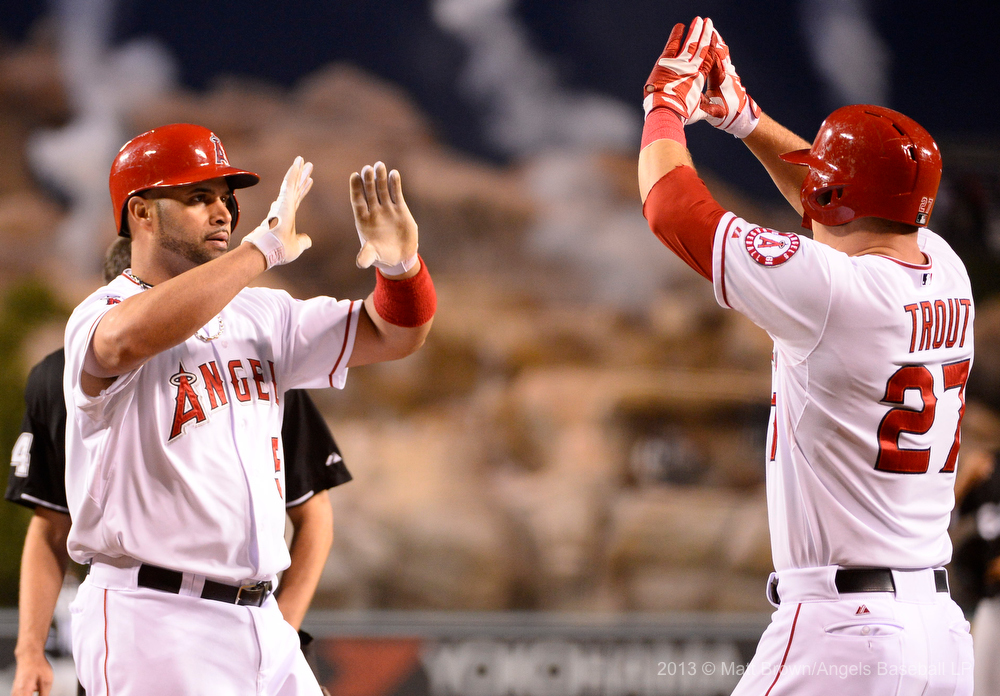 Just a couple of days after winning his second consecutive All Star Game MVP Award in the American League's 6-3 victory over the National League, Los Angeles Angels' outfielder Mike Trout continues to show why he is clearly the best player in the Major Leagues. After Boston Red Sox starter Wade Miley and their bullpen had stunned the Angels, giving up just one hit all night, the 23 year old from Vineland, New Jersey ended the game with one swing of the bat in the bottom of the ninth inning off of closer Koji Uehara. It was Trout's third career walk-off home run. Uehara had been dominant thus far this season as well, saving 22 games successfully out of 24 opportunities, and striking out more than a batter per inning. This may not have been a save opportunity, but he had been reliable all season long.
Fitting, isn't it?
That was Trout's 27th home run and his 56th run batted in on the year. It truly is incredible that every single time he comes up to bat you just get the feeling that something great is going to happen.
There isn't much else to say from an offensive standpoint, but this was an excellent pitchers duel from start to finish, as Miley went head to head with Angels' starting pitcher C.J. Wilson, who threw a gem of his own. Wilson pitched eight scoreless innings, giving up just five hits, walking three and striking out four. Reliever Joe Smith came on to pitch the ninth inning and he got the victory. Miley threw seven scoreless innings and gave up just one hit, but after giving up a lead off double in the 8th inning, along with throwing over 100 pitches, the Red Sox didn't want to take any chances. He walked two and struck out six in his dominant outing.
The Red Sox have certainly made things interesting after a horrid start to the season. They've crawled back to within a reasonable distance behind the New York Yankees, Baltimore Orioles, Tampa Bay Rays, and Toronto Blue Jays in the American League East. It is possible! That just goes to show how inconsistent that division has been all year. Meanwhile, the Angels are now in first place by half a game in the American League West after the surprisingly impressive Houston Astros had a commanding lead for the majority of this season.