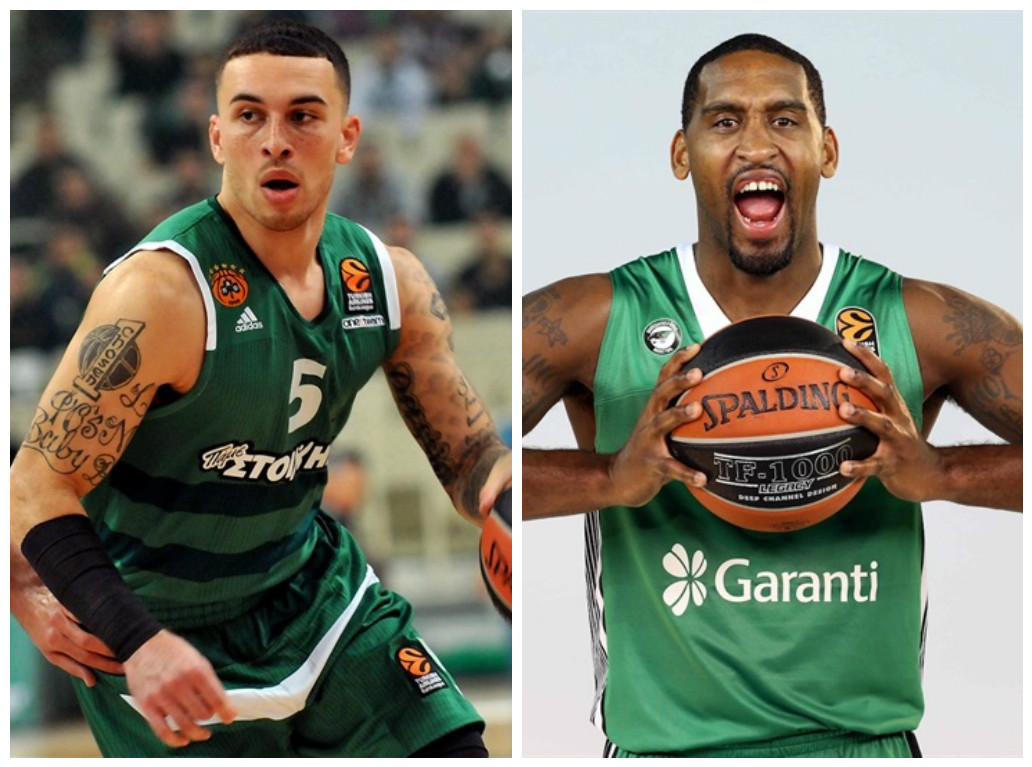 Last season, a 6-foot-3 American guard named Malcolm Delaney stood out in the EuroLeague when he averaged 16 points, five assists, and three rebounds per game for the Russian club Lokomotiv Kuban. That was his fifth season in Europe after going undrafted in 2011, but since then, he has been a rotation point guard for the Atlanta Hawks.
While Delaney has recorded five points and almost three assists per game in his first season at the highest level, two other American point guards are trying to make a name for themselves overseas so they can make the great leap.
Mike James, Panathinaikos (Greece)
The history of basketball has seen many players whose stories are simply remarkable and fascinating to follow. Crossing the Atlantic, we can take a look at one player that undoubtedly belongs to the "Started-from-the-bottom-now-we're-here Club." This club is reserved exclusively for those who made a name for themselves at minor levels and rose up to the top of the food chain.
For the record, this Mike James is not a member of the 2004 NBA Champions Detroit Pistons. He is a 26-year-old point guard who's been elevating his game so much that he has attracted NBA attention.
Mike James' deadliest weapons consist of outstanding scoring ability, remarkable explosiveness, fearless athleticism, and quickness. While he has margins of improvements on his defense, which he has been working on in order to be able to defend against NBA point guards, his offense is already at the NBA level. He's quick and crafty with the ball, makes the most of his speed to beat his opponents one-on-one, and attacks strongly the rim. He is also efficient at shooting from mid-range and beyond the arc. He has become a steady protagonist of the Weekly Top 10 Plays thanks to his huge athleticism that allows him to make dunks in traffic with authority. Those skills, in addition to a great mental toughness, have taken him from European minor leagues up to playing for Panathinaikos, one of the most important clubs in Europe, and then being identified as the "biggest little man in Europe" by the Turkish Airlines EuroLeague.
After a good two-year, Division I experience at Lamar University, Mike James had brief stints in Croatia, and in the Israeli second division. He then went on to dominate the Italian third league, earning MVP honors while playing for Fulgor Basket Omegna, which allowed him to get noticed by European teams at major levels. In fact, James started the 2014-15 season in the Greek first division playing for Kolossos Rodou. There, he made such a great impact (21 points per game, shooting 40% from beyond the arc) that EuroLeague team Saski Baskonia decided to take him for the remainder of the season, which meant he would make it from minor leagues to the EuroLeague in less than two years.
There were some initial doubts surrounding his signing with the Spanish club but they were quickly shut down by James himself. He earned some consistent playing time and finished the season averaging 12 points and almost three assists per game. He had good offensive performances like scoring 19 points in just 17 minutes in Baskonia's win against Turkish powerhouse Fenerbahce, and the 24-point game against Valencia in the Spanish Liga ACB.
His first season as a member of Baskonia got him some NBA attention. That year he received an invitation from the Phoenix Suns to play in the 2015 Las Vegas Summer League. He started his Summer League experience quietly but stood out powerfully in the final game loss to San Antonio where he posted 32 points, eight rebounds, four assists, and three steals on a very good 10-18 from the field and 3-6 from beyond the three-point arc.
After giving NBA scouts a taste of what he can do on the basketball court, Mike James came back to Baskonia where he would solidify a great dynamic duo along with current Chinese Basketball Association star Darius Adams. Baskonia crowned an excellent 2015-16 season with the qualification for the Euroleague Final Four and James made a solid contribution by bringing energy and good numbers. He led his team to a win against Real Madrid with a season-high 27 points, shooting a perfect 6-6 from downtown coming off the bench.
Another offseason meant James had another chance to showcase his talents in front of NBA personnel. He worked out for the Minnesota Timberwolves and the Portland Trail Blazers after his playoff run. Nevertheless, the future held another season in Europe as he signed a deal with Greek team Panathinaikos, a club with a huge tradition that has won six EuroLeague titles. Unfortunately, he missed two months of action once he underwent hand surgery in October, but then managed to make a strong comeback as he was named co-MVP of the EuroLeague 13th Round along with Real Madrid's teen sensation Luka Doncic, who is an early favorite to be the No. 1 pick in the 2018 NBA Draft. This season Mike James has emerged as one of the most efficient players in Europe:  he has finished the EuroLeague regular season as one of the only four guards who shot 50% from the field on at least 200 total attempts. Coming off the bench, James led Panathinaikos in scoring by averaging 12.9 points in 22 minutes per game, which proves again the great impact he can have when he gets on the court (he finished the regular season with almost 24 points per 40 minutes). Also, he ended up recording 3.8 rebounds, 5.5 assists, and 1.7 steals per 40 minutes.
It's clear that Mike James has certainly taken the necessary path to position himself fo the NBA. He has put on a showcase in Europe and has even tested the waters in the United States. While he might not be a glamorous pickup, he has shown he can make valuable contributions to a team. It wouldn't surprise anyone if his name started circulating once again this offseason.
Brad Wanamaker, Darussafaka Dogus (Turkey)
While Mike James was dominating the Italian third division with impressive numbers, combo guard Brad Wanamaker emerged as one of the most impressive American players of the LegaBasket Serie A (the Italian first division). That was Wanamaker's third pro season and with no doubt, it turned out to be his standout one.
Actually, prior to joining Pistoia Basket in 2013-14, the Philadelphia native had several brief experiences as a pro but didn't get a chance to fully showcase his NBA potential. Wanamaker's first professional season was definitely a tough one, as he had to travel from the United States to Italy and vice versa a total of four times. He first signed a contract with Banca Tercas Teramo, but he would leave the team in three months in order to attempt an immediate jump to the NBA. At the time, the NBA regular season hadn't started yet because of the 2011 lockout, and Wanamaker got a training camp deal with the Atlanta Hawks. He appeared in two preseason games with Atlanta but didn't make the regular season roster, so he booked another flight to Italy and landed in Forlì, a second-division team, where he averaged 18 points and four rebounds in only four games played. Then, Wanamaker had to pack his bags once again to go back to the United States to finish the season with the Austin Toros (now Austin Spurs) of the NBA D-League.
The Atlanta Hawks kept an eye on him and offered him a Summer League invitation, but he saw limited minutes and returned to Europe. This time he was playing in France where the LNB ProA club Limoges was ready to give him a shot. However, in France, he once again wasn't able to express his full repertoire. However, he eventually stood out during the 2013-14 season when he played for Pistoia Basket in the Italian Serie A. He averaged 16 points, four rebounds, and almost five assists per game with a good 52% from the field, and emerged as one of the first offensive options available to coach Paolo Moretti.
His experience with Pistoia Basket drew some attention and that allowed him to make another step forward in his journey. He signed with German club Brose Baskets Bamberg where he would play for two seasons. Wanamaker made himself a name in Germany, earning the 2015-16 regular season MVP and leading his team to two consecutive German league titles. He did this alongside well-respected players such as the Italian forward Nicolò Melli, who's been receiving NBA interest, and former NBA player Darius Miller.
This season, Wanamaker is playing for Turkish powerhouse Darussafaka Dogus. His game has become even better since joining the team. His staple game was when he scored 30 points (9/17 from the field, 4/8 from the three-point line) with six rebounds and six assists, leading Darussafaka to the victory against his former team and being named MVP of the EuroLeague 29th Round. During the EuroLeague regular season, Brad averaged 16 points, three rebounds, and almost five assists in 30 games as a starter, and is leading his team with 21 points per game in the playoff series against No. 1 seed Real Madrid, which is now tied at 1.
Since he first got on a Euroleague court, Wanamaker has been elevating his game to a very, very high level. He is a scoring guard who can use his very good ball-handling to create space and take shots or pick up speed and attack the basket. He makes the most of his NBA-ready body by absorbing contact and taking the ball to the rim with good balance, which is probably his most efficient ability. He is keeping a good three-point shooting percentage which has become important since he's been taking more shots from beyond the arc this season, even if he relies almost exclusively on shots off the dribble rather than catch-and-shoot situations. This type of skillset could be just what a team is looking for as the new season comes to a start.
Who's going to give them a shot?
We don't know for surely if James and Wanamaker will make it to the NBA, but what is sure is that they are definitely making the most of their European experience to get noticed by the NBA community. Mike James came from minor leagues and now is a key player for one of the most renowned clubs in Europe, while Wanamaker is certainly a better player than he was in 2011 at the Atlanta Hawks training camp. Their names have already been written down in the notebook by NBA franchises too. According to a report by The Vertical's Shams Charania, Mike James attracted the attention of multiple NBA teams while playing for the Phoenix Suns Summer League team in 2015, and Wanamaker told International reporter David Pick that he was close to signing a deal with the Philadelphia 76ers last summer. This means that the work they are putting in is getting noticed. Will it be enough to see them play at the next level? Only time will tell for these two.