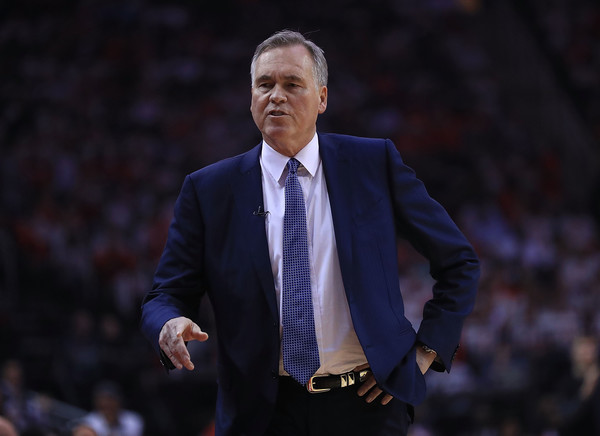 Despite enjoying immensely successful regular seasons back-to-back, the Houston Rockets' last two seasons have ended the same way: at the hands of the Golden State Warriors. Though the Rockets continue to be one of the premier teams in the entire NBA, playoff success remains elusive and people are starting to question not only James Harden and Chris Paul, but also head coach Mike D'Antoni.
D'Antoni has been a stellar coach for Houston, turning Harden into a full-fledged superstar and a perennial MVP candidate. However, the Rockets' lack of playoff wins has D'Antoni hesitant to commit to his future there. Heading into the final year of his contract, ESPN's Adrian Wojnarowski reports that D'Antoni has ended contract extension talks he was holding with the Houston front office.
Houston Rockets coach Mike D'Antoni has ended talks with management about a contract extension…

D'Antoni said he plans to complete the final season of his deal in 2019-20, which could become a pathway to his own free agency the next year.

D'Antoni's agent, Warren LeGarie, informed Rockets general manager Daryl Morey of the coach's decision on Thursday afternoon, sources said.

There had been conversations constructed around the Rockets' idea of a performance-based extension, but those never gained traction with D'Antoni's camp, sources said.
While this could be the beginning of the end of Mike D'Antoni's days with the Houston Rockets, it could also certainly mean nothing. The 68-year-old D'Antoni still has another year left on his contract and has said on previous occasions that he believes he still has a few seasons left in the tank before retirement.
"I've let Daryl and [owner] Tilman [Fertitta] know that I'm energized to keep coaching — and believe that I can continue to do this at a high level for at least another three years," D'Antoni told ESPN. "I want to be part of a championship here."
Despite coming up short of their ultimate goal of reaching and winning the NBA Finals, Mike D'Antoni has been exceptional during his time at the helm. In three seasons, D'Antoni has compiled a 173-73 record, good for second over that span behind only Steve Kerr and the Golden State Warriors.
The biggest knock on D'Antoni has been his unwillingness to change his system come playoff time. Just like we've seen his stars James Harden and Chris Paul come up short in the postseason, the same remains exactly true for D'Antoni. Hopefully, for D'Antoni and the Rockets, they're able to achieve their ultimate goal and agree to an extension, but it's seeming more and more like anything short of a championship next season may mark the end of their partnership.