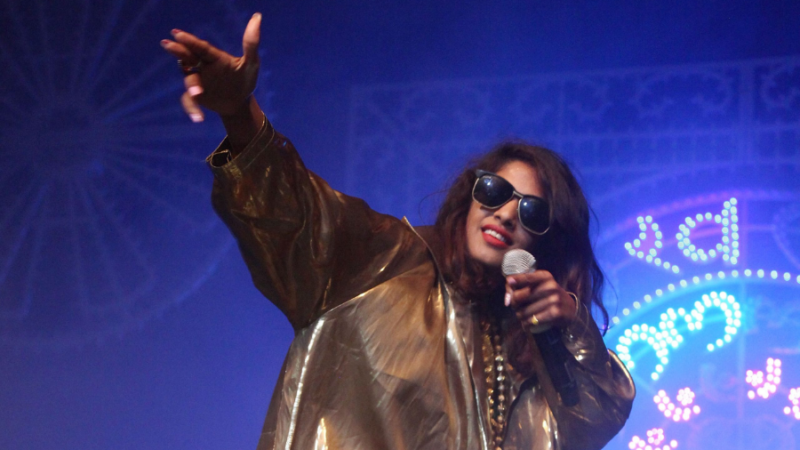 When Mathangi Maya "M.I.A." Arulpragasam released "Paper Planes" in 2007, who knew what a significant cultural moment it would be? Fifteen years later, it is time to talk about a song that defined an era. 
In a nutshell, "Paper Planes" is a political statement that enjoyed mainstream success worldwide, but it was born from an unconventional beginning. From its inclusion in video games, TV shows, and movies to being sampled in "Swagga Like Us," this song was truly any and everywhere. 
The accolades this song has earned are astonishing. The track has won awards, received a nomination from the Grammys, and was named one of the best songs of the 2000s among publications including Pitchfork and Rolling Stone. The music video and live performances that followed also received high marks including from Slate and Billboard, respectively. 
While the success that surrounds this song is impressive, it did not come without controversy. Because M.I.A. used the song to highlight her criticism towards the Sri Lankan government, the rapper dealt with fierce backlash. A prime example of this is when M.I.A. found herself being called a "terrorist" and in conflict with Sri Lanka's Sinhalese population who also happens to be the majority of the population due to her supportive ideals towards the Tamil militant group, who she shares an ethnic background with.
During an interview with Entertainment Weekly, she explained how the track came to be.
"When I wrote it I'd just gotten in to New York after waiting a long time and that's why I wrote it, just to have a dig. It's about people driving cabs all day and living in a s—ty apartment and appearing really threatening to society. But not being so," she said. 
The initial revelation came from a place of using satire to mock how Americans potentially viewed immigrants after having difficulties getting a work visa. The sound effects of the gunshots and cash register are just icing on the cake, lending its illusory stimulation to transport the song to iconic status.
M.I.A. may not be a politician, but Paper Planes is as good as any campaign fought for. After vibing to the track on the first go around, the importance of the song's lyrics begin to settle in on the second listen. In a few minutes, M.I.A's words manage to take listeners on a rollercoaster of emotions. In silos, the beholder can go from feeling motivation when she hits while singing, "Everyone's a winner, we're making our fame," to channeling your inner influencer as she boasts, "No one on the corner has swagger like us." While TikTok was not the social media juggernaut that it is today, that latter quote on its own would have undoubtedly sprung countless captions and videos while enjoying all of the benefits that today's hit songs can relish.
Artists such as Doja Cat and Erica Banks have managed to bottle this magic up and propel their careers to new heights, and both have seen their work included on movie soundtracks. Times have changed since 2007, but certain truths will never fully go away, including music's ability to be both impactful and fun. 
Today's chart-topping singles rarely compare to what M.I.A. achieved with "Paper Planes." Not many artists can overcome negative stereotypes while using their music as a platform to discuss complex topics such as immigration and internal conflict. M.I.A's ability to overcome all odds and achieve success at a global scale as an "outsider" is an accolade in itself that deserves proper recognition. 
During the build-up for the song and digging deeper, M.I.A. reflected on how these pivotal moments turned into art in a conversation with The Fader. 
"I've had no choice but to make the record and become the thing that people always had me down for," she said. 
To hear an artist's perspective on a common issue that many naturalized citizens can relate to while simultaneously producing a body of work that could be played in a club today is not so common. 
In its entirety, Kala was developed in several different areas of the world, ranging from Jamaica and Trinidad to India. Taking the songs as she traveled, she created a symphony of ideas and sounds that touched every corner of the world. After spending some time working with Diplo and DJ Switch, "Paper Planes" came into fruition. Recording the vocals on one take and inviting Brixton street kids to help record the chorus, the track is the gift that keeps on giving with its multifaceted, multilayered view of the world. In 2013, M.I.A. gave New York and Baltimore credit for inspiring her through the cities' street cultures. In the accompanying music video, the visuals included shots of the Brooklyn Bridge and M.I.A. dancing throughout Bedford-Stuyvesant. 
Competing against legends and superstars such as Beyonce, Rihanna, and Usher between 2007 and 2008, "Paper Planes" managed to cut through into the mainstream and stand tall. And speaking of Rihanna, she sang her own version of "Paper Planes" on certain tour stops during her Good Girl Gone Bad era. In other words, the song left its stamp on the entertainment industry (and beyond) as it's filled with nuggets of memorable moments that left us yearning for more.
Since the release of Kala, M.I.A. has continued to make her impact on music. In May, she shared her latest single, "The One," in late May. As for future projects, the Sri Lankan star confirmed that a new LP is in the works via Instagram in 2021. Until then, enjoying the discography of one of the most influential women of the 2000s is a great way to pass the time.
A toast to "Paper Planes" by M.I.A!