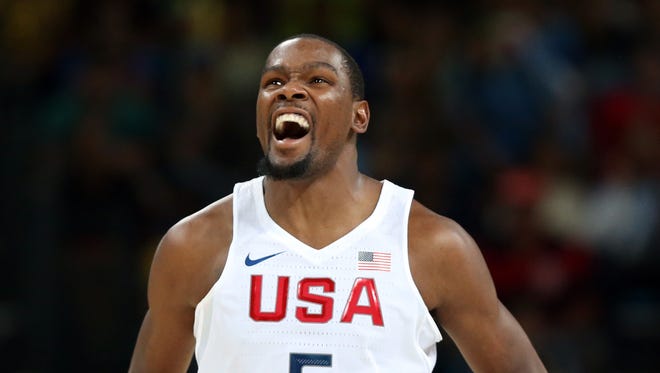 The Olympics are right around the corner and the recruiting process has come to an end as Team USA basketball has finalized their 12-man roster for the Tokyo Summer Olympics, per Shams Charania.
All-Stars Kevin Durant, Devin Booker, Jayson Tatum, Damian Lillard, Bradley Beal, Zach Lavine, Bam Adebayo, Kris Middleton, Kevin Love, Draymond Green, Jrue Holiday and surprise selection Jerami Grant round out this roster.
Team USA's 12-man roster for the Tokyo Olympics:

Kevin Durant
Damian Lillard
Bradley Beal
Jayson Tatum
Devin Booker
Zach LaVine
Kevin Love
Bam Adebayo
Draymond Green
Jrue Holiday
Khris Middleton
Jerami Grant

— Shams Charania (@ShamsCharania) June 23, 2021
Gregg Popovich will coach Team USA along with his star-studded coaching staff. Warriors coach Steve Kerr, former Hawks coach Lloyd Pierce and Villanova coach Jay Wright complete the staff.
Jerami Grant committed to the team following Nets' guard James Harden's withdrawal, as a result of his hamstring injury suffered during his postseason run. Another notable star that pulled out was future Hall of Famer Chris Paul.
Nonetheless, with the roster presented, the starting lineup should be Lillard, Booker, Tatum, Durant, with Adebayo anchoring as the center. The team has an exceptional blend of veterans and rising stars. The women's team roster has also been finalized.
The Tokyo Olympics will begin Friday, July 23, and this talented roster will represent USA hoping to bring home another coveted gold medal.