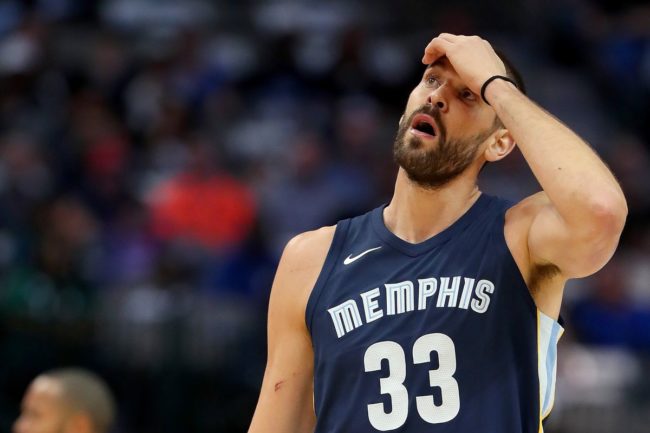 The 2017-18 Memphis Grizzlies were just never meant to be. Mike Conley played in only 12 of the season's first 13 games before an Achilles injury required surgery and forced him to miss the rest of the year. Head coach David Fizdale was fired 19 games into the season after quarreling with All-Star center Marc Gasol. Tyreke Evans morphed into a completely different player, one who was consistent and reliable as the team's floor general. Last season was generally confusing. It wasn't the typical Grizzlies team that had won at least 40 games in each of the eight seasons leading up to 2018.
Which makes it even more confusing is that they have a roster with the potential to not only make the playoffs this coming season, but one that could actually make some noise once it gets there. Let's take a look at where they stand heading into 2019.
The Grizzlies didn't have to rebuild to reload, they really just needed to get healthy. Bringing back a fully healed Conley is the first step towards success and probably the most necessary. Without him – and now without Tyreke Evans – this team would have no identity on offense. They ranked 27th in offensive rating last season with a half-hearted effort from Gasol (their offensive rating of 104.5 was their worst since 2012). Without Conley, the Grizzlies graded out in the 55.2nd percentile as a team in terms of pick-and-roll ball-handling. In 2016-17, they finished in the 75.9th percentile with Conley running the show. After losing Evans for literally nothing – despite having plenty of opportunities to trade him before the deadline – ball-handling duties will fall almost entirely on Conley once again. Backup point guard Andrew Harrison showed signs of being a legitimate option off the bench to run the offense but probably won't receive a larger role with the return of Conley.
The Grizzlies, in impressive fashion, managed to tank away an entire season, falling all the way down to the fourth overall pick in the 2018 NBA Draft. Poor injury luck gave them the opportunity to plummet for a high draft pick despite having a bonafide playoff roster. Now they have rookie Jaren Jackson Jr. to add into their mix – a 6-foot-11, floor-spacing interior defender whose playstyle couldn't be more perfect for the modern NBA. Planting him next to Marc Gasol – a floor-spacing 7-footer with an established elite interior defensive presence – is a match made in basketball heaven. Jackson has been demolishing Summer League competition (although take that with a grain of salt), and continuation of that into the regular season would be a major early season victory for the Grizzlies, especially if he meshes well with Gasol.
The coaching turnover isn't something new to the Grizzlies franchise. They haven't had the same head coach for more than four consecutive seasons since the organization was established in Vancouver in 1995, and freshly promoted head coach J.B. Bickerstaff will be their third in three seasons. Bickerstaff will also be joined by Jerry Stackhouse, a head-coaching target for the Toronto Raptors earlier in the offseason, on the sidelines. Bickerstaff has received the stamp of approval from Gasol – something Fizdale did not – and has been with the organization since 2016. Bickerstaff was given a trial run after the firing of Fizdale, one that resulted in enough confidence from the front office to keep him on board for a three-year deal.
The Grizzlies brought in Kyle Anderson on a solid but not too expensive contract to play whatever position Kyle Anderson is supposed to play (the San Antonio Spurs not matching the Grizzlies' offer sheet for Anderson is somewhat noteworthy, considering that they would know him better than anyone and decided to let Memphis have him anyway). He primarily sticks to playing at the three and four as a point forward and can do practically anything at an average level. He doesn't have one area of his game that stands out from the rest, but there isn't one thing he does poorly. He's an incredibly low-risk player who is going to get the team out of binds more often than he'll create them.
As it stands now, the Grizzlies can trot out a starting lineup of Conley, possibly Wayne Selden or Ben McLemore (although Dillon Brooks might be the best option as the season goes on), Anderson, Jackson and Gasol. They can bring versatile big men off the bench in JaMychal Green and Deyonta Davis. They added Omri Casspi – a career 37 percent three-point shooter – on a one-year deal and can bring either Selden or McLemore off the bench to score. Harrison can keep things moving with the bench unit. The corpse of Chandler Parsons can dish out perfectly timed high-fives. This isn't a complete roster by any means, however. They could use an upgrade for off-the-bench scoring. Most of their big men are young and still developing (although they have a favorable mentor). They sure could use a Tyreke Evans. Overall, they have more talent than teams such as the Miami Heat, the Washington Wizards and the Milwaukee Bucks – all teams that made the Eastern Conference playoffs last season. But when you're in the West and teams winning 46 games miss the playoffs (hello, Denver Nuggets), that doesn't matter.
If the San Antonio Spurs do end up losing Kawhi Leonard, it could be argued that every playoff team in the Western Conference besides the Spurs improved – or at the very least, didn't get worse. Even the Los Angeles Clippers, who finished ninth in the West and lost DeAndre Jordan to the Dallas Mavericks, seemingly have the roster to stay competitive in an unforgiving conference (side note, now even the Dallas Mavericks have a weird potential to win close to 40 games). There's an increasingly realistic chance for next season that 40 games can get a team into the Eastern Conference playoffs. 50 wins may not even be enough in the West with the way things are shaping up.
Once again for Memphis, it all comes down to 30-year-old Mike Conley. Before his Achilles injury last season, the Grizzlies were 7-5 in games he played in. After Conley's injury, the team lost nine straight games (along with Fizdale) and 14 out of 15, which ultimately led to an unexpected tanking season filled with the even more unexpected resurgence of Tyreke Evans. Achilles injuries are notoriously nasty and don't always allow players to come back at full health, especially given how old Conley already is. DeMarcus Cousins missed out on a huge payday because of his Achilles (among other reasons, but mainly because of the injury), and he's even a few years younger.
Person: hey @mconley11, how's training/recovery going?@mconley11: pic.twitter.com/b2PZAz3j7q

— Flight Lab Hoops (@flightlabhoops) July 10, 2018
(No, he isn't jumping as high as the top of a backboard, but he sure as hell doesn't look like he had surgery less than eight months ago.)
The Memphis Grizzlies have been a wildly successful franchise in such a short time and have done so without any extended periods of poor play over the last 10 seasons. For being in a comparatively small market, they've well-exceeded expectations and have been the second-closest thing to the San Antonio Spurs in terms of consistency since the turn of the decade. This upcoming season will be their biggest test yet, but they have the foundation to compete in an ultra-competitive conference. You can bet Memphis wouldn't mind seeing the playoff format altered to a 1-16 seeding.
A lot of things are going to have to go right for the Grizzlies to sneak into the playoffs. Health is the thing they can't afford to lose. The Spurs could fall from grace if Leonard leaves. Who knows what that Timberwolves locker room is going to look like. The Pelicans are an Anthony Davis injury away from missing the playoffs entirely. Will the Nuggets learn how to play defense? There are way too many possible variables to guess, but one thing is for sure. The Grizzlies are going to be back.