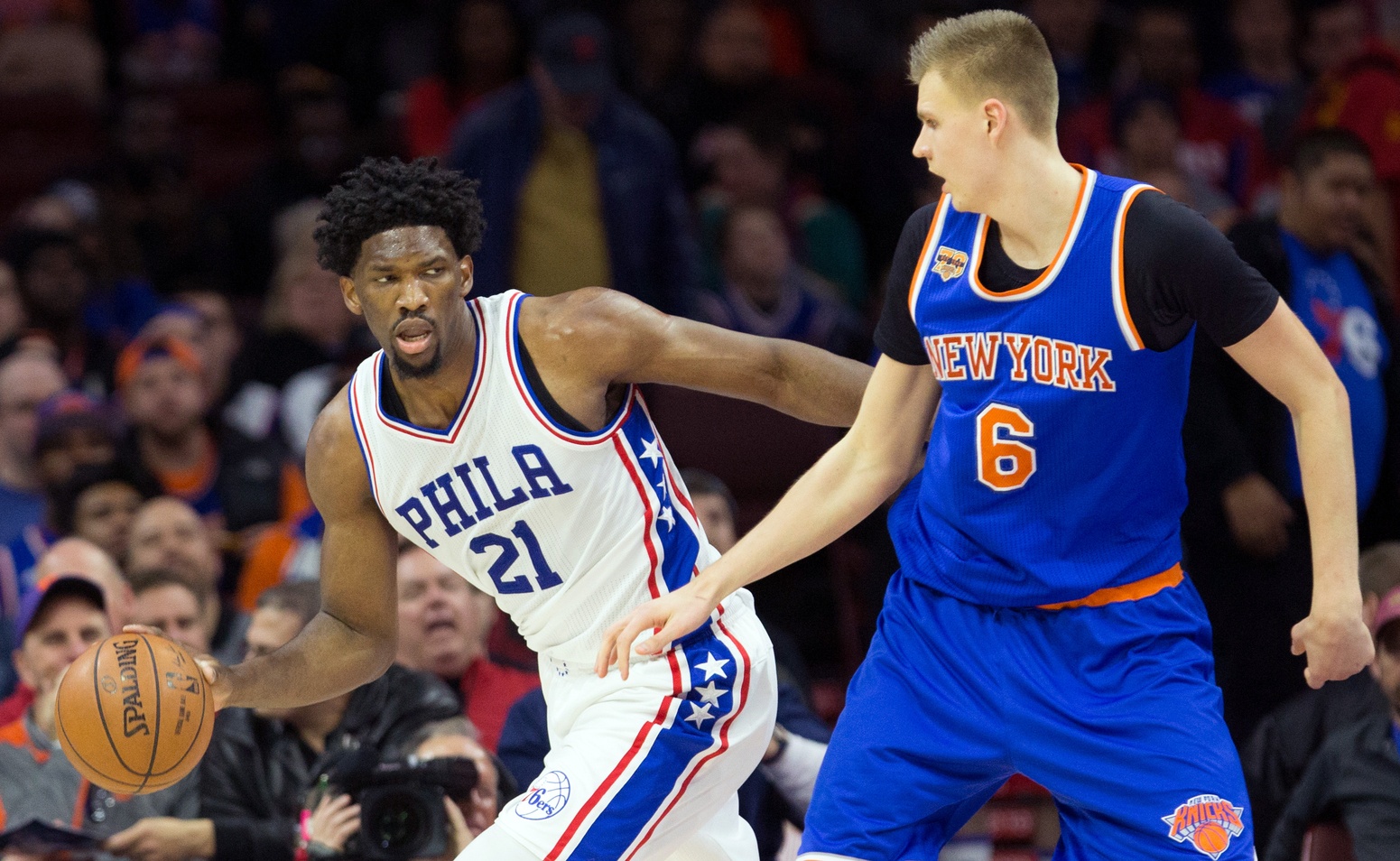 The 2017 NBA Christmas Day is finally upon us!
The league's annual showcase is here and with it comes plenty of storylines, intrigues and marquee matchups. Those matchups will spur excitement throughout the day, so I took a look at the most intriguing matchup in each game.
76ers at Knicks: Joel Embiid vs Kristaps Porzingis
Christmas Day starts off with a bang as two teams battling for playoff positioning in the Eastern Conference face off in the historic Madison Square Garden. While both teams are deep and feature plenty of talent, the real reason everyone will be watching is to see two of the league's biggest young stars duking out.
On one end is Joel Embiid, who appeared on the scene last season after missing the first two years of his career to injury. Embiid exploded into the conversation as one of the NBA's best players, period, and hasn't looked back. Injury concerns may always be there for the Kansas product, but when he's out on the court, his versatility as a shooter, a post-up hub, a closeout attacker, a rim protector and nimble perimeter pest make him one of the most unique players we've ever seen. When Embiid is on the court, the 76ers outscore opponents by 7.3 points per 100 possessions, a mark that would put them at fourth in the league over the course of the season. When he's off the court, the 76ers are outscored by 6.7 points per 100 possessions, which would rank as third worst in the league, ahead of only the Kings and Bulls.
On the other side will be Kristaps Porzingis, the Latvian superstar expected to be the Knicks' franchise savior. Porzingis effectively has the same skills as Embiid, albeit with less polish in many areas (especially defensively), having earned the Unicorn moniker for his unique versatility as a big man. No longer overshadowed by Carmelo Anthony and Phil Jackson, Porzingis has flourished this season, upping his production to a 25-point-per-game scorer, shooting 38 percent from 3 while still averaging two blocks a night.
Porzingis and Embiid will be the matchup everyone will want to see during the minutes they guard each other. But the key to the game will be the support these two stars receive from the rest of their respective teams.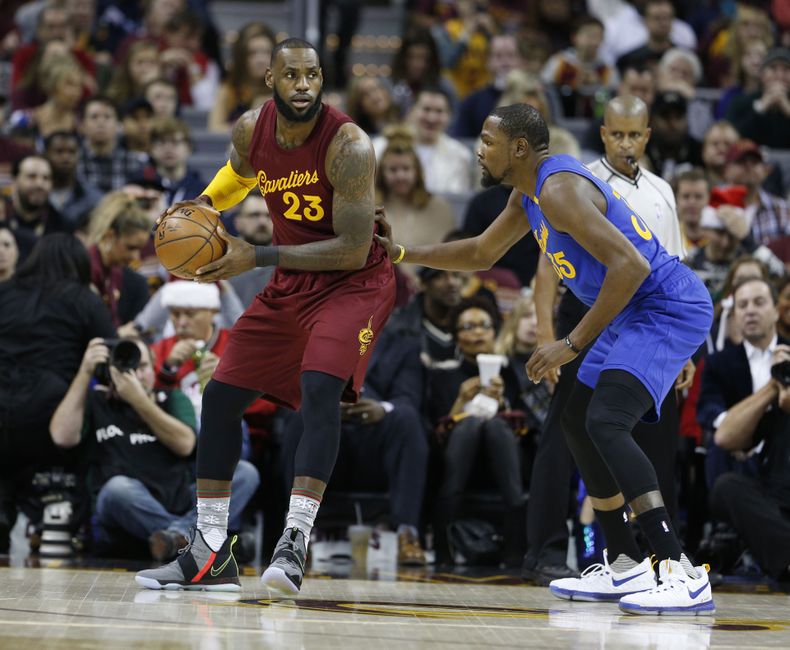 Cavaliers at Warriors: LeBron James vs Kevin Durant
You just can't overthink this one. With Isaiah Thomas and Stephen Curry both out due to injury, the onus falls on LeBron and KD to provide us with the entertainment to get through the second game of the day.
LeBron, in his 15th season in the league, is having one of his best years offensively. The King is averaging a career-high with 9.2 assists per game. Meanwhile, he has an absolutely absurd true shooting percentage of 65.7 percent as a result of his career-highs in field goal (57 percent) and three-point (41.1 percent) percentage. The Cavs had a rough start to the season but James ramping it up (in addition to the team finding something in Dwyane Wade's playmaking off the bench) has brought them back to life.
In Golden State, Durant has reached a whole new level as one of the best defenders in the league, having blocked more shots than anyone else thus far this season. Curry's continued injury struggles have also given fans a reminder of how dominant KD can be as a No. 1 option, averaring 26.6 points per game with 50/40/90 shooting splits.
James and Durant have had some classic duels in previous matchups, but James has found the upper hand, averaging 30.4 points, 5.8 assists and nine rebounds per game en route to a 5-3 record, per Statmuse.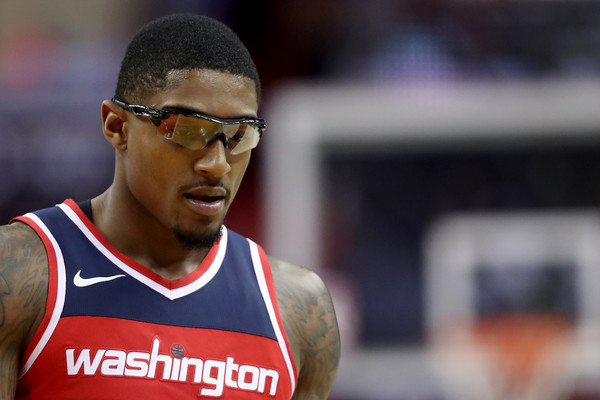 Wizards at Celtics: Bradley Beal vs the Celtics' Wings
Everyone will rightfully be tuning in to watch John Wall face off against Kyrie Irving. But the fate of the game may lie in Bradley Beal's hands.
The Wizards' shooting guard has been phenomenal all year, but there's a noticeable difference in his performance between wins and losses. Beal actually averages the same number of points regardless, but in the Wizards' 17 wins, he has shot 49 percent from the field, while only hitting 39.9 percent of his shots in the team's 15 losses.
Beal will see two stout defenders in Jaylen Brown and Marcus Smart for most of the game. His ability to get into the paint to put pressure on the defense (on top of hitting from behind the arc as he usually does) will be vital if the Wizards are to pull off the upset.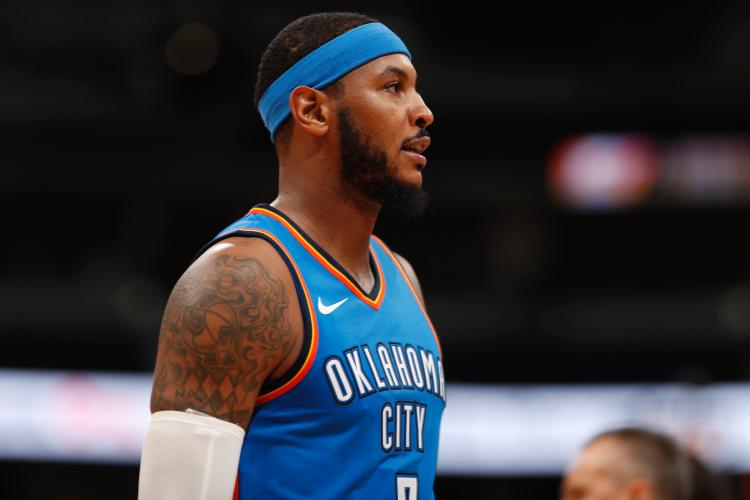 Rockets at Thunder: Ryan Anderson vs Carmelo Anthony
It feels blasphemous to say this, but this matchup is the epitome of the two Spidermen pointing at each other meme.
Anthony has not found his groove since being traded to Oklahoma City. Even for a player known for being inefficient in the era of efficiency, Melo's season has been abysmal. The forward is averaging a career-low 17.5 points per game and taking 16 shots a night to get there, hitting only 40 percent of his field goal attempts.
In Ryan Anderson, Melo can find a player just as bad as himself defensively. A game against top-flight competition with a favorable matchup on the NBA's marquee day provides Melo with ample opportunity and motivation to put together a strong showing. The Thunder desperately need it to turn their season around.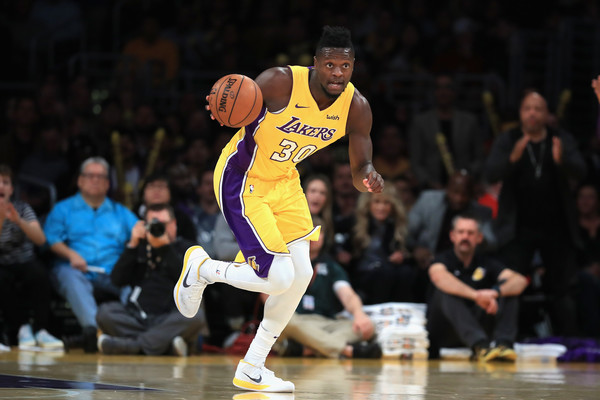 Wolves at Lakers: Karl-Anthony Towns vs Julius Randle
Randle won't start the game guarding Towns but he'll see plenty of the big man. Andrew Bogut, who has been starting in place of the injured Brook Lopez, simply lacks the foot speed to keep up with the young star.
Randle has been the Lakers' best defensive big all season, a huge improvement over the first three seasons of his career. His playing time has fluctuated and been low all year, but Randle is the only big on the Lakers' roster who can slow KAT down.
On the other end, Randle is one of the best pick-and-roll finishers in the entire league, hitting a ridiculous 77 percent of his shots at the rim. His play in that area could be a huge catalyst as KAT has struggled defensively all season.
All stats as of Dec. 22.