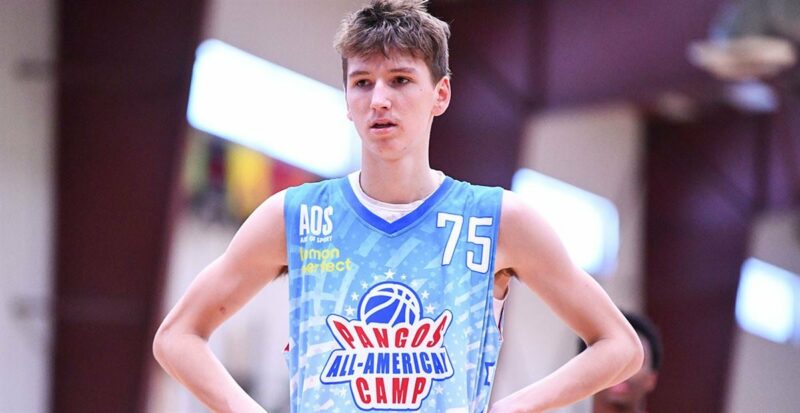 2023 top ten recruit and top three small forward Matas Buzelis has committed to the G League Ignite. The program has proved itself as a path for top high school talent to skip college and still be drafted in the NBA Draft based on their skill. Buzelis committed to the G League Ignite over the Kentucky Wildcats, North Carolina Tar Heels, Florida State Seminoles, and Wake Forest Demon Deacons. His focus will be on playing professionally and preparing for the 2024 NBA Draft. He is currently projected to be a lottery selection.
Five-star recruit Matas Buzelis – the No. 11 player in ESPN's Top 100 for the Class of 2023 – has committed to the G League Ignite for the 2023-2024 season, sources told ESPN on Friday.

— Adrian Wojnarowski (@wojespn) June 24, 2022
Players like Jalen Green and Dyson Daniels have proved that the G League Ignite model can be successful with the right talent and work ethic. Matas Buzelis is a talented forward with several NBA skill sets already on display in high school. While college was an option he had likely been leaning toward the G League for some time. He still has time to improve his 2024 NBA Draft stock.
2023 five-star Matas Buzelis will bypass college and sign with the G-League Ignite, he tells @On3Recruits.

He breaks down his decision here: https://t.co/Fhhpw5L9HJ pic.twitter.com/sRFex23WHx

— Joe Tipton (@TiptonEdits) June 24, 2022
Prospects coming out of high school now have more options outside of college that can lead them to the NBA. Talented recruits like Matas Buzelis will be highly sought after by both the colleges and those other options as well. When it comes to basketball competition breeds success. First the talented forward will need to finish high school and then he can focus on beginning his career as an NBA forward.