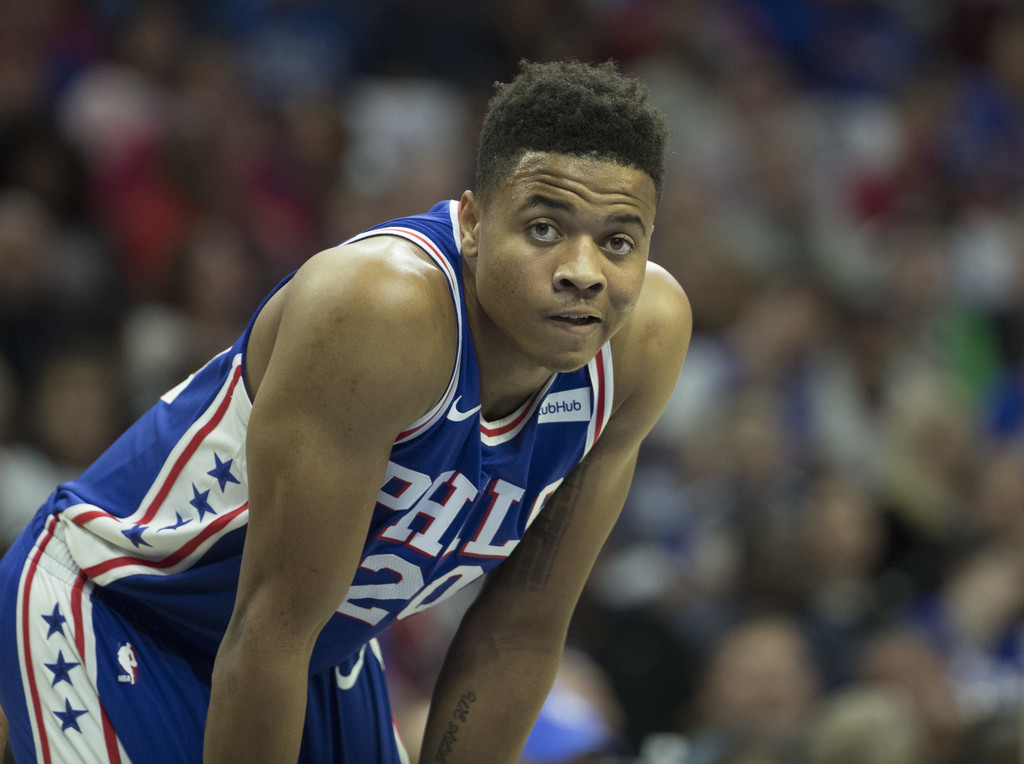 We've all seen it before. That pregame or post-practice video of Philadelphia 76ers rookie Markelle Fultz taking jump shots. That weird hitch he has and the slight pause before he actually releases the ball. It's nice to see him working on fixing something he broke before suffering what is presumed to be a serious shoulder injury but it's just progressed slower than most would have liked.
Markelle Fultz … SHOOTING. #Sixers #Nets #NBA @r0bato @SBNationNBA @DefPenHoops pic.twitter.com/1qQfGGGSU7

— Bryan Fonseca ??? (@BryanFonsecaNY) January 31, 2018
After the 76ers elected to stand pat at the trade deadline, president of basketball operations Bryan Colangelo spoke to the media about the team. The main takeaway was the current timetable for the top pick in the 2017 NBA Draft and where he would go from here. And it doesn't sound too promising.
Colangelo says Fultz could miss the remainder of the season or come back in a few days. But then he went on to explain Fultz's current shooting range is 'within the paint' and he also needs to work on rebuilding the muscle memory in his jump shot. It's safe to bet we might not see him for the rest of the year.
Derek Bodner of The Athletic shared some of Bryan Colangelo's statements on Markelle Fultz.
Bryan Colangelo says Markelle Fultz's current range is "within the paint" .

— Derek Bodner (@DerekBodnerNBA) February 9, 2018
Bryan Colangelo on Markelle Fultz:
"There's always a chance that he's going to be out there soon, and there's a chance that he's not going to play this year. I can't answer that question because we don't know the answer to that."#sixers

— Derek Bodner (@DerekBodnerNBA) February 9, 2018
#sixers GM Bryan Colangelo cuts the press conference short after 22 minutes. Asked if there's a timeline on the next update on Fultz, he walked away without comment.

— Derek Bodner (@DerekBodnerNBA) February 9, 2018
Other quick notes on Fultz:
– They still don't know if changing the shot caused the injury or if the injury caused the changed shot.
– No timeline. Could come back in days or could be out the season.
– Has to completely rebuild the muscle memory in his shooting mechanics

— Derek Bodner (@DerekBodnerNBA) February 9, 2018
Colangelo: "We hope to see [Fultz] this year. If not, we will wait until he's ready to participate, and help, and put him in a position to succeed. That's going to be a determination that's made at some point in the future."

— Derek Bodner (@DerekBodnerNBA) February 9, 2018
Colangelo: "I personally have not seen this injury [before] in basketball." #sixers

— Derek Bodner (@DerekBodnerNBA) February 9, 2018
Colangelo on Fultz: "It was a breakdown in muscle function and coordination…There have been some limitations for some time and he's getting through it. Again, there's a long recovery. It's taken probably longer than anyone had hoped or imagined."#sixers

— Derek Bodner (@DerekBodnerNBA) February 9, 2018