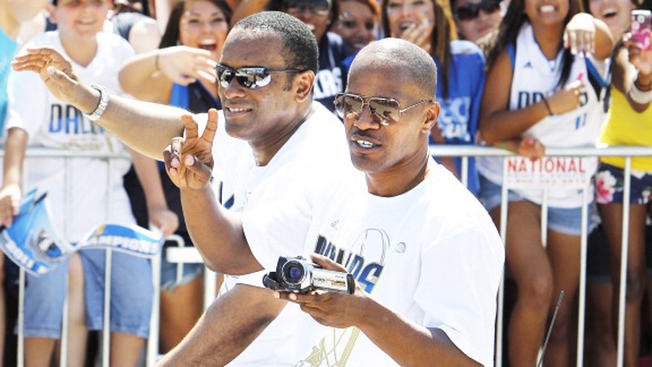 In a major story published late Tuesday evening, Sports Illustrated reported that high-ranking members of the Dallas Mavericks have been accused of multiple counts of sexual misconduct and domestic violence by employees.
Multiple women have accused former team president and CEO Terdema Ussery of inappropriate comments, unwanted touching and more. Ussery had been with the team since 1998 but left the organization to take on a new position at Under Armour in 2015. He promptly resigned from the position with no specific reason given.
Mavs.com beat writer Earl K. Sneed is also among those listed in the SI report. Sneed was formerly arrested at the Mavericks' practice facility for a domestic violence incident and pleaded guilty to the charges. He was retained by the organization despite being unable to travel out of the country (that is to Toronto for road games against the Raptors). Sneed allegedly turned violent against another girlfriend, a Mavs' employee, in 2014 – two years after the original incident.
Sneed was suspended and then fired from his job at Mavs.com. He posted the following since-deleted tweet before wiping out and deactivating his Twitter account. (Screenshot via Def Pen Hoops' Jackson Frank).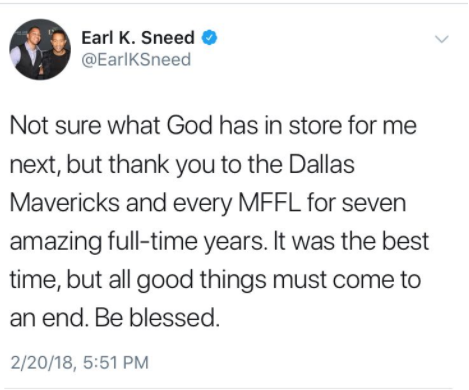 No Mavericks players were accused in the SI report. In fact, former employees referred to the locker room as a "refuge" from the rest of the offices where the sexual misconduct from Ussery and others was rampant.
Ussery was touted as Cuban's right-hand man, having survived a change in ownership when Cuban bought the Mavericks in 2000. But Cuban, who prides himself on being a "hands-on" owner, claims he was unaware of the actions taking place in his organization, maintaining that he was only involved in basketball operations and trusted Ussery and others on the business side of the organization.
The Mavericks posted a statement minutes before SI's report was published and Cuban himself is quoted in the report vowing to figure out the issues plaguing his organization:
"I want to deal with this issue," Cuban told SI. "I mean, this is, obviously there's a problem in the Mavericks organization and we've got to fix it. That's it. And we're going to take every step. It's not something we tolerate. I don't want it. It's not something that's acceptable. I'm embarrassed, to be honest with you, that it happened under my ownership, and it needs to be fixed. Period. End of story."
Cuban's claims ring hollow given his reputation as an owner as well as his knowledge of Sneed's prior actions. At best, Cuban was ignorant and unknowing of open secrets within Mavericks organization – issues that were brought to Human Resources' attention. At worst, Cuban was knowledgeable and complicit and lied to Sports Illustrated.
The NBA has issued its own statement after the publication of the Sports Illustrated piece. (Screenshot via Def Pen Hoops' Daniel Richardson).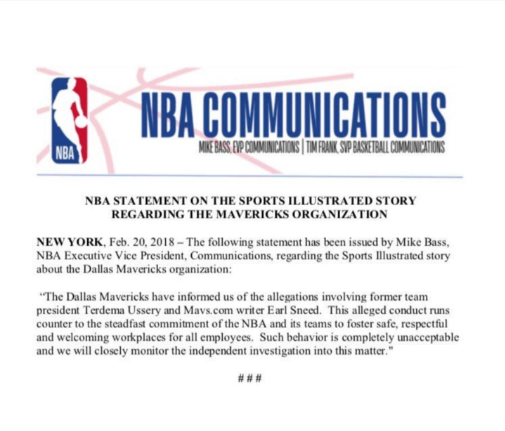 The NBA has not had to deal with a scandal of this magnitude since Donald Sterling was forced to sell the Los Angeles Clippers after being recorded using racist and derogatory language. Cuban, at the time, mentioned that the NBA was going down a slippery slope by taking Sterling's team away from him. Whether the Mavericks' scandal – one in which Cuban was not directly involved in, per the report – is enough to force Adam Silver and the other owners to take similar action is unknown at this time.