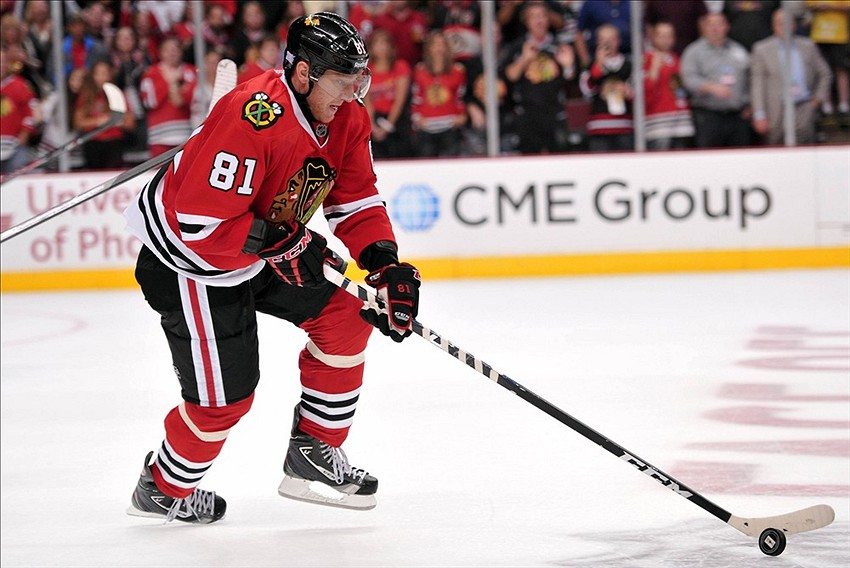 Chicago Blackhawks forward Marian Hossa will miss the entire 2017-18 NHL season due to an equipment allergy, according to Sportsnet's Elliotte Friedman.
Hossa has reportedly been taking medication to help with the allergy, but doctors and trainers fear that it could have long term effects if he continues to take it. By stopping, it would lead to his retirement, which seems to be all but guaranteed at this point.
Hossa later released a statement confirming he would not play during the upcoming season:
Over the course of the last few years, under the supervision of the Blackhawks medical staff, I have been privately undergoing treatment for a progressive skin disorder and the side effects of the medications involved to treat the disorder. Due to the severe side effects associated with those medications, playing hockey is not possible for me during the upcoming 2017-18 season. While I am disappointed that I will not be able to play, I have to consider the severity of my condition and how the treatments have impacted my life both on and off the ice.
While the situation is said to be very serious (in Friedman's 30 Thoughts he says one source told him "It's only funny to anyone who's never had it."), it seems to happen at a very opportune time for the Blackhawks. While rumors of a core member being traded, most notedly Brent Seabrook, have swirled since their second straight first round exit as they try to escape their salary cap struggles,this seems to fix all of that.
According to CapFriendly, the Blackhawks are $2.52 million over the salary cap floor, by putting Hossa on the long term injured reserve, the Blackhawks would free up his entire cap hit of $5.275 million, putting them close to $2.7 million under the cap.
If Hossa would retire instead of being placed on LTIR, the Blackhawks would be forced to pay $3.675 million per season until 2020-21. Already struggling to stay under the cap without even having a backup goaltender on their roster, this would be a massive blow. But with Hossa's statement saying he would miss the year but never mentioning retirement, LTIR seems to be the likely option.
While there are benefits for the Blackhawks, losing Hossa like this is a huge blow. Offensively he has still produced, scoring 26 goals this past season, and is still considered one of the best two way players in the game.
Hossa is a sure lock for the Hockey Hall of Fame. With the Ottawa Senators, Atlanta Thrashers, Pittsburgh Penguins, Detroit Red Wings, and Blackhawks, Hossa will finish with 525 goals, 609 assists and 1,134 points in 1309 NHL games. He is a 5 time NHL All Star and 3 time Stanley Cup Champion, all three with the Blackhawks.