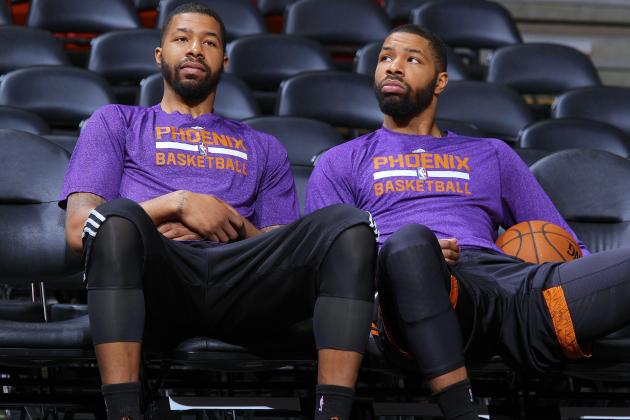 The Phoenix Suns have been one of the major disappointments of the season. Their poor record has led to rumors and speculation around the league, especially regarding the future of head coach Jeff Hornacek. Additionally, the team has struggled, since the offseason, to coral forward Markieff Morris who has publicly shown his disdain for the franchise who traded away his brother, Marcus.
Now, Marcus Morris is also talking about the Suns and the state of his brother, who was recently suspended by the team for throwing a towel at Hornacek and forced to apologize before being reinstated. Marcus, now in Detroit, had harsh criticism for the Suns (via The Arizona Republic):
It's self-explanatory. You see what's going on. Sorry to say it, but it's self-explanatory.I don't know what's going on over there. It's like a (clown) show right now.
That is indeed harsh criticism from Marcus, who has publicly expressed his disappointment in being traded away from Phoenix without previous knowledge. While the manner in which he presents his opinion may be harsh, it is not completely wrong. The Suns are clearly stuck in a rut after multiple poor decisions and over-estimations of the talent of their roster.
Marcus also spoke more specifically about his brother, especially in regards to trade rumors surrounding him:
One thing about Keef is he's always positive. Some stuff might happen a little, but he's always positive. He's still looking to get out of there, still looking to go somewhere else. Right now he has to be a pro and continue to take care of his business on and off the court. I know he's doing that day in, day out — regardless of the suspension and what's going on. He's a hard worker, and so he will continue to be ready when his number's called. If he gets traded, he'll be able to contribute to any team in the league.
This seems like a case of Marcus talking up his brother Markieff in order to lure teams, including perhaps the Pistons, to trade for him. Right now, Markieff Morris is struggling and has been buried deep in the Suns' rotation. Add to that off-court problems and bouts of immaturity that have far too often occurred in public, and most teams would stay away from the young forward. However, he played very well last season alongside his twin and there is a chance that he can replicate that in a better situation.