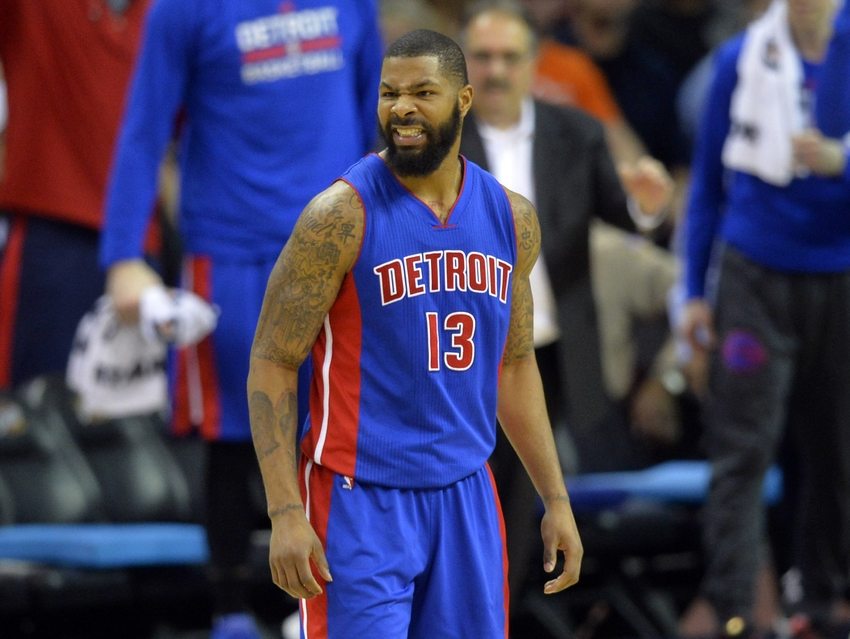 On Thursday night, the Detroit Pistons and Charlotte Hornets were in a hotly contested duel that came down to the last shot, literally. After four quarters of close action, the game came down to one last possession for the Hornets. Down only one point, they had to craft something up. Their original play was deflected out of bounds thanks to an outreached arm from Reggie Jackson. So they flipped to the other side of the court and sharpshooter Marco Belinelli made what seemed like an incredibly smart play.
He inbounded the ball off the back an apparently oblivious Marcus Morris, caught the ball and drilled the deep three. There was one problem, time ran out before he got the shot off. Pistons escaped with a 115-114 win. Here's that phenomenal shot from Belinelli.
While that shot was remarkable, no matter if it counted or not, you can safely assume that was not the play that Hornets head coach Steve Clifford drew up. But it was something that Pistons forward Marcus Morris was banking on. He says he knew Belinelli would bounce the ball off his back, thus starting the clock a little earlier than the Hornets would have wanted.
Following from Keith Langlois of Pistons.com, David Mayo of the Detroit Free Press and Rod Beard of the Detroit News.
.@MookMorris2 baited Belinelli, turning his back to him to lure him into throwing it off his back on expectation 0.5 wouldn't leave time.

— Keith Langlois (@Keith_Langlois) January 6, 2017
Marcus Morris said he turned his back hoping that Marco Belinelli would try to pass it off him, knowing :00.5 wasn't enough time. It worked.

— David Mayo (@David_Mayo) January 6, 2017
#Pistons Morris said he expected Belinelli to try to bounce it off his back on final play, as 0.5 wasn't enough time. #LivingDangerously

— Rod Beard (@detnewsRodBeard) January 6, 2017
Yes, three sources just in case you didn't believe the genius strategy from Morris. I mean just watching that play again you can almost see the point in which Morris knew to turn around. Well, that might be a stretch but his line of thinking could stem from the Sacramento Kings and Toronto Raptors drama from last month.
Of course, the famous clock snafu of the 2016-17 season thus far saw Kings big man DeMarcus Cousins tip an inbound pass and then, according to NBA rules, the clock was supposed to begin early, thus technically making another miraculous shot not count. Morris just made it easier for Belinelli to do the same thing. But this time the inbounder did it intentionally.
You have to admit, that's one of the smarter risky decisions made by an NBA player in some time. Very calculating from Marcus Morris.