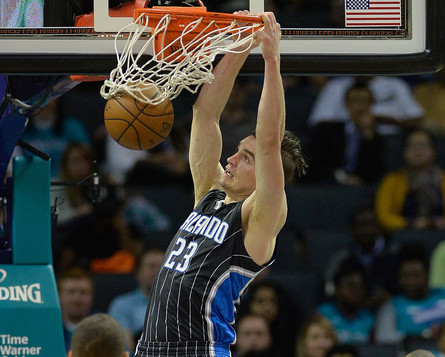 The Orlando Magic have been exploring the trade market for 22-year-old guard Mario Hezonja, reports Michael Scotto of Basketball Insiders:
Sources: Orlando has explored the trade market on Mario Hezonja. The Magic must decide on his fourth-year $5.2 million team option by today.

— Michael Scotto (@MikeAScotto) October 31, 2017
They discussed a deal with the Sacramento Kings, but those talks have stalled, says Scotto:
Sources: Kings and Magic discussed a swap of Malachi Richardson and a second-round pick for Mario Hezonja, but trade talks stalled recently.

— Michael Scotto (@MikeAScotto) October 31, 2017
Hezonja has largely been considered a bust since being drafted fifth overall by Orlando in 2015. In his rookie year, he played 17.9 minutes per game. His sophomore season, that dropped to 14.8. So far in 2017-18, he's playing 12.8.
Mario Hezonja still has promise. He has a smooth stroke from outside, and he can absolutely jump out of the gym. If the price for Hezonja is what Orlando discussed with Sacramento, then there are plenty of teams that should give the Magic a call. His value has significantly depreciated since he entered the league, though, as his on-court struggles have continued.
For his career, Hezonja is averaging 5.5 points and 2.2 rebounds per game on .401/.334/.856 shooting. those numbers aren't good (sans the foul shooting), but they could be a lot worse.
Hezonja has connected on five of his eight three-point attempts this season