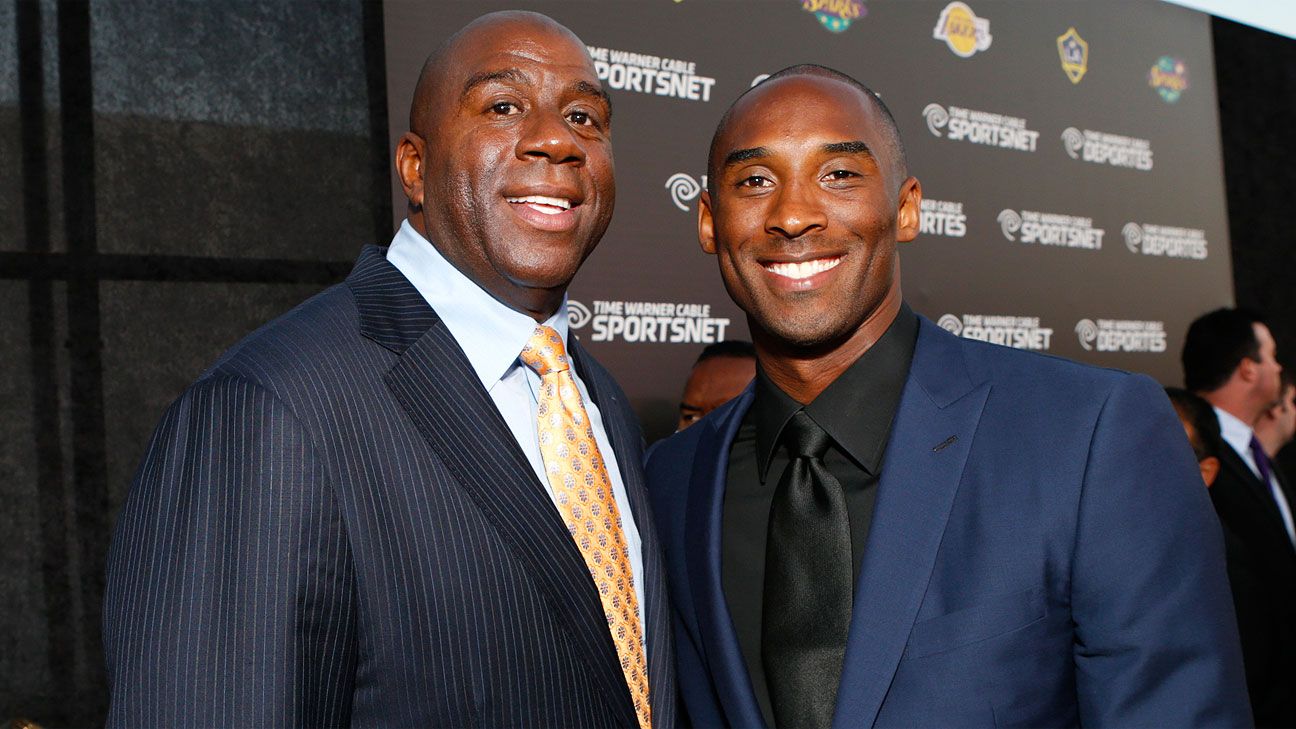 Ever since his retirement, Magic Johnson has remained a mainstay in NBA circles around the league, specifically regarding his Los Angeles Lakers. A team that continues to be one of the NBA's bottom feeders record-wise, though they have shown some growth through their young core of D'Angelo Russell, Jordan Clarkson, Brandon Ingram, and Julius Randle this season.
Though the talent and potential is there for the Lakers to make some noise in the Western Conference, they continue to struggle partially due to a lack of identity. That's where Magic Johnson comes in, as it was recently announced that Johnson would serve as an advisor in the Laker front office alongside owner Jeanie Buss. Earlier today on ESPN's First Take, Johnson was asked what potential moves he'd make if he was given an expanded role in decision making and, not surprisingly, he brought up another Laker legend, Kobe Bryant. Following from ESPN:
"First call I make if I'm in charge? Kobe Bryant," Johnson said on ESPN's First Take. "Because Kobe understands winning. He understands, also, these players. I would call: 'What role you want? … If you've got a day, just give me that day.'

"I'll take that. Whatever time he has, I want him to come and be a part of it."

Johnson was scheduled to meet with Lakers general manager Mitch Kupchak and co-owner and executive vice president of basketball operations Jim Buss on Monday to discuss the construction of the current team and the strategy heading into the Feb. 23 trade deadline.
As we all know, Johnson is already looking for more say in the front office as he recently said he wants to "call the shots." Obviously, the addition of Kobe Bryant would be a splashy one if nothing else but it could also be one that makes a ton of sense even though Bryant is only a year removed from his playing days. During his historic NBA tenure, Bryant made himself one of the all-time great players in league history by being one of the most intelligent competitors on the floor, and he does know the Lakers franchise better than almost anyone. With Johnson in the fold and his role potentially expanding, there could be some exciting front office changes for the Lakers to pair with their budding roster.