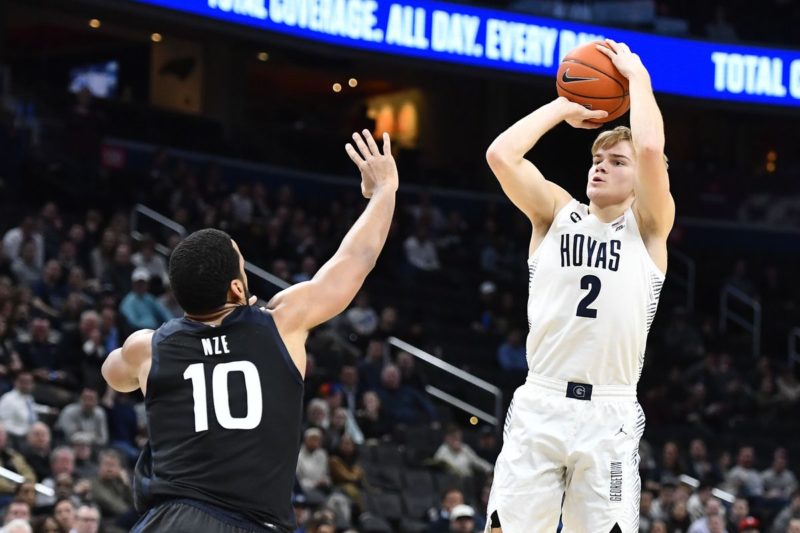 Georgetown's sophomore phenom guard Mac McClung has decided to test the 2020 NBA Draft Process. He is leaving his options open and may return to the Hoyas if the feedback he receives indicates that he should. It is fairly likely he does return to Head Coach Patrick Ewing and the Georgetown program. This year's process is specifically difficult because of the Coronavirus Outbreak. McClung is fully aware of the issues but is still excited to get what feedback he can get.
#Georgetown guard Mac McClung (@McclungMac) just declared for the NBA draft but will not hire an agent so he can maintain eligibility. @wusa9 @WUSA9sports #Hoyas pic.twitter.com/3yM1h7JsYl

— Darren M. Haynes (@DarrenMHaynes) March 29, 2020
Mac McClung did have the following statement prepared about the situation involving the Outbreak. "I understand the process will be different this year given the pandemic. I'm looking forward to getting feedback and giving teams an opportunity to get to know me on a personal level." He seems fully aware of what is likely to happen and is making the most of the feedback he can get.
Georgetown #Hoyas sophomore guard Mac McClung has declared for the 2020 #NBADraft without an agent meaning he has an option to return to the Hoyas for his junior year.

Here's a throwback to the time he put up 38pts in 38 minutes against Little Rock?? pic.twitter.com/49oMGFad2u

— The 5th Quarter (@The5ifthQuarter) March 29, 2020
The Hoyas had some trouble this year, but McClung was solid throughout the year. His sophomore year saw him average 15.7 points, 3.1 rebounds, and 2.4 assists. He shot 39.4 percent from the field and 32.3 percent from the three-point line. His athleticism is highly touted and for good reason, but he brings other things to the table. It is very likely he returns to Georgetown, but the feedback should help him a lot.