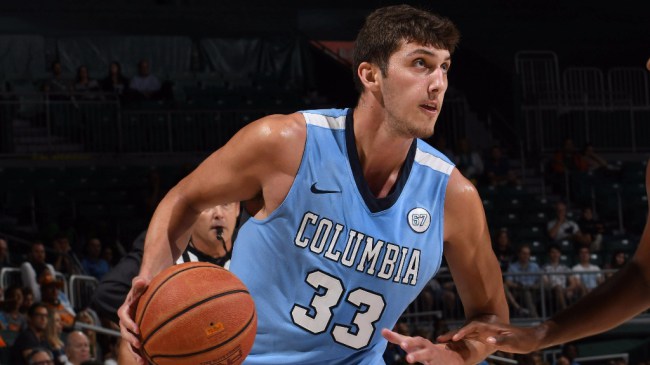 On a commercial flight back to Charlotte, North Carolina, following a 107-93 loss to the Westchester Knicks, Luke Petrasek of the Greensboro Swarm, the NBA G League affiliate of Charlotte Hornets, was at ease. He was looking forward to spending his Saturday evening in his apartment. There, he'd be able to spend his time with his closest friend, teammate and roommate, Mangok Mathiang, playing Assassin's Creed on his Xbox.
Luke Petrasek, who is in his first season with the Swarm after a four-year career at Columbia, is still in disbelief. He's living out a childhood dream of playing professional basketball while being able to play video games during his downtime.
"I'm extremely happy," Petrasek said. "I couldn't have asked for a better profession. I know this sounds cliché, but I really don't feel like I'm working. It feels like the summer right now, except I'm just getting paid. I really just wake up, go to practice, come back and hang out with my teammates. Then do the same thing the next day and collect a paycheck every two weeks. This has been a great time in my life."
The reality of playing basketball for a living has been thrilling for Petrasek. His friends and family members have expressed their happiness in him for achieving his goal. The only people who may not understand his career choice are a few professors and administrators at his alma mater, Columbia University. Instead of finding a "practical job" in finance, he's playing in the NBA's developmental league and becoming more inspired and motivated by the stars on the Hornets.
"My first shock moment came when I went to training camp with Charlotte," Petrasek said as he marveled about hooping with NBA All-Stars. "I was like 'I'm really hanging out with Dwight [Howard] and Kemba [Walker] right now.'"
"Just being around Kemba," Petrasek said, "you just realize there's even a stage above how hard you're working. I'm going through training camp thinking I'm doing well, getting shots up and working out. Then I see Kemba come in and he's already been working out by the time I get in the gym. Or Dwight will come back late at night and do some conditioning."
Both Walker and Howard were able to become staples in the NBA as star players for nearly 10 seasons and have become known for their work ethic. Walker is always working to prove someone of his stature can have a successful career in the league while Howard has donned one of the more impressive physiques in the association since his tenure with the Magic early in his career.
Being with the duo of Walker and Howard helped Petrasek learn what it meant to be a professional on and off the court, including the need to bulk up and perfect his game even more.
"I just want to get stronger," Petrasek said. "Get my body to an NBA level and work on my strength and explosiveness. I think I just want to stay consistent with my shooting. It's been an adjustment going from the college to NBA [3-point] line. I've just been working on slowing myself down and try not to rush since there's more margin for error since we're like 3 feet back."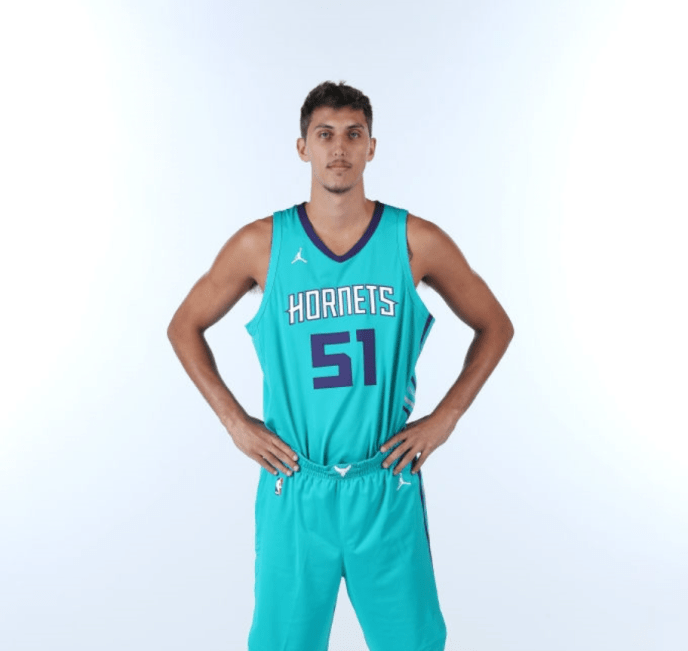 In his first season with the Swarm, Petrasek's measurements come in at 6 feet 10 inches, 210 pounds. His lean frame isn't conducive to gritty performances in the paint, but a game predicated on the perimeter. Adding a few pounds to his game would allow him to become a threat near the hoop. The realization that he would need to bulk up came in Petrasek's first NBA G League game, when he went up against NBA champion Kendrick Perkins of the Canton Charge.
"In the G League I think my first 'shock' moment was when we played Kendrick Perkins the first game of the season," Petrasek said. "It was just crazy because I had grown up watching him so it was a little surreal like, 'I'm really guarding this guy tonight.' "
Laughing at the idea of guarding Perkins due to the size difference between the two, Petrasek made sure to mention he mainly guarded Perkins on switches during their first encounter. Perkins, 33, finished with 15 points and 12 rebounds in his first G League game. The NBA veteran has his eyes set on a return to the league.
Perkins and Petrasek are at different points in their careers. Perkins is known as a defensive anchor while Petrasek is a young upstart looking for an opportunity at the next level — an opportunity he didn't know was possible until he met his agent, BJ Bass of RBA Sports.
When Luke Petrasek reflected on how he and Bass met, he began laughing deeply as his mind replayed their journey together. It all started with Petrasek's brother-in-law, who was Bass' friend back in college at the University of Wisconsin-Madison. Petrasek had been aware of Bass, watching him since high school because of their Long-Island connection, but didn't know he was an agent until after his senior year of high school.
Thanks to his brother-in-law, Petrasek ended up at Bass' RBA Showcase in New York City while he was still in school at Columbia. The pair instantly hit it off and shared multiple laughs, especially when Bass set off a fire alarm at the showcase.
"We were trying to show him the pier at [New-York-based sports facility] Basketball City, and when we opened the back door, one of the alarms went off," Bass said. "I think it's funny he remembers that."
Both BJ Bass and Luke Petrasek view each other as friends, and they both speak highly of each other and can have conversations that aren't tied to basketball. When it comes to their work relationship, Petrasek trusts Bass due to the latter's history of putting clients in ideal situations.
"I was really just trying to take care of my part on the court, through the draft workouts and showcases" Petrasek said. "I trust BJ a lot and he's been doing a great job for me. I really hired an agent for that reason. Coming into this, I really didn't know what the best decision was, and he really gave me good guidance. He showed me that he's put guys through the same scenarios who have made it to the NBA. I've just trusted him and didn't want to close the door on the NBA right away."
As Petrasek finished reflecting on his relationship with Bass, his Saturday night now a little bit older, he was ready to enjoy the remainder of it by resting and booting up his console to continue playing Assassin's Creed.