The Euroleague Final Four is gone, but that doesn't necessarily mean that basketball season in Europe is dead. There is still a lot of action in domestic competitions with familiar faces trying to add another title to their resumes. Some of these guys not named Luka Doncic may enter NBA next season, so it's really worth watching if the NBA Finals are not enough for you.
Nikola Milutinov (Olympiacos, Greece)
It's a wildcard appearance but there are two valid reasons why Nikola Milutinov made the list. First, he is still 23 years old and could be considered as the most NBA ready young European big. Secondly, he's been already drafted by the San Antonio Spurs. They may not be ready to bring the Serbian right away, but the progress Milutinov has shown is hopeful. Actually, he produced healthy 25.8 player index rating per 40 minutes which is the 11th best result among all Euroleague players this season. Milutinov will definitely raise the stock if he will be able to go through rough and tough Panathinaikos frontcourt in the Greek league final.
Thomas Heurtel (Barcelona, Spain)
European point guards are really blossoming this year. The reason Thomas Heurtel name can be lost in a lot of conversations, is not because he is not good, but his team is clearly not good. The irony here is that we are talking about Barcelona. The club that recently sent to the NBA Mario Hezonja, Alex Abrines and Tomas Satoransky missed Euroleague playoffs for the second straight year. While you can point fingers at the majority of Barca players for their poor contribution Thomas Heurtel is definitely not one of them.
Heurtel finished second in assists per game (6.4) and AST/TO ratio (2.8) right behind Nick Calathes who was among favorites to win Euroleague MVP trophy. The Frenchman is even better domestically with 6.6 assists per game and 3.1 ratio in Spanish Liga Endesa. However, Barcelona got only third seed and will face Baskonia in potential semifinals. And even Heurtel floor generalship might be not enough to book El Classico in the final.
Tornike Shengelia (Baskonia, Spain)
The Georgian forward never really had a chance to showcase his talent in NBA and was forced to rejuvenate his career in Europe. He chose a perfect landing spot. The Georgian forward has been consistent for years in Baskonian colors but this Euroleague season is a special one. Shengelia has transformed into an offensive beast and a serious force under the rim. His Euroleague First Team selection truly speaks for itself. He was a real contender for Spanish league MVP too. Their potential duel vs Doncic in the final would've been a European version of "must see TV".
Nick Calathes (Panathinaikos, Greece)
At this point, Nick Calathes is clearly working for his NBA comeback. The Euroleague title opportunity is gone and there is only Greek championship left on the table. Calathes is at his peak and with a potential win in a series vs Real Madrid could steal MVP from Doncic. His 8.3 assists per game are unprecedented for European basketball. Domestically he is shoulders above the competition and even Vassilis Spanoulis may not be able to offer any valid resistance in an inevitable final.
Nando De Colo (CSKA, Russia)
CSKA have had simply one of the worst Final Four runs in recent years. The whole team was out of the rhythm including Nando De Colo. However, De Colo's shooting struggles were primarily connected with the aftermath of an injury and he should be producing his average numbers in a newly installed VTB league Final Four format. While it is Will Clyburn that may be attracting the most interest from NBA world with Cory Higgins getting significant traction. Nando De Colo is the best player of the Russian powerhouse. Historically, he was always there when CSKA needed him the most in decisive games in the Russian VTB league.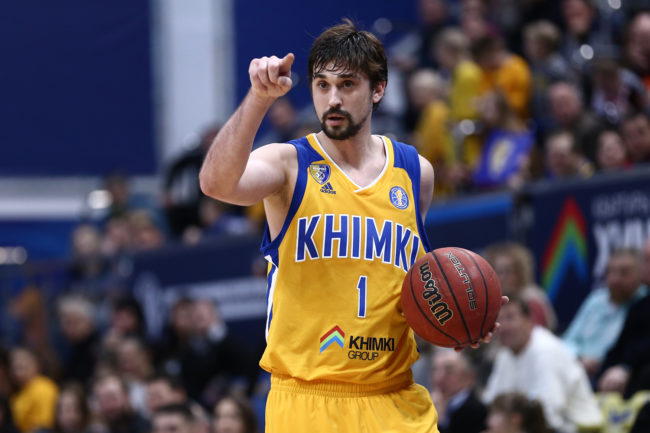 Alexey Shved (Khimki, Russia)
Luka Doncic stole all of the Alexey Shved hype this season. The Russian was able to put in a bag both Euroleague and VTB league scoring titles. And you still might not be hearing enough about his accomplishments. But there are also reasons why he is not buzzing as much as the Slovenian unicorn. Shved will be 30 years old this December with the huge contract with Khimki and shaky NBA experience. All of that is not adding any value.
Still, he is the hottest European scorer no matter how crazy his decision-making looks on the court. He lives and dies by crazy fadeaways and stepbacks. At the same time, it's making him truly a unique player for the European audience. Shved can accumulate a lot of wins too. He has been the cornerstone of Khimki's Euroleague success and first-ever playoffs in club history this season. The change of format might help him to snatch VTB crown from rival CSKA. The quarterfinal series versus Lokomotiv-Kuban was simply tremendous for Shved who was averaging 28.3 points and 7.7 assists per game. We might not have seen the best from him yet.
Luka Doncic (Real Madrid, Spain)
By all calculations, these Spanish league playoffs should be a swan song for Luka Doncic in Europe. What else can he possibly prove here? He won the main European title with MVP of the regular season and the Final Four. Almost a week ago he won Spanish league MVP. He's already experienced the ultimate triumph at Eurobasket with Goran Dragic, Anthony Randolph, and Igor Kokoshkov.
The good news for Doncic is that there is no real pressure. He's arguably locked for Top 2 pick at the upcoming NBA draft and speculations about teams trying to pass on him are looking like mind games really. He can't possibly hurt his stock with a loss in the final or even semifinal of the Spanish league, the competition that is obviously lower than Euroleague. He won't be drafted by a team that will be contending in the near future anyway. It's a pain-free world for Doncic, at least for now. And it might help him to produce the last spectacular performances on the European soil.