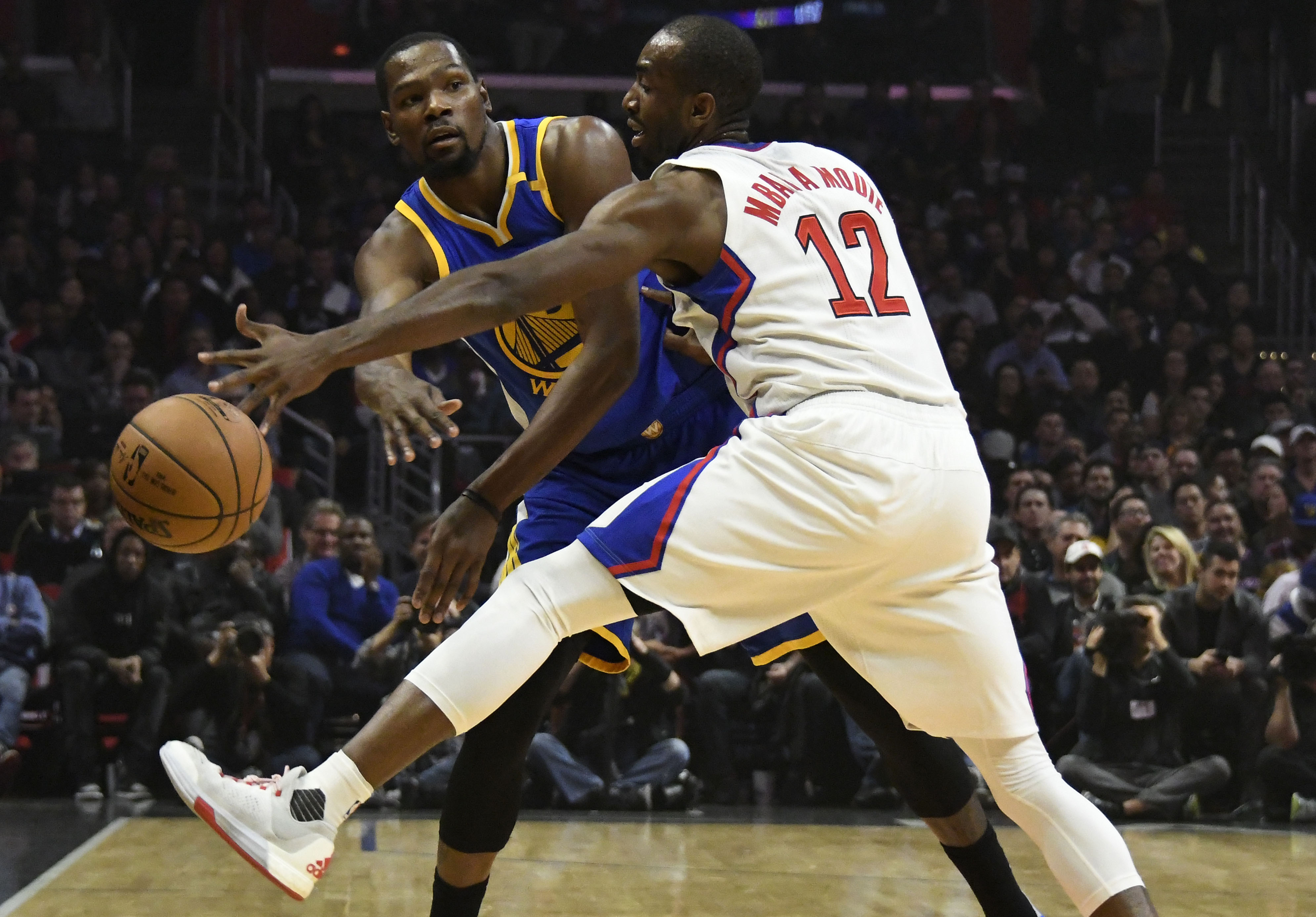 Defending professionally large basketball players is a difficult task. Everything most of them work at explicitly makes this the case. Players train hard to be offensively exquisite because that is what is most highly valued in the NBA.
Luc Mbah a Moute surely trained just as hard on offense, but that's not why he is valued as a useful NBA player. Mbah a Moute is better than most at defending the best players in the world. He may not garner raised eyebrows and giddy laughs with his scoring ability, but he's adept at annoying those who do.
His lateral quickness, length, and desire allow him to stick with almost anyone. He reaches his long arms around opposing players and knows some players' moves with near-telepathic accuracy. He seems to constantly be around the ball and possesses the ability to wreck any offensive possession.
This defensive sequence by @mbahamoute was sublime. Extinguished the whole possession. #Clippers pic.twitter.com/5GiXbox9RO

— Justin Jett (@JustinJett_) April 19, 2017
The Houston Rockets acquired him because of their need for a lengthy stopper to slow down the suddenly profuse amount of talented wings in the West. Mbah a Moute will shoot threes and be asked to guard these players, an alarmingly crucial assignment for a player that makes just $2 million per year.
This is because although the importance of defense is obvious, the market for it is meager. Meanwhile, the market for being an offensively oriented player is at an all-time high. Mbah a Moute can't dribble much, you won't be afraid of his pull-up jumpers, and his rebounding has regressed heavily.
He can, however, be a dangerous three-point shooter. Last year, he shot 39 percent from three on 1.4 attempts per game and over 41 percent from each corner. The latter will be most important in Houston. He will likely be asked to sit in the corner where he will be fed like a kid at a low-quality buffet. Both James Harden and Chris Paul are experts at the skip pass and will get the ball to Mbah a Moute constantly.
Mbah a Moute, despite his inefficiencies, is the exact "3-and-D" player one would expect to get paid on the open market. However, great defense is still the most mysterious aspect of basketball when it comes to quantification. The advanced stats are still widely questioned while the All-Defensive team votes are an indication that there is a large disparity in the evaluation of great defense.
Isaiah Thomas got the same amount of All-Defensive votes as Luc Mbah a Moute for crying out loud!
This is an absolutely insane truth for a player that held Kawhi Leonard, Kevin Durant, Paul George and Jimmy Butler to a combined 20/51 from the field last season. He even forced a constantly efficient Leonard to shoot a disastrous 37 percent.
His ability to do this next season will be so crucial for the Houston Rockets. Chris Paul and James Harden will be the ones judged heavily come playoff time but Luc may prove just as important. Any one of those players slowed down even slightly can change an entire series. Many believe the Thunder match up much better against the Warriors than the Rockets but Luc may change that perception.
One would think a player with this capability would be more highly valued. However, as tired cliches go, great offense usually matters more. It's no fun to defend players that most others don't because most others can't.
It's work, and unappealing work at that. It requires an unselfishness that our culture simply does not breed. This why most have visceral reactions to defenders. Uncommon things are rarely perceived with positivity.
Luc Mbah a Moute's popularity is low because of this. Alas, he has the ability to really make the Rockets dangerous come playoff time. He not only can guard the biggest name-brand wings in the league but can shoot at a fantastic clip. Andre Roberson gets all the public praise as an elite defensive wing, but Mbah a Moute can do similar things while inducing fewer disgusted shrieks when choosing to shoot the ball.
The Rockets have the offensive firepower and gave up none of it to add defense. The market and the media may have forgotten about Luc Mbah a Moute, but the Rockets did not.