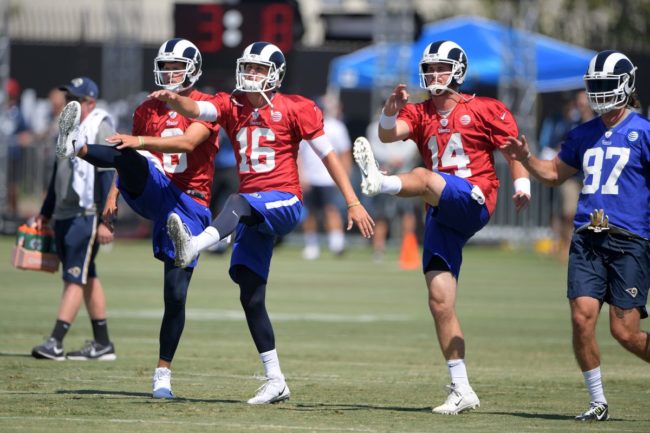 To be honest, the most exciting thing about the Rams right now are the new uniforms. They finished 4-12 last season and third in the NFC West. The good news is they did not finish last in the NFC West (they have the 49ers to thank for that). Jared Goff is coming off a lack luster rookie season. He was 0-7 starting for the Rams, but he is expected to start day one. The future, to say the least, looks grim. On that happy note, let's take a look at some things to watch for as the Rams enter training camp.
3 Position Battles to Watch
1. Wide Receiver: Robert Woods vs. Cooper Kupp vs. Josh Reynolds
Tavon Austin is secure as the No.1 receiver for the Rams, but the spot after him is up for grabs. Robert Woods, who played previously with the Buffalo Bills, signed with the Rams this past offseason. Kupp and Reynolds were drafted in the third and fourth round of the draft respectively. I see Woods coming out as the No.2 guy, but don't sleep on Kupp or Reynolds.
2. Tight End: Tyler Higbee vs. Gerald Everett
This isn't really a question of who starts, more of who will see the most action. Higbee is in his second year and showed some potential last season. Everett is a rookie with loads of talent. It will be fun to watch these two guys compete for the top spot. My vote goes to Everett.
3. Right Guard:  Rob Havenstein vs. Jamon Brown
There are a few question marks for the Rams on the offensive line. The right guard position is one of those question marks. Brown bounced back and forth between left and right guard last season. Both men are originally outside tackles. It will be interesting to see if either one can make the transition to guard.
Ready to Breakout: Kayvon Webster
Kayvon Webster is a new addition to the team. He has a good chance of coming in and taking the starting spot at cornerback. He previously was in Denver where he spent most of his time on the special teams unit. However, this does not take away from his skill at this position. Expect to see him start day one and make a big impact.
Rookie to Watch: Gerald Everett
As I have previously stated, Everett has the potential to be an impact player. Drafted in the second round from South Alabama, Everett gives Goff a great target to throw to. I expect this rookie to grow over the coming seasons as well as make significant improvements this season.
Fantasy Sleeper: Robert Woods
Woods will come onto the team and have an immediate impact. I can easily see him becoming one of Goff's favorite targets to throw to. If that is the case, then expect a lot of passes to come to Woods, especially in the red zone. Woods can be a good option in deeper leagues.
Although I tried to focus on some positive things, the season is not looking good for the Rams. Firing Jeff Fisher was the first step in a LONG road for the Rams. Maybe someday the Rams will return to former glory. Unfortunately, it is not this day.  But hey, new uniforms!
Los Angeles Rams unveil retro overhaul of uniforms, helmet – https://t.co/w614GltPBy pic.twitter.com/LXj5LNzti6

— evan garcia (@evangarciac21) March 6, 2017