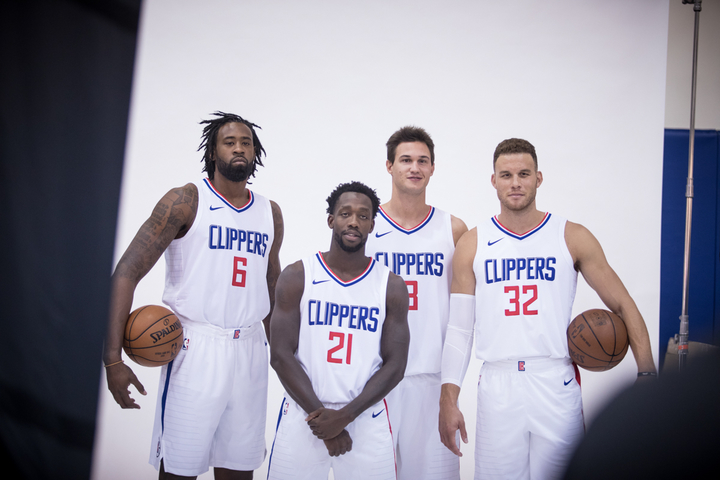 For 2,023 days, the Los Angeles Clippers remained mostly the same. Acquiring Chris Paul cemented a big three that would stay in place for years, never making it past the second round but always possessing championship potential.
Then on June 28, 2017, the team changed rapidly. Chris Paul moved on to the Rockets and the Clippers, as compensation, gained seven players instantaneously. Currently, they have 12 new players. This much change will be the team's first obstacle, as many noted during Monday's media day.
Most lamented the time it will take to get acclimated to one another with a positive spin that circulates most media day answers. The second obstacle will be increasing their speed. Over the last six seasons, on average, they ranked about 15th in the NBA in pace, even being as low as 27th one year.
A consensus sentiment during media day was the organization's desire to speed things up.
Doc Rivers said, "I do want to play at a higher pace," while Blake Griffin expects to "play much more up-tempo."
The lack of a true ball dominant guard on the Clippers (although Milos Teodosic may become one) makes moving quicker, with more ball movement, a smart decision.
Milos, as mentioned, is an extremely talented passer, yet it is not known whether his noted defensive struggles will hinder his on-court play in the NBA. Patrick Beverley is an underrated offensive operator but isn't a great passer. Scoring out of pick in rolls via floaters and shooting spot-up threes are his specialty, though he has worked on his off the dribble moves this offseason.
Austin Rivers is capable but not dependable and Lou Williams likes to score while doing little else.
These guards, while all above average, do not have a magician's bag full of tricks. What they all do possess are a few specialized skill sets and the potential to be a productive unit. Beverley even suggested that the Clippers will run three-guard lineups next season.
"You're gonna see maybe us three finishing a lot of games together and that's how Doc runs his offense."
The more ball handlers on the court the better and a Beverley-Milos-Rivers-Blake-DJ lineup could actually work really well. It would give them ball movement, a defender to offset Milos, four options to run the offense, rim defense and speed. This may be the lineup that allows them to shift to an up-tempo offense.
What the Clippers lost in star power, they gained in depth and versatility. The Clippers simply have more players and lineups to experiment with. For example, it appears that Blake Griffin's role will be growing as Doc Rivers said there will be times where Blake will "take the ball down the court" and "times when Blake will be the tallest player on the floor."
Both of these are exciting propositions and worthwhile strategies. The first of which could allow Blake to run  pick and rolls with Deandre Jordan, a likely staple of the Clippers' offense in 2018.
The second means more small ball and faster lineups for the Clippers next season. Blake at the five would lead to more shooting on the floor, more movement and reduce the clunky fit that has always been Blake and DJ. Danilo Gallinari is another player who gives this team so many options throughout the course of a game.
Dubbing the Clippers' front court "No. 1" in the league, Gallinari will likely start next to Blake and DJ but could then alternate court mates as the game progresses. Playing next to Blake at the four is probably the most exciting alternative while playing shooting guard, as he did in his rookie year, is probably out of the question.
Blake and Gallo are an interesting pair offensively and worrisome defensively, as most small ball lineups are, but the option to use this kind of lineup is almost as important as its success. The Clippers now have the opportunity to use a different lineup if the situation demands it instead of being pigeonholed into utilizing the same lineup over and over again because it is simply all they have.
Speed is now an option and everything seems to be pointing to it. Frankly, many in the organization seem content with the change at the very least. Years of middling consistency can be draining and it appears the Los Angeles Clippers want to run away from that past as fast as they can.