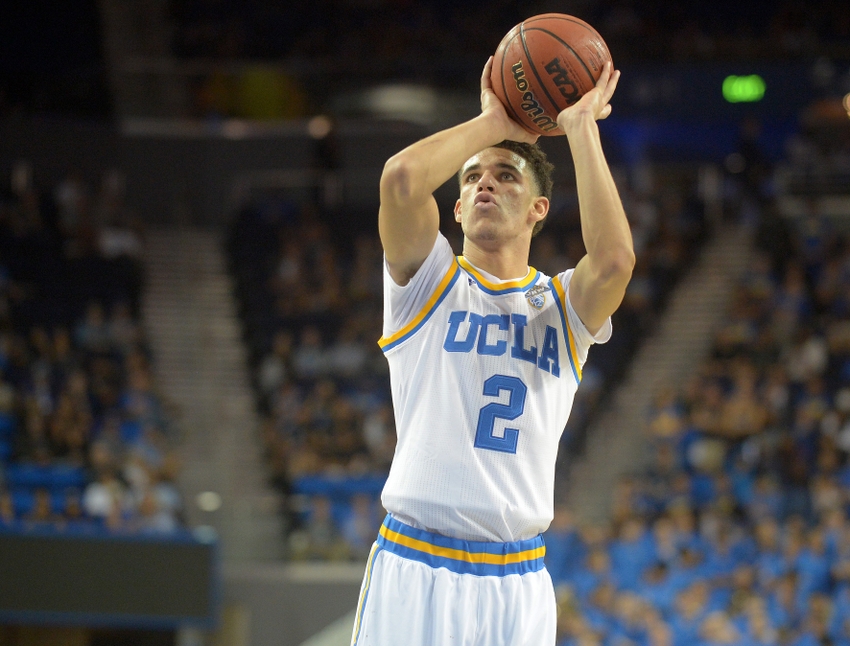 The National Basketball Association is in good hands. The league is absolutely flooded with young talent at every position and it's safe to say we're all excited about what the future holds. Adding on to that talent, this year's upcoming draft class brings in another wave of elite guard play. While the likes of Markelle Fultz, De'Aaron Fox, Dennis Smith and Malik Monk should all be studs in the NBA, the player garnering the most hype is UCLA Bruins point guard Lonzo Ball.
Lonzo Ball, who has two younger brothers also likely heading to the league, seemingly has everything you could want in a backcourt piece. His lanky 6'6″ frame, soft shooting touch, and his ability to pass and finish with equal effectiveness helps him post an impressive, multi-faceted stat line of 15.4 points per game to go along with 6 rebounds and 7.6 assists. While his shooting mechanics aren't the prettiest, Ball still has NBA GMs drooling and should be one of the first few names off the board once the NBA Draft is upon us on June 23rd. Everyone is aware of how good Ball has the potential to be, but no one more than his own father, LaVar Ball.
While We all know Lonzo could be the next big thing in the NBA, his father took it up a notch and even claimed he expects his son to be better than superstar Golden State Warriors point guard Stephen Curry in an interview with TMZ Sports:
Yes, Ball has the potential to be a special player as a professional. However, I think to say that he is going to be better than a 2-time MVP, NBA champion, and one of the best all-time shooters is premature, to say the least. Though their college competition was different, Curry averaged 25.3 points per game during his Davidson tenure, nearly a whole ten points more than Ball. While it's good to know that Mr. Ball has confidence in his son's abilities, as he should, the Curry comparison will likely end up being a tough one for Lonzo to live up to.