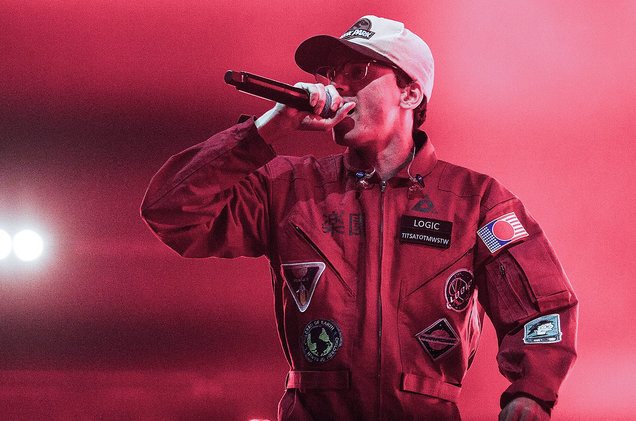 Logic is back and rapping better than ever on his newest collection of music. After achieving major commercial success with his last project, Everybody, the Maryland native is back with a new body of work called Bobby Tarantino II. The project, which is a major switch-up from the pop success he achieved with singles like "1-800-273-8255", features the Maryland spitter giving rap fans everything they could want and more. The second installment of the Bobby Tarantino series features previously released singles such as "Overnight", "Everyday" and "44 More", which is currently sitting at #22 on the Billboard charts. Produced primarily by Logic's right-hand man, 6ix, the project features hip-hop stars Wiz Khalifa, Big Sean, 2 Chainz and Logic's alter ego, Young Sinatra.
One of the most notable moments in Logic's newest body of work is the first verse of  "Yuck". The fifth record on the project begins with Logic seemingly taking shots at another rapper.
"Talkin' shit 'bout Logic, I never respond
I'll let success talk, 'cause a word of advice:
More achievements for yourself and less talk
Cats beef with Logic, yeah, they prayin' I respond
If I ever did, I dead you in this game with no respawn
Peace, Love, and Positivity that's all I want with you
But you push the issue 'cause I give you more press than your publicist could ever get you."
While Logic doesn't name anyone in particular, most believe that Logic is speaking directly to up and coming rapper, Joyner Lucas. On Everyday Struggle, Lucas explained that he has had issues with the Bobby Tarantino II rapper since their collaboration on Tech N9ne's "Sriracha". While Lucas has repeatedly addressed his issue with the Grammy-nominated rapper, this is the first time Logic has responded back with music. However, Lucas appears to be unphased by Logic's response.
https://twitter.com/JoynerLucas/status/972306052774469632
It's unclear whether this beef will lead to any more music, but what is clear that Bobby Tarantino is available right now with features from Big Sean, Wiz Khalifa and more. Let us know what you think.