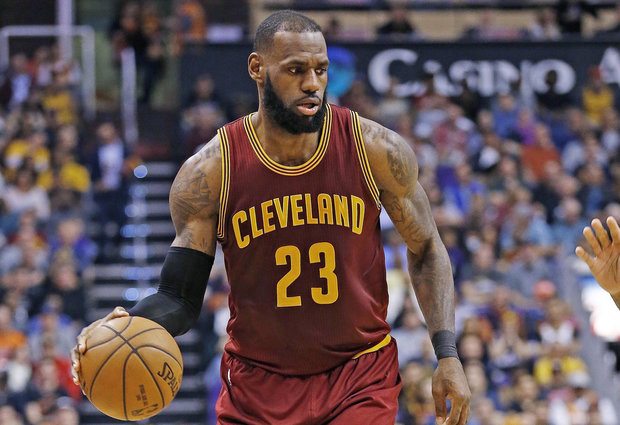 LeBron James unloaded on the Cavaliers following the team's 124-122 loss to the New Orleans Pelicans on Monday night, who were without Anthony Davis. James made it clear that he was not happy with the current team situation, once again signaling the team's need for another ball-handler.
"We need a f—ing playmaker," James said, according to ESPN's Dave McMenamin. "I'm not saying you can just go find one, like you can go outside and see trees. I didn't say that."
The Cavaliers have struggled since the start of the new year, losing five out of their last seven games. The loss to New Orleans Monday night came to a Pelicans squad without Anthony Davis, along with stellar performances from Kyrie Irving (49 points) and LeBron James (triple-double).
"It's been a sh*tty 2017 so far," James told reporters after the game.
Cleveland has already pulled the trigger on a major deal this season, acquiring sharpshooter Kyle Korver from the Atlanta Hawks. However, with Matthew Dellavedova signing elsewhere this past offseason and Mo Williams choosing not to report to the team, the Cavaliers have been without a primary back-up ball-handler the entire season.
Young guards Kay Felder and DeAndre Liggins have impressed, but certainly aren't the championship-caliber players needed to challenge Golden State, Houston or San Antonio — at least not yet.
"No disrespect to DeAndre and to Kay, you think we can rely on them to help us win a playoff game right now?" James asked (via Jason Lloyd of the Akron Beacon Journal). "And it's no disrespect to them. But it's like, it's not fair to them."
Cleveland has expressed interest in multiple point guards in recent weeks, holding hopes that it can extinguish its back-up point guard dilemma sooner rather than later.
They've pondered internally whether to bring in Mario Chalmers and Norris Cole, according to one source close to both guards. Both players are free agents and former teammates of LeBron's, winning two championships with the Miami Heat.
Now, according to a new report from Mitch Lawrence of forbes.com, the Cavs are expressing trade interest in three other guards:
For their thin backcourt, the Cavs have been looking to add Denver's Jameer Nelson, Chicago's Rajon Rondo or Dallas' Deron Williams. Any of the three could help the Cavs. Nelson now is serving as Emmanuel Mudiay's mentor, but could be dealt for the right price. Rondo, every coach's nightmare, is on the outs in Chicago and in a backup role since being demoted from his starting spot. Williams could be a buyout candidate for the 15-29 Mavs since this looks like a lottery season for Mark Cuban and Dirk Nowitzki.
With LeBron James finally sounding the alarm on a struggling team in dire need of an upgrade, expect general manager David Griffin to begin relentlessly pursuing packages that can bring in another point guard.
The Cavaliers, who won the championship last year off of a stellar 2015-16 campaign, just have not been able to find the same success this season. While J.R. Smith's absence certainly holds a major effect, there's no questioning that this Cavaliers team is currently one step behind last year's championship squad.
"We're not better than last year, from a personnel standpoint … we're a top-heavy team," James said (via Jason Lloyd), adding a few minutes later, "I just hope that we're not satisfied as an organization. I just hope we not satisfied. How hard it was to do that s—. I just hope we're not satisfied."
The NBA's annual trade deadline is just over four weeks away. That gives the Cavs' front office plenty of time to figure out their current situation and please James before finalizing its Playoff roster.
Cleveland, despite its recent struggles, remain two games ahead of Toronto for first place in the Eastern Conference with a 30-13 record.