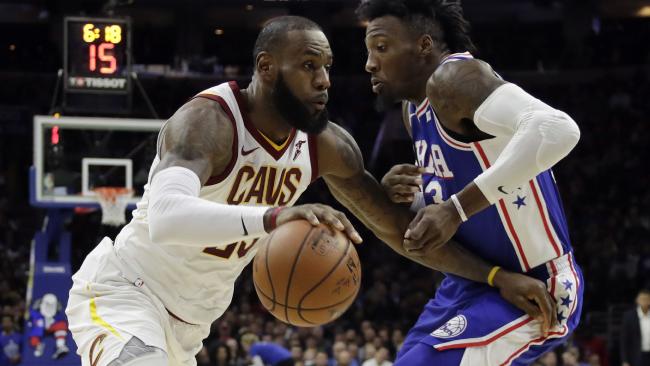 LeBron James, arguably the best basketball player in the world, will be a free agent this summer, and a local Pennsylvania business is spearheading the recruiting early.
Along I-480 in Cleveland, stands three billboards with messages urging James to possibly consider joining the young talent of the Philadelphia 76ers.  According to ESPN's Darren Rovell, Power Home Remodeling, the business responsible for erecting the billboards, are avid Philadelphia fans who were eager to get the attention of the four-time League MVP.
The signs, which have persuasive phrases like "Complete the Process," and "#PhillyWantsLeBron," were strategically placed in Cleveland so that James would easily see them.
Following from Darren Rovell,
A Philadelphia-based company put up three billboards on highway to downtown Cleveland this morning saying that city wanted LeBron. Here they are in order. pic.twitter.com/vntsa8h3mE

— Darren Rovell (@darrenrovell) February 26, 2018
"We're passionate about Philadelphia," said Asher Raphael, the company's co-CEO. "We have an amazing city, it's the best sports town and it's an awesome place to live. We think the best athletes should want to play here." "LeBron is in the conversation of being the best player of all time," Raphael said. "We think if he comes to Philly, he gets a couple more championships."
The billboards will be up for three months which is more than enough time for the Sixers to see the signs when the team travels to Cleveland this week for a Thursday night game. According to Chris Fedor of Cleveland.com, following a Tuesday practice, James says he was flattered by the Sixers fan's ostentatious gesture.
"You can say it's a distraction; it's not. Not a distraction," James said Tuesday. "It is actually very flattering that I'm sitting here at 33 and in my 15th year and teams or guys — I don't want to say teams because that becomes tampering — but people in their respective city want me to play for them. That's cool I think. That's dope."
James' name has been linked to the Sixers, as some league executives reportedly believe that Philadelphia could have a shot at the three-time NBA champion. James is averaging 26.6 points, 8.3 rebounds, and 8.3 assists in 37 minutes per game this season.