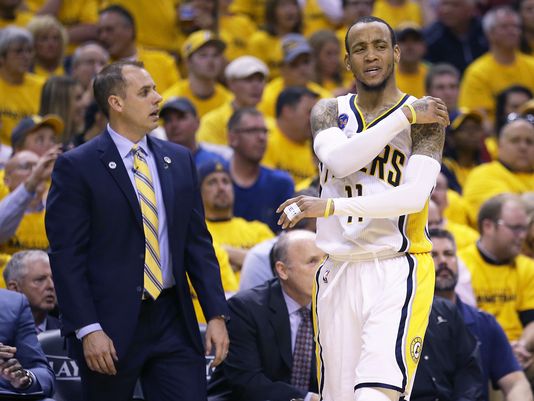 The Indiana Pacers formed a competitive and respectable identity over the last few years under an All-Star in Paul George, but also under head coach Frank Vogel. After a Game 7 loss to the Toronto Raptors in the first round of the playoffs, Indiana Pacers president Larry Bird is admittedly unsure about what the future holds for Vogel as head coach.
Following from Gregg Doyel of the Indy Star:
"I don't know what's going to happen," Bird said.

He doesn't know when, either. Bird said he will make the decision after meeting by conference call with Pacers owner Herb Simon, but he said no call has been arranged.

"He's busy, so it could be a week or it could be tomorrow," Bird said early Monday evening. "What I don't want to do is leave Frank hanging – there's other jobs out there he could get."
Vogel would no doubt be a valuable candidate for several teams with head coaching vacancies right now. Bird's respect for Vogel showed in his remarks as he understands there would be instant opportunities for him elsewhere. It also has to do with understand that Vogel was not in a sexy situation with this team.
The Pacers unloaded their starting front court and made an attempt to switch to a more high-tempo, offensive style, though their roster, even with adding Monta Ellis, didn't suit that style of play. This is the last year of Vogel's contract, so the Pacers could let him walk and both parties might even be better for it. Or, they can stick with it, offer an extension, and try to build a more suitable roster for Vogel to work with. If the Pacers are in favor of a more deliberate transition, the former is more likely.