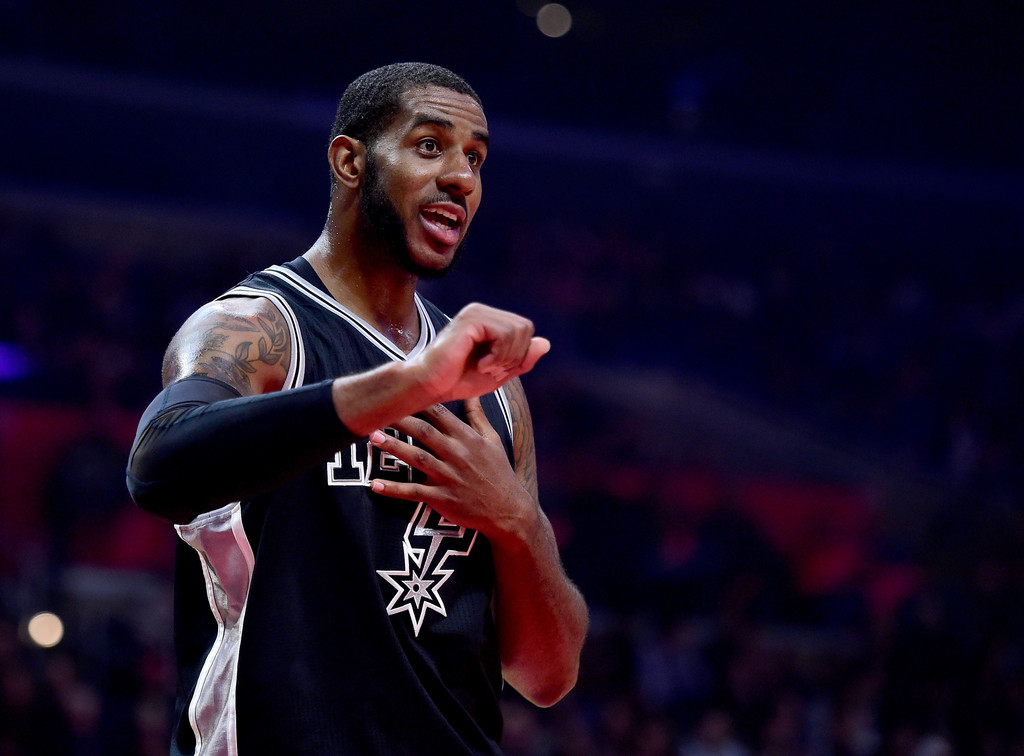 Update (March 15, 2017):
Well, that was quick (Thank god). After a scary episode of heart arrhythmia, San Antonio Spurs big man LaMarcus Aldridge has been cleared to just four days after. The Spurs announced that Aldridge will be active Wednesday night:
The San Antonio Spurs today announced that forward LaMarcus Aldridge has been cleared to resume all basketball-related activities. After Aldridge had an occurrence of a minor heart arrhythmia in Oklahoma City on March 9, the Spurs medical staff led a process that included multiple tests and examinations as well as consultation with numerous experts in the field.

"We are thankful that LaMarcus will be able to rejoin the team, said Spurs General Manager RC Buford. "All of us have been impressed with the professionalism and grace he has shown in dealing with this difficult situation."

Aldridge is available to play in tonight's Spurs-Blazers game with no restrictions.
Head coach Gregg Popovich sounded relieved and said that Aldridge has "shown a lot of class and a lot of fortitude in the way that he's done it all" about the process that Aldridge has gone through.
Original story follows:
LaMarcus Aldridge and the San Antonio Spurs matchup against the Golden State Warriors on Saturday night went from a must-see matchup to a possible skipper in under 24 hours. Kawhi Leonard suffered an apparent concussion, and it seemingly was the trigger to a litany of other moves. Tony Parker was also ruled out for the game with Leonard. After the Warriors had been handed a loss to the Minnesota Timberwolves on Friday night, Steve Kerr said Stephen Curry, Draymond Green, Klay Thompson and Andre Iguodala would also skip the game due to rest joining Kevin Durant on the 'out' list for the matchup.
But a few hours before the matchup, the Spurs made another announcement about the contest. Rookie point guard Dejounte Murray would be missing the game and as would LaMarcus Aldridge. But for the former All-Star big man, he's not 'resting,' he has an apparent minor heart arrhythmia.
The Spurs made the announcement earlier today.
LaMarcus Aldridge will be out for an indefinite period due to an occurrence of a minor heart arrhythmia. pic.twitter.com/s0D2Enc6RO

— San Antonio Spurs (@spurs) March 11, 2017
With the potential life-threatening issue Chris Bosh has battled recently, this news comes as another shock. But I'm not a doctor, and neither are you. So let the people at the Mayo Clinic shed some light on a what a heart arrhythmia is and what the symptoms are.
Heart rhythm problems (heart arrhythmias) occur when the electrical impulses that coordinate your heartbeats don't work properly, causing your heart to beat too fast, too slow or irregularly.

Heart arrhythmia treatment can often control or eliminate fast, slow or irregular heartbeats. In addition to, because troublesome heart arrhythmias are often made worse — or are even caused — by a weak or damaged heart, you may be able to reduce your arrhythmia risk by adopting a heart-healthy lifestyle.

Arrhythmias may cause you to feel premature or extra heartbeats, or you may feel that your heart is racing or beating too slowly. Other signs and symptoms may be related to your heart not pumping effectively due to the fast or slow heartbeat. These include shortness of breath, weakness, dizziness, lightheadedness, fainting or near fainting, and chest pain or discomfort.