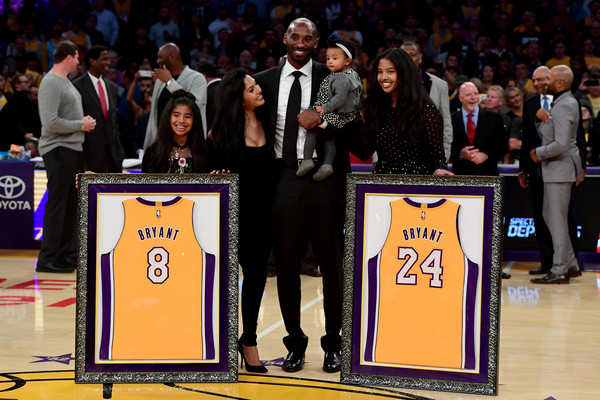 The Los Angeles Lakers honored Kobe Bryant at halftime of the team's game on Monday night, retiring the NBA legend's No. 8 and No. 24 jerseys by hanging them in the rafters during a ceremony.
Bryant, who spent his entire career with the Lakers and won five championships as a member of the team, was honored in front of several different past NBA greats who stood courtside.
"We're here to celebrate the greatest who's ever worn the purple and gold," Lakers legend Magic Johnson said to start the ceremony.
Bryant was then met by Lakers owner Jeanie Buss, who read off a series of different quotes from fans across the country showing their respects to Kobe.
The jersey retirements followed after, with Bryant ending the ceremony by giving a short speech to his fans, the media, and lastly, his family.
"Those times when you wake up early and you work hard, those times when you stay up late and you work hard, those times where you don't feel like working because you're too tired, but you push yourself and you do it anyway — that is actually the dream. It's not the destination, it's the journey," Bryant said.