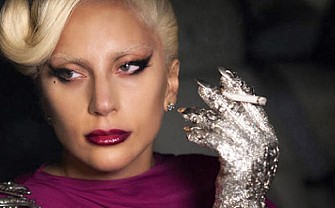 American Horror Story: Hotel is headed to our TV screens, and it's going to be wild!
EW reports that fans can be expecting a foursome scene featuring Lady Gaga and Matt Bomer. EW provides behind-the-scenes details in their issue of EW featuring the AHS: Hotel stars:
"Lady Gaga, making her AHS debut as an enigmatic figure named the Countess, and Matt Bomer, playing her paramour Donovan, are filming their aforementioned tryst. It involves the Countess and Donovan having naked fun with another male-female duo in her hotel penthouse—then slashing their companions' throats with razor-sharp chain-mail gloves and feasting on their blood.
Next Gaga and Bomer rev up to shoot their respective killing scenes. Bomer, the weaponized black glove on his hand and only a sock covering his junk, goes first, with co-creator and director Ryan Murphy calling out commands like "Stab! Feed!" Gaga sits behind the monitors and watches like a superfan. "Yaasssss, queeeeen! Work that glove," she yells at the end of a take. Murphy comes back and imitates the superstar's enthusiastic chant. Laughing, Gaga exclaims, "I'm gonna wet my merkin!" In between scenes, the six-time Grammy winner entertains with stories about everything from her love of the Real Housewives franchise (she watches all of them) to her celebrity pals (she's currently babysitting Cher's horse).
The set of AHS is always lively, but the arrival of a star at the level of Lady Gaga, known for hits like "Born This Way" and "Applause," has fueled the soundstage with a giddy, surreal energy. Case in point: Her presence attracts a visit from John Travolta, who is shooting Murphy's miniseries American Crime Story: The People v. O.J. Simpson next door. Still in costume as defense attorney Robert Shapiro, Travolta hugs Gaga, who's in a robe and diamond pasties, and they launch into a conversation about Travolta's good pal Barbra Streisand.
Soon enough it's Gaga's turn for bloodshed in the bedroom, which Travolta stays to watch. The camera is positioned on the bed from the perspective of Gaga's victim. Murphy says, "Action!" and the star, clad in those bedazzled pasties and a matching necklace, goes positively gonzo. She writhes around on the bed like a famished animal. "She's the only actress I think I've worked with who wanted to do more explicit stuff than was written," confides Murphy. "You write a foursome for her and you expect a lot of questions. She never did that. She showed up and she was wearing diamond pasties, a Band-Aid on her hoo-ha, heels, and a black veil that Alexander McQueen made for her on the day before his death. Then the crew gasped in delight and we were off!" Remembers Gaga, "I walked in on my first day and I was like, 'I am going to give all of myself.'"
If the show is anything like described, we know this scene is going to be a good one!
American Horror Story: Hotel premieres on FX on October 7.