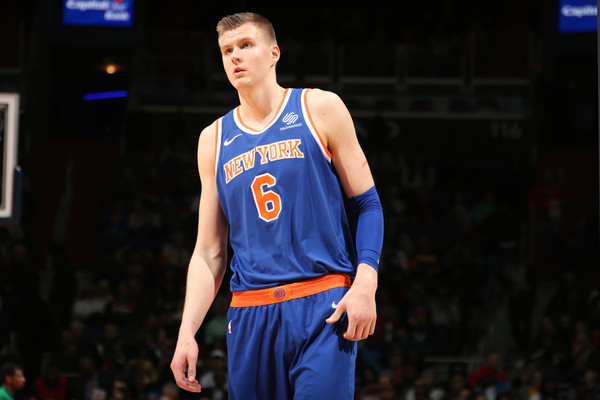 New York Knicks' star Kristaps Porzingis is not beating around the bush: he wants to play in the playoffs, and he wants the front office to help make that happen. Speaking to ESPN's Ian Begley, Porzingis says he wants the act of acquiring veterans and playoff-experienced players to be the focus as opposed to trading away and preparing for the draft. New York has not been in the playoffs since 2013.
"Playoff experience for myself, individually, would be huge at this point in my career — the sooner, the better," Porzingis said Monday, when asked his opinion about the Knicks' approach at the trade deadline. "And for most of the [Knicks] — most of the guys haven't felt that playoff experience that everybody talks about — that the guys talk about that have been there. For myself, selfishly I would want to play in the playoffs but we'll see what happens and how we can end the season."
Despite this subtle request, Porzingis says he has not formally spoken to management about it. "I think they know I want to be in the playoffs and that's the only thing on my mind. I'm not going to go in there and be like no, we're tanking. There's no reason to play," Porzingis said. "[Making the playoffs is] only thing I'm focused on. What I need to do on the court to play better, make my team win."
The Knicks sit four games out of the eighth seed in the Eastern Conference, but have lost 14 of their last 19. This is not the first time Kristaps Porzingis has used the term "playoffs" around this Knicks team. He described them as a playoff team back in November.