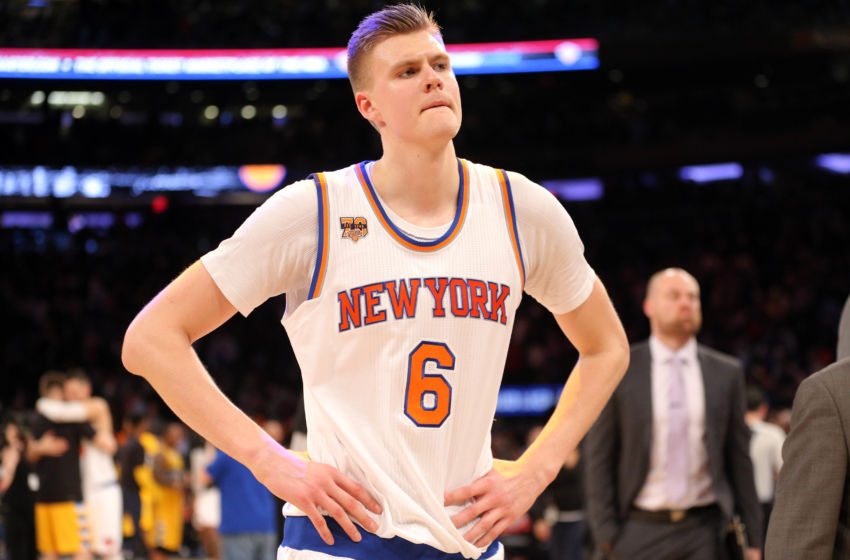 During the inaugural week of this NBA season, New York Knicks star Kristaps Porzingis established himself in the running for Most Improved and it seemed as if he would fill the departed Carmelo Anthony's void with little issue. The 7'3″ forward averaged nearly 30 points per game over the first month of the season.
Since that juncture, however, we've seen Porzingis' numbers come back to earth rather quickly, correlating with the below average basketball we've seen from the Knicks. Following a loss against the Washington Wizards that came on the second night of a back-to-back, Porzingis admitted to ESPN's Ian Begley that he's feeling the grueling nature of the 82-game season already and it could be impacting his play:
I'm tired. I'm tired. I'm so tired right now. I have one day now to rest my legs and then get back and play better and have more energy and also try and bring the team's energy up. Also we're in a tough stretch. The mental part doesn't help at all. When it's mentally tough you just don't have it in you. It's normal. It's normal. It's up and down. Get some rest, enjoy nice Miami weather and go try and win the Miami game (on Friday)."
For the Knicks, hearing this from your franchise centerpiece has to be worrisome. Not only because of how his body reacts to this season, but this could have some longterm repercussions as well.
We've seen this in the past from Kristaps Porzingis where he begins the season on a tear but his play regresses over the season. Still, in only his 3rd-year, the Latvian has plenty of time to figure out how to cope with the rigors of an NBA season.
The expanded role Porzingis has been thrust in likely doesn't help matters either. New York's offense runs almost entirely through him, as he's forced to put up numbers on one end and protect the paint at the other, just for this subpar Knicks roster to have a chance night in and night out, especially with guard Tim Hardaway Jr. sidelined.
It may be a while till the Knicks return to their winning ways from earlier in the season. They've already dropped 6 of their last 7 and are now 3-13 on the road this season. With 12 of their next 15 matchups taking place away from Madison Square Garden, the Knicks may have to prepare themselves for a rocky upcoming stretch.