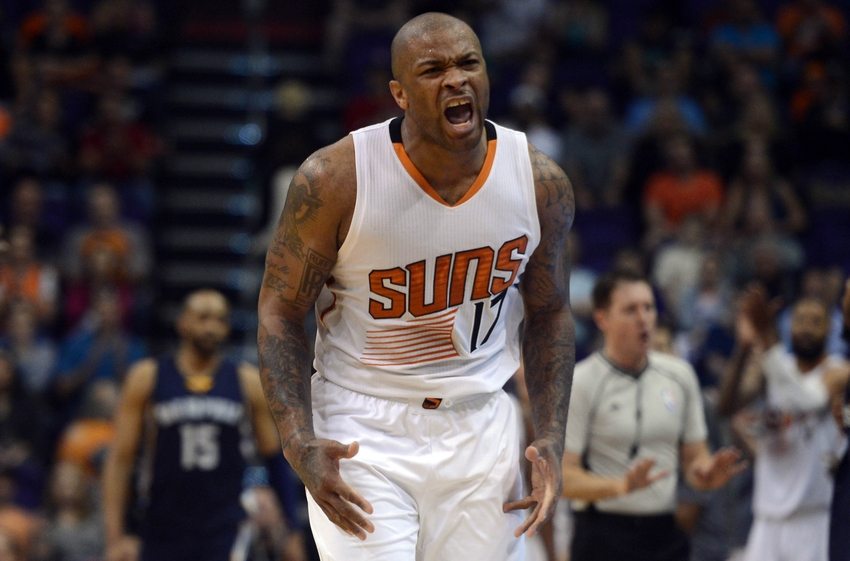 As the Knicks continue their tumultuous stretch of games, the front office has begun looking at trade opportunities. New York has lost five straight games and eight out of their last ten games with a very subpar defense one of the reasons for the slide. The Knicks boast one of the worst defenses in the league and have allowed an average of 113 points during their losing streak. Head coach Jeff Hornacek wants to keep players accountable for their defensive effort, but it hinges on him and his staff too. One way the head coach in his first season with the Knicks could help establish a better defensive culture is bringing in a veteran player he used to coach.
In light of their defensive shortcomings, the Knicks' front office is showing interest in Phoenix Suns forward P.J. Tucker, according to Ian Begley of ESPN.
Hornacek also made it seem as if there are no imminent lineup changes.

"We're always taking a look at things," he said. "But we've got some dynamic offensive players out there, and we've got some guys that are strictly defense to help us out. We just all have to get better."

There could, however, be some roster changes ahead. The trade deadline is less than two months away, and the Knicks, like every other team in the NBA, are looking at their options. It doesn't seem as if any move is imminent, but some members of the Knicks' front office have labeled Phoenix Suns forward P.J. Tucker as a potential trade target, league sources told ESPN.com.

The question in any Knicks trade, of course, is what the club is giving up. The Knicks have several attractive young players, such as Willy Hernangomez, Kyle O'Quinn and Mindaugas Kuzminskas. They also have draft picks, but Jackson and the Knicks' front office informed teams last season that they weren't going to part with future first-round picks.
Tucker doesn't provide too much on the stat sheet, but he has gained a reputation as one of the better defenders in the NBA. While not an elite option Tucker ranks 22nd out of 80 eligible small forwards in defensive RPM, a modest number that would be an upgrade to the NBA's sixth-worst defense. Tucker spent two and a half seasons with Hornacek in Phoenix in which Tucker saw his career blossom from a deep bench guy to an important and consistent starting wingman.
Tucker most likely wouldn't demand a huge trade package either. He's been in trade rumors in the past but some teams have been hesitant to pull the trigger. The Knicks have some younger players in Kyle O'Quinn, Willy Hernangomez, and Mindaugas Kuzminskas that the Suns may have some interest in as well as several draft picks. However, there is some resistance from the Knicks' front office to part with those picks, and rightfully so. For the Knicks to stay competitive in the Eastern Conference they will have to make a move but only for the right price.