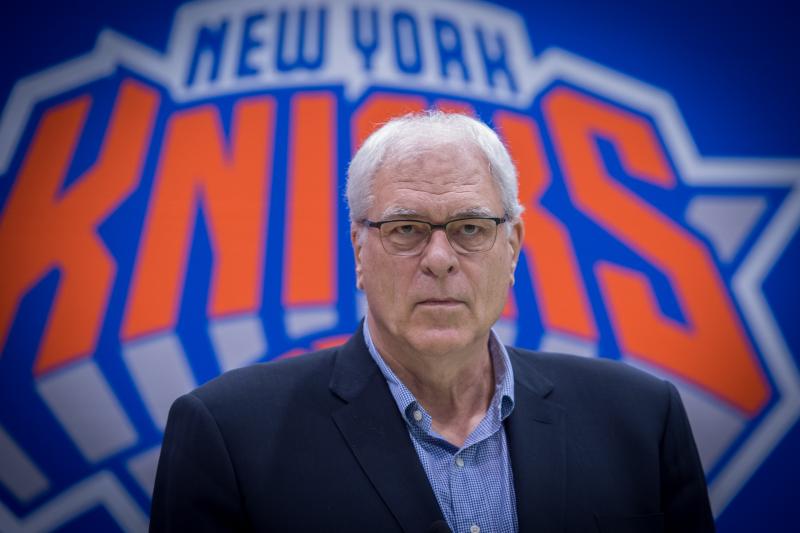 In the late hours of Tuesday night going into Wednesday morning, the rumblings coming out of New York were no longer about a Kristaps Porzingis trade or a potential buyout of Carmelo Anthony. It was about the future of team president Phil Jackson and how long he would be a member of the Knicks front office.
Multiple reports had the Knicks looking to move on from Jackson as team president with one report having Toronto Raptors president Masai Ujiri as the target in New York's replacement plan. But first, they needed to move on from Jackson.
The Knicks made it official this morning by announcing they will 'part company' with Phil Jackson.
Following comes from an official Knicks press release.
MSG Executive Chairman Jim Dolan and Phil Jackson announced today that, after discussing the future of the New York Knicks, they have mutually agreed to part company. Mr. Jackson is leaving his post as President of Basketball Operations, effective immediately.

"After careful thought and consideration, we mutually agreed that the Knicks will be going in a different direction," said Mr. Dolan. "Phil Jackson is one of the most celebrated and successful individuals in the history of the NBA. His legacy in the game of basketball is unmatched. We wish him the best and thank him for his service to the Knicks as both a player and an executive.

"While we are currently evaluating how best to move forward regarding the leadership of the organization, I will not be involved in the operation of the team," continued Mr. Dolan. "Steve Mills, the team's general manager, will run the day-to-day business of the organization over the short term. Tim Leiweke, who brings tremendous expertise and experience in sports franchise management from both Toronto and Los Angeles and is our partner in the Oak View Group, will advise and work with Steve on an interim basis to help develop a go-forward plan."

"The New York Knicks will always hold a special place in my heart," Mr. Jackson said. "This team and this town launched my NBA career. I will forever be indebted to them. I am grateful to Mr. Dolan for giving me the opportunity to return here.

"I had hoped, of course, to bring another NBA championship to the Garden. As someone who treasures winning, I am deeply disappointed that we weren't able to do that. New York fans deserve nothing less. I wish them and the Knicks organization all the best – today and always."