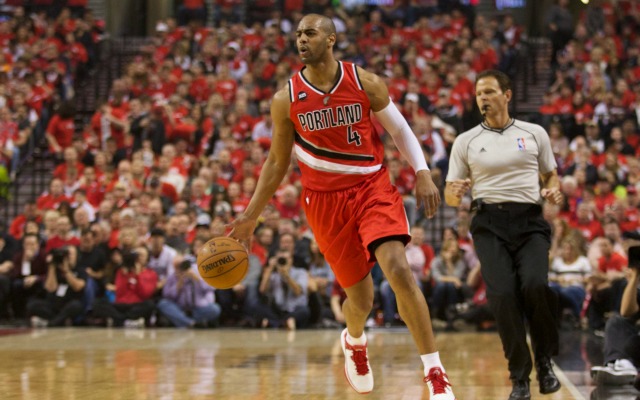 New York Knicks draft is over and while some people may not be excited with who they grabbed, there is some hope for unhappy fans. They Knicks have a lot, a whole lot, of money to spend in free agency this summer. As July 1st approaches, marking the beginning of free agency, it appears the Knicks are geared up to make some big moves.
They have leverage with some money and it appears they might want to bring in a offensively talented big man from the Detroit Pistons in Greg Monroe and an all-around solid guard from the Portland Trail Blazers, Arron Afflalo.
Following from Yahoo! Sports Adrian Wojnarowski.
Knicks are frontrunners for two free agents — Greg Monroe and Arron Afflalo, league sources told Yahoo Sports. Those are realistic targets.

— Adrian Wojnarowski (@WojYahooNBA) June 29, 2015
Brian Windhorst of ESPN.com also said last night in the 'NBA Lockdown: Insiders' special edition podcast, he believes the Monroe to Knicks move is all but a done deal. Even Pistons coach Stan Van Gundy doesn't believe Monroe will be back. The Knicks and Monroe have shared interest before but now it can be real for the former Pistons big man to move to the big apple. If he joins New York, Monroe will be on the frontline alongside Kristaps Porzingis and Carmelo Anthony. While it might not work well defensively, actually it might be horrible, thinking of the possible scoring threat with that frontline is a scary thought.
Afflalo on the other hand can come in as a veteran guard to work with Langston Galloway and Jerian Grant while also pairing with Jose Calderon to offset Calderon's offense talents. If he has any left. Arron didn't exercise his option with the Blazers and he will be hitting the market after spending half of last season with Portland.
The issue here would be on the defensive end. These two players aren't exactly standouts defensively for their position so the Knicks might need to bring in some defensive help somewhere off the bench.